It is felt by migrations from regions where surname among literate groups further south, migrated north and were adopted by people on locality.
Though the name Elwald was brought up from southern Northumbria near York, towards the Hermitage in Liddesdale, the Elwald name wasn't needed by the illiterate of Liddesdale. When one is communicating in writing it brings in a larger community in which to differentiate oneself additional names are need.  With a single name a person can be locally identified by family relation such as father, and where one lives.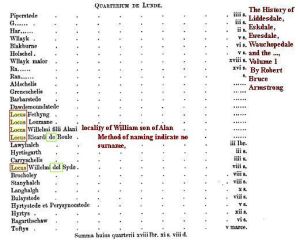 Locus means locality. In the locality of William son of Alan, indicates in this 1376 record no surname is for William and Alan.
Locus Ricardi de Roule; locality Richard of Roule
Locus Willelmi del Syde; locality of William of Syde (likely a side of a river)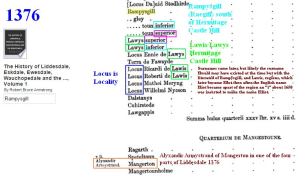 Lawis Inferior,  likely New Braidley, because it is also N. (Nether not New which means under or lower), and Lawis Superior  O.(Over not Old), for Old Braidley.
Anton Fell was previously known as Hermitage Hill as showing in eighteenth century map; A hill could have a number of mounds at that time, one which is the highest and these mounds were referred to as Laws. Today's Hermitage Hill is not the highest, and was referred to as a Law (capitalized). If one lived on the Law, and possessed by it, would be referred to as Law's in those days Lawis.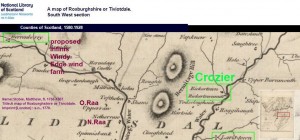 Though it is felt there are Elwald in the Rampysgill and Lawis region around the Hermitage Castle a lot of people did not have or use surnames.
Given distributions;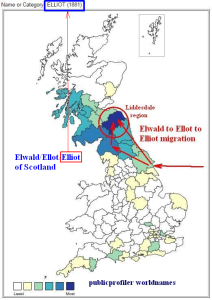 As one can see where the Elliot surname seems to have the greatest density is around where they are today in the Liddesdale region. This gives reason to believe that the surname was adopted mainly where the name is still utilized today.
Elliot, reiver family name locality follows Northumbria, little Union of Crown displacement, but migration as other reiver families such as  Graham from Grantham (Graham) to west Scottish border.
Map of region around Hermitage Castle.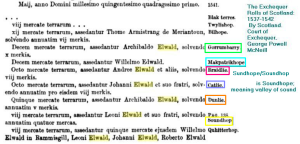 One can see by 1541 the Elwald surname has been adopted around the region then the name becomes Ellot in the later part of the same century as shown in the following;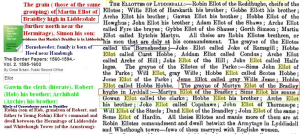 Correction; Bornheed, is Burnhead, a the head of a burn, but formily a regional Scottish name. 1/12/2016.
This is giving by Arthur Eliott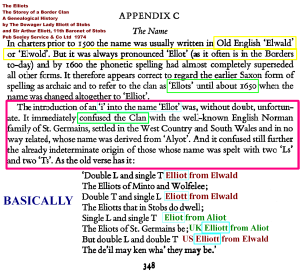 With feeling in 1986 it may have came from Northumberland/Northumbria.
The earliest Robert Elwald is found in 1305 in Rimington, Lancashire as being son of Alan.

Mark Elliott   12/14/2014
Index to "THE BURGH COURT BOOK OF SELKIRK, Part Two: 1531-1541"; (published by the Scottish Record Society, 1969).
 This will give the spelling of surnames on the borders during 1531-1541
In the Es; Ellot,  Elwauld, and Elwald no Elliot or Elliott
E
Easton SEE ALSO Eston; Estoun –
Edmiston, laird of – 188
Edmont, Thomas – 174
Edmont, Thome – 136, 191
Elliot SEE Ellot –
Ellot, Ade – 161
Ellot, Andrew – 178
Ellot, Dand – 175, 178
Ellot, Elizabeth, wife of David Davidson – 114
Ellot, George, in Lynden, age 32 years, married – 126
Ellot, Helen, married, age 30 – 160
Ellot, Ingrame – 141
Ellot, James – 156, 159
Ellot, James, age 35, single – 161
Ellot, James, in Lynden – 114
Ellot, Robert – 131
Ellot, Thomas – 113, 137
Ellot, Thome – 116, 117, 157, 160, 175, 190, 196, 197
Ellot, Villiem, in Lynden – 125
Ellot, Voll – 162, 166
Ellot, Voll, alias Voll the vowair – 155, 157, 160
Ellot, Volle – 115, 125, 126, 156, 160
Ellot, Volle, alias the vowar – 161
Ellot, Volle, otherwise called the vowar – 158
Ellot, Voll[e] – 115
Ellot, William – 156, 158, 160, 162
Ellot, William, brother of Elizabeth Ellot – 114
Ellot, William, in Lynden – 126
Ellot, Woll – 128, 129
Ellot, Wolle – 158
Ellvaild, Thome – 197
Elphinstone SEE ALSO Elphinstoun; Elphynstoun –
Elphinstoun, David – 141
Elphinstoun, William, spouse of Katherin Curll – 156
Elphynstoun, Dand – 150
Elvauld, Thome – 200
Elwald SEE ALSO Ellvaid; Elvauld; Elwauld –
Elwald, Thome – 202
Elwauld, Jhone [alias Johannes Gye] – 225
Elwauld, Jhone, alias Gy – 232
Elwauld, Jhone, alias Jhone Gy – 228
Elwauld, John – 228
Elwauld, John, alias Gy – 231
Elwauld, Thomas – 221, 231
Elwauld, Thome – 202, 210, 223
Eston, Jok – 179
Estoun, George – 170
Estoun, Jhone – 170
Estoun, John – 169, 180
Estoun, Jok – 138, 181
Estoun, Jok of – 170, 171