Cessford (Duke of Roxburghe -Ker), Ferniehirst (Clan Kerr chief), Redheugh (Clan Elliot chief) all linked to Northern British Power (NBW), and the SBC/Scot Gov (Scottish Border Council, note; superseded by Scot Gov) is linked to Cessford, Ferniehirst and Redheugh, all are supporting, Infinis Windy Edge, wind farm placed on the land which acting chief Martin Ellot/Elliot lived on between the Ellot/Elliot estate of Gorrenberry, an the greatest known historical antiquity to Scottish Borderers through out the world, that of The Hermitage Castle.
Step by step deception by;
Cessford (Duke of Roxburghe -Ker), Ferniehirst (Clan Kerr chief), Redheugh (Clan Elliot chief) all linked to Northern British Power (NBW), and the SBC (Scottish Border Council), which are riding not with the borderers of Clan Armstrong and Buccleuch, but are riding with and supporting the English; Infinis, Windy Edge in this industrial destruction, on an historical antiquity, which is most likely not to bring  funds to people of the region to what these border players (traitors to one side) have record of promising people in the past.
Example; Redheugh
Do local receive jobs promised, or industrial destruction of their historical antiquities?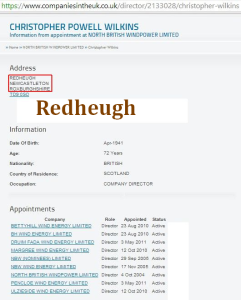 Promises made;

Gorrenberry is riding with Buccleuch, and Clan Armstrong to protect the Hermitage Castle. The last time we had opportunity to ride together was for the protection of Kinmont Willie Armstrong, and now it is for protection of The Hermitage Castle.
Where do I know you folks from;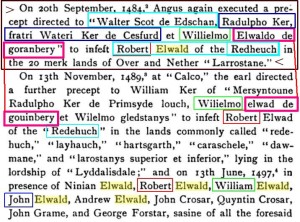 When Robert Elwald was received lands of Redhuegh, New (Superior-Nether (downstream)) and Old (Inferior-Over (upstream)) Lariston  [correction Superior (over; upstream), and inferior (nether;downstearm) Lariston 2/8/2016], and Hartsgarth, plus brothers Ker, now Kerr Clan Chief, and the Duke of Roxburghe is Cessford, but then Ferniehirst, was considered a Cessford with Ferniehirst Castle built in 1470. Walter is likely Cessford, today Duke of Roxburghe and Ralph is Ferniehirst; today Clan Kerr chief.
Walter Scot (of Edschaw son then of David Scot of Bucleuch) of Edshaw/Branxholm/Buccleuch is listed also. By then he also represents the stewardship of Armstrong lands of Mangerton, and this Walter Scot of Edschaw is the son of David Scot of Buccleuch.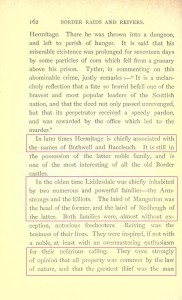 In later times Hermitage is chiefly associated with the names of
Bothwell and Buccleuch. It is still in the possession of the
latter noble family, and is one of the most interesting of all the
old Border castles.
In the olden time Liddesdale was chiefly inhabited by two numerous and powerful families—the Armstrongs and the Elliots. The laird of Mangerton was the head of the former, and the laird of Redheugh of the latter. Both families were, almost without exception, notorious freebooters. Reiving was the business of their lives. They were inspired, if not with a noble, at least with an overmastering enthusiasm for their nefarious calling. They were strongly of opinion that all property was common by the law of nature, and that the greatest thief was the man[Pg 163] who had the presumption to call anything his own! Might was right.
Title: Border Raids and Reivers
Author: Robert Borland
Walter of Edshaw/Branxholm/Buccleuch has stewardship of lands, which the Armstrong, and Elwald/Ellot feel they have natural ownership of.
It is felt that this Walter Scot of Edshaw is the son of David Scot of Buccleuch.

As one can see Edshaw/Buccleuch, acquired the responsibility to protecting the Hermitage Castle in 1470.

The land at this time 1470, which Archibald "Bell the Cat" fifth Earl of Angus, Douglas, passed his land to his brother William Douglas of Cavers east of the land of Buccleuch,  in Treviotdale.
The land was passed to Patrick Hephburn; first Bothwell of region;
Where, Martin Ellot would lease land from Bothwell, along with William Ellot of Gorrenberry.
Though the land of Gorrenberry, housed the youngest son of Gavin baillie, and of Baillillie, named after his occupation to the Bothwell family. Archie Keen (Archibald Ellot the wise), and Clementis Hobs, Clement Corsar's nephew Robert Elwald of Andrew (Dand) Ellot, youngest of Gavinis William, Gavinis Robert was Andrew, on land of Baillillie acquired by Bothwell's baillillie (land man), Gavin of Horsleyhill, Baillillie and later Stobs purchased for William oldest son of Gilbert.
Andrew (Dand) living in Baillillie would come to Gorrenberry to visit, Archie and Clementis his second son. Because he was being hidden away in Baillillie being accused in the slaughter of a Hugh Douglas, the family made up a story about the noise he was making, like when he was trying to help the family by chopping wood. This would be the story "The Cowie of Gorrenberry". His first son Andrew (Dand the Cow) was baillie of the Burgess of Selkirk.
After the family were banished to Ulster at the time of the Union of the Crown, Adam (a Bothwell name) Ellot of Schaws (on Archibald/Wm Doulgles then Bothwell then Buccleuch land of Shaw/Shaws/Schawis (belonging to the trees), the Adam Ellot family kept the"Cowie of Gorrenberry" story going. Today the story serves a useful purpose, it seems like those which feel that I am not from Gorrenberry, have another story to believe.
It is felt my family was raised with a Gib, in Baillillie. Dandis Gib where Andrew is considered the uncle, and brother by to the first biological son of Gavin the baillie, this would be Gavin the Clark (clerk) older brother to Archie Keen.

\
The sister to Buccleuch, a Jean Scot was married to Robert of Redheugh Chief, of Clan Ellot, and secondly married Gavin of Horsleyhill, Baillillie and Stobs.
Her first son, Robert, and the in-laws the Hamiliton, did not seem to get along with Gavin of Horsleyhill, Baillillie and Stobs.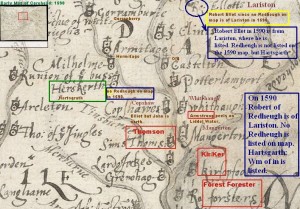 In above Robert Elwald of Redheugh, Hartsgarth, Lariston. Lariston; O; Old-Inferior-Over (higher), Lariston N;New-Superior-Nether (lower).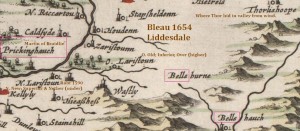 There was a William of Lariston which became a William of Lariston of/in Hartsgarth.
A tower was built at Hartsgarth for the mistress of Robert Ellot of Redheugh, living in Lariston, called Meg Kidd. His second son by Meg Kidd is Gilbert (Gib).

Gilbert named his first son William. Since Gilbert did not have a place to go he became the stepson of Gavin, with non-biological mother Jean Scot, sister to Buccleuch.
Gavin did not get along with Jean Scots mother-in-law by first marriage, and was considering to harm her.
Robert of Redheugh wanted to execute Buccleuch also;
The solution was to transfer the chieftain from Redheugh to Stobs.
Stobs was purchased by Gavin for his grandson, son of Gibert of Redheugh/Stobs, a Margeret (Fendy) Scot, and tutored by a well educated family to became the chief.
This was at the time of the English Civil War where a today's line of Bucks (Buccleuch) started with the illegitimate son of King Charles II, which my family Anglican/Episcopalian, like the King Charles II family and like Buccleuch today is fought for.
Prisoner  by Cromwell in London; Tutthill Field, Westminister Prison, and indentured to the American Plantation ca 1650.
The land we left behind in our homeland is Gorrenberry, which after the Union became apart of Braidlie were Martin Ellot which the grain of Gorrenberry rode from. Yes, Gavin may have acquired land names after land Martin was leasing from Bothwell, and lived in the region of The Hermitage Castle to protect it up north called Braidlie, so Martin Ellot could say he is of Braidley, but the Ker of Cessford, Ferniehirst, aligned with Redheugh, with the corporate powers of Northern British Windpower (NBW) supported by The Scottish Border Council as on can see by the map the border council made and used by Clan Elliot;
http://www.elliotclan.com/history/map-of-elliot-territory/
www.scotborders.gov.uk/…/item_5_hulcc_resident_population
Old Gorrenberry Cottage. Gorrenberry Cottage. Gorrenberry Enterprises.Gorrenberry House (Holiday Let). Gorrenberry Farm. Upper Dinley Cottage.Braidlie ..
It is felt the Scottish Borders Council knows where Braidlie is near Gorrenberry, but because of the proposed Infinis, Windy Edge wind farm they could possibly be expressing themselves differently.
Gorrenberry does not ride with border traitors who want to destroy the historical antiquity of the borderlands The Hermitage Castle, and my Scottish homeland of Gorrenberry;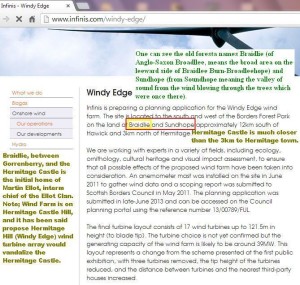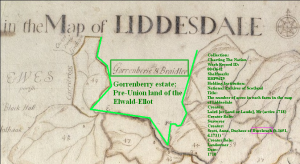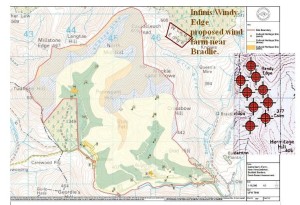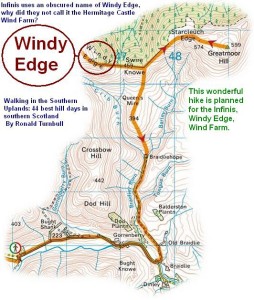 Gorrenberry does not ride with Cessford (Roxburghe -Ker), chiefs of the Kerr (most Kerr are riding to protect the borderlands, accept these two), and Elliot clans, and their council under their control The Scottish Border Council.
Gorrenberry, like with Kinmont rides with the Armstrong (Clan Armstrong Trust) and Buccleuch (Buccleuch Estates) to protect the borderlands where displace Scots from around the world can come home to.
Mark S. Elliott    6/18/2015
Wind Energy's Absurd
January 12 · 2015
Trouble ahead in The Borders!
The lawyer acting for the Buccleuch Estate and the Hermitage Action Group has put a marker down to Scottish Borders Council in respect of Infinis' revised proposal for the Windy Edge windfarm.
"My clients maintain that your council is acting outwith its statutory powers in this matter…I specifically reserve my clients' right to challenge any decision made by your council in its determination of the application."
The Council maintains that the change is not substantial and that it has acted lawfully.
There are many objections to this proposal which the Council has said that it cannot consider until June.
"Logistically, it is very difficult for staff and committee members to assess more than one wind farm at any monthly meeting.
"I am aware this news will be frustrating to you, but unfortunately, due to the volume of [wind farm] applications, this is the earliest slot available for Windy Edge.
"I apologise for this delay in processing your application."
This, again, indicates that Councils are swamped, and have no choice but to run the risk that the developer will go running to the Scottish Government for determination.
SBC could face fight over wind farm move
A legal challenge is likely to be launched if Scottish Borders Council approves a contentious wind farm bid in June.
THESOUTHERNREPORTER.CO.UK
Like · Comment · Share
Sheila Cassidy, Dorothy Waterworth and 2 others like this.
Lyndsey Ward Happened here in the Highlands too with Moy. Highland Council are overwhelmed as are many other authorities and missed the deadline. Their intention was to refuse but the windies scuttled off to the SG and got approval. Highland Council should have challenged the decision by the SG but didn't have enough money to do so. The whole system is geared up for the developers not people.
3 · January 12 at 6:56am
added by MSE   6/21/2015
Local news;
Since I am from Gallup, New Mexico, USA if someone could represent me it would be greatly appreciated. My family utilized the Scottish Border spelling in the American Plantation from about 1650, but after the Revolution of 1776, we spelled it Elliott with two "t"s.
Brian Frater
Service Director Regulatory Services
Mark Elliot
Please ask for : Committee Services
01835 826502
Application Ref : 13/00789/FUL
Your Ref :
Date : 22nd June 2015
22nd June 2015
Dear Sir/Madam
PLANNING APPLICATION NO: 13/00789/FUL
PROPOSAL: Wind farm development comprising of 9 No wind turbines and associated infrastructure/buildings/access (further revised scheme – tip heights of Turbines 1, 2 and 4 reduced to 110m – all others to remain at 125m)
LOCATION:
Land North East And North West Of Farmhouse Braidlie (Windy Edge) Hawick Scottish Borders
Would Appreciate if someone could represent me.
Mark Elliott  6/23/2015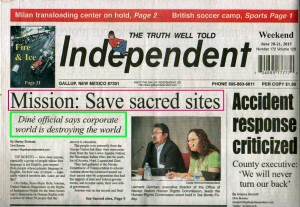 Navajo (Diné Bizaad) Navajo is a member of the Athabaskan branch of the Na-Dené language family and is spoken by about 120,000 people in Arizona and New Mexico. It is closely related to the Apache languages, but completely unrelated to other Native American languages.
Navajo The Diné in Canada one fines The Dineh the linguistic base for The Diné/Dineh in Athabaskan means the people.
Without a written language one can say with the same language base that Navajo The Diné, came from where The Dineh are from an that is Canada to the Colorado Plateau, the Four Corners, USA, CO, NM, AZ, & UT. The Germanic language has been brought to the Scottish borders, and but utilizing the same language, one can say a people brought the Germanic language to Scotland, like, Proto Germanic Danish Scandinavian base, traveling north within the old Danish nation of Northumbria, and to join other Scandinavian-Norse people in Cumberland region of the western Scottish Borders.
Mission is to save sacred sites, such as The Hermitage Castle. It should be noted; The Corporate World inclusive of Northern British Windpower (NBW), and Infinis of Windy Edge, are destroying the world.
As technologies get less mechanical, and cheaper, and less obtrusive like nano-technology, decreasing the cost of solar energy which produces energy at peaks.  Genealogy is a major use of computer research in the United Kingdom, and progresses foreword with combined sharing knowledge, one has a mathematical progression showing those who are will to bring about destruction to historical ancestral sites such as The Hermitage Castle in order for corporate profits, and bringing back an old family Ker-Scot feud, and these people will be looked upon as traitors to their society.
Mark Elliott   6/21/2015
Is Guy Hands trying to add Infinis Windy Edge to the portfolio to increase the price?
Guy Hands is again trying to sell his UK renewables business, Infinis, and is understood to be prepared to break it up into three chunks to help flush out buyers, Environmental Finance has learned.
Added 6/24/2016