Family Tree DNA, Buccleuch R-L21;
The DNA of the Duke of Buccleuch was found to be an exact match of a descendant of Charles Stewart of Ardshiel, who fought at Culloden, both men descended from Alan, the Seneschal of Dol, a Breton aristocrat. His family came to Britain in 1066 with William the Conqueror and then made its way to Scotland to found the Stewart line." The Duke of Buccleuch had been SNP tested and found to be positive for L744 (=S388) and L745 (=S463).
Alan, the Seneschal of Dol, a Breton aristocrat.
Though it is felt justly so that Buccleuch, and feel the above is correct. It is felt that R-L21 took more of a southern migration path than R-U106.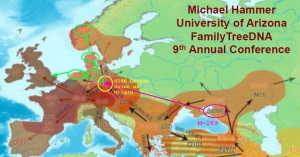 This is shown in the migration paths given by Michael Hammer, University of Arizona, FamilyTreeDNA, 9th Annual Conference.
The Scott family about three times the size of the Armstrong show a Scandinavian/Scottish distribution pattern.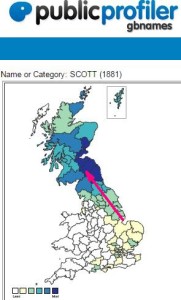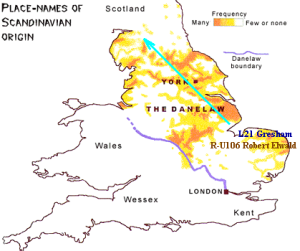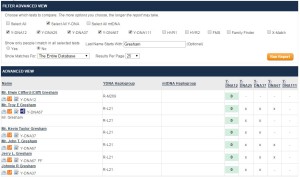 As one can see the Gresham variants are showing a L21 tendency, and have migrated northwest of their original locality.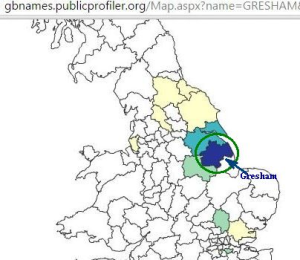 The Y-DNA which I carry is of a Daniel Elliot grouping which is showing to be R-U106, and the above shows how that I of R-U106 Elliott is matching the Gresham R-L21.
R-U106 besides being carried by the Elliott are also carried by the Scott, given Family Tree DNA  Border Reiver Project;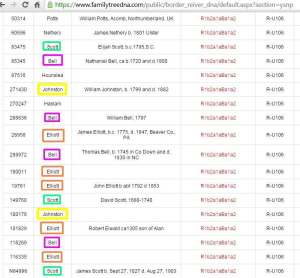 The distribution of the surname Alan shows a Breton tendency;
Also are shown Alan name in Norfolk, East Anglia.
The name shows in Sweden and Germany, besides France and Spain.
It is found that Alan is the father of the first Robert Elwald.
gorrenberry.com/robert–elwald-clan-elliot-chief-1/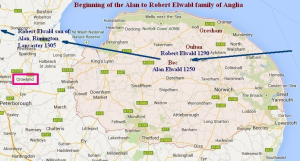 Alan is the father of Robert Elwald of Remyngton, Lancashire, ca 1305. Should be noted; Alan son of Elfwald likely became Alan Elfwald/Elwald, but if Elfwald was the son of Alani it would likely become Elfwald Alani/Alan.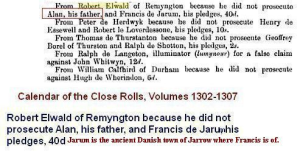 In 1376 Alani/Alan is recognized as a border surname;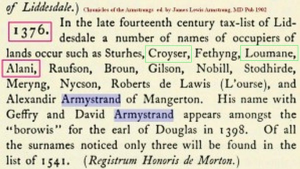 Though, Buccleuch R-L21 seems to travel more south of R-U106, they both seem to be found in Norfolk, East Anglia, and both are likely a part of the mix which seeded surnames on their migration paths north into what became Scotland.
Mark Elliott    5/18/2015