Cromwellian Barbadoed Scottish Ulster Redlegs.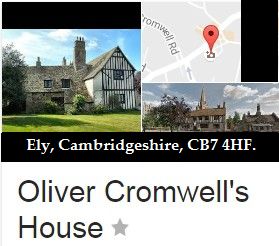 Now will not refer to as the Scots which were POW of Cromwell during the English Civil War from Battles of Dunbar, and Worcester ca 1650 which came from Tothill Feilds Prison Westminster London, that were indentured to the English Plantation of Barbados as slaves, they were indentures which proceeded the plantation slave system of people brought to Barbados from west Africa.
On 3 Sep 1650, the English defeated the Scots at the Battle of Dunbar. There were 4000 dead, 10,000 captured, and 4000 more escaped. After being captured, they were marched from Durham to Newcastle. They were given very little to eat. Between the march and lack of food, many died along the way. Disease was rampant. Some men were shot because they either could not or would not march. When they reached their destination, they happened upon a field of cabbage.They ate all of it, which of course made them even sicker than they already were.
Scots Prisoners and their Relocation to the Colonies, 1650-1654
The Ulster Plantation opened up to Scots around 1610, and many Ulster-Scots, also called Scot-Irish, and felt in Barbados though of Scotland migrated to Ulster-Northern Ireland, were also known to be Irelanders, which people in today's history feel these Irish to Barbados, and not the Ulster ones, which as Anglicans-Church of Ireland fought for because of old Scottish allegiance to the the family of Charles I, applied this allegiance to Charles II, in the English Civil War of 1651 in the Battle of Worcester.
The islanders believed a report that Charles II had won the battle of Worcester and held a day of thanksgiving on 7 November for the King's victory. However, Willoughby remained defiant even after Ayscue had sent him a printed account from London of the true outcome of the battle and a letter from Lady Willoughby urging him to surrender.
Though it is known that some people get judgmental, and want to take the Scots to a what is felt to be a lower level in the human strata, but the indenture Scots being indenture might have been better off to be enslave, in that way the infusion into Barbados society by marriage to slave brought over after they were indenture may have been better for their families well being and help their off-springs to infuse themselves into the imported Africans, and this would have help them acclimate to a hotter climate.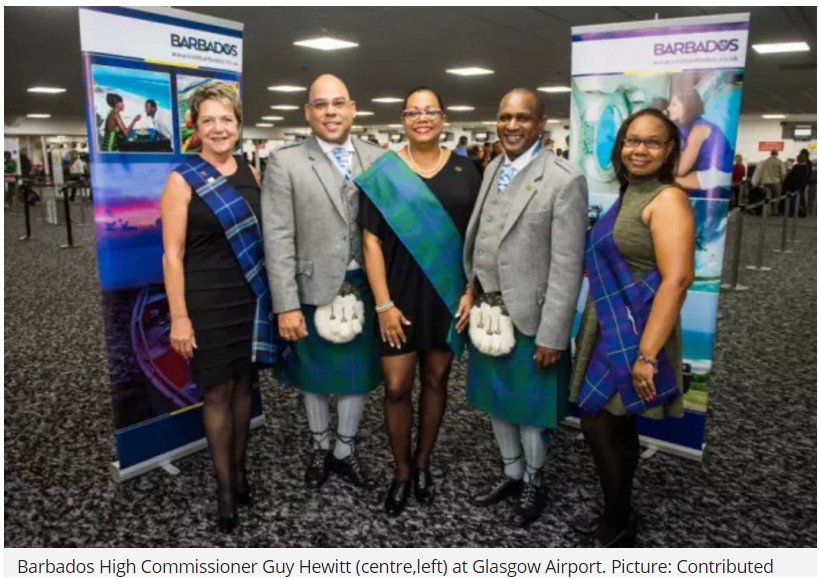 THE SCOTSMAN SCOTLAND'S NATIONAL NEWSPAPER
Guy Hewitt: Barbados remembers Scots heritage on St Andrew's Day  by GUY HEWITT 11/30/2016 (November 30th, is St Andrew's Day)
One can see, a black hand at the top of the arms, holding sugar cane in the shape of the cross of St Andrews, which symbolized the Scots, which live in Barbados from the days of the English Civil war, proceeding the Barbados plantation slave system, of people native to west Africa. The patron Saint of Barbados is the same as Scotland, which is St. Andrews.
"The first white slaves were transported shortly after Barbados was settled in 1609. This monument in Holetown on the west coast commemorates the first landing by Britons in 1605."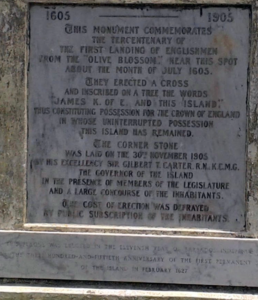 "Between 1652 and 1659, around 50,000 workers were forcibly transported to the island in this way. It is said that by 1701, 21,700 slaves out of 25,000 were of a white ethnic background. Thousands of these slave workers were Irish, many of them children between the ages of 10 and 14, kidnapped as part of the ethnic cleansing carried out by Cromwell's forces after their conquest of Ireland. Many forced labourers were English, sentenced to transportation by Judge Jeffreys after the Monmouth rebellion.
And a large number of these slave workers – eventually about 100,000 in all – were Scots."
Clips from a series; BBC Barbado'ed: Scotland's Sugar Slaves
Barbado'ed: Scotland's Sugar Slaves 49min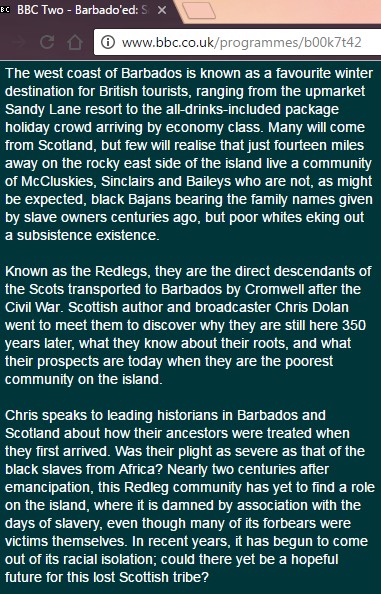 Scotch prisoners taken at the Battle of Worcester.
The indentured POW Scot were Anglican-Episcopalian, like the Royalist, King Charles I, was;

Robert Bell has shown the Ulster Border Scots were Robert Bell has shown the Ulster Border Scots were nominally Catholic then Anglican, like Charles II.
'Sheep stealers from the north of England': the Riding Clans in Ulster by Robert Bell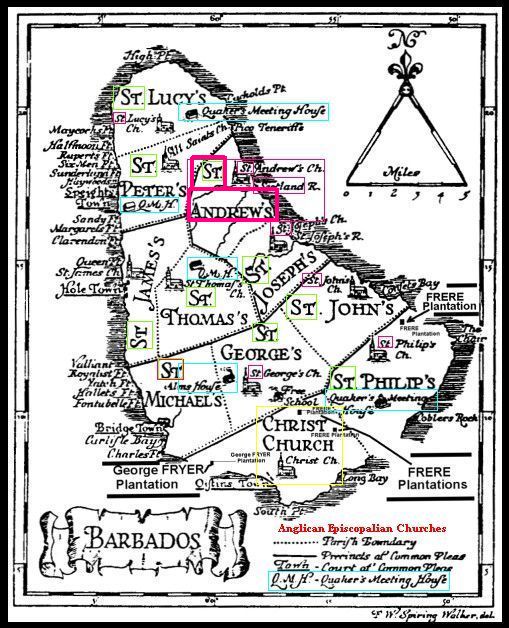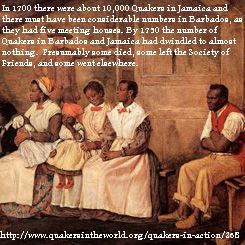 There is an old proverb which assures that truth be told by laughing;
La Prision d'Édimbourg (The Prision of Edinburgh)
By Walter Scott
"2 There is an old proverb which assures that truth be told by laughing. The existence Walter Scott third son of Sir William Scott of Harden is educated as they say by charter bearing the great seal Domino William Scott of Harden militi and Walter Scott "suo legitimo tertio genito terrarum" (world,legitimate begotten) of Roberton. (See the Baronage of Douglas page 215). The old gentleman left his four sons considerable estates and gave those of Eilrig de Raeburn to his third. He who is the ancestor of Scott Raeburn and Waverly. author 11 Appears to have converted to the Quakers or Friends' doctrine and became a great advocate of principles. It was probably when George Fox, the apostle of the sect, made a nun in the north of Scotland about 1657 AC. It is on this occasion that he says that as soon as the horse had set foot on the land of Scotland he felt the seed of grace shining around him like countless sparks. At the same time no doubt that Sir Gideon of Highchester's second son William and the ancestor of the friend and parent of the author the representative of the family of Harden also embraced Quakerism. Gideon the latter converted entered into controversy with the Rev. James Kirkton author of the true and secret history of Scotland, which is mentioned by my ingenious friend Charles Kirkpatrick Sharpe in this remarkable and curious edition of this work in 1817. Sir William Scott, the Brethren of the Brothers, remained in the midst of this defection an orthodox member of the church Presbyterian and us a uproot Walter de Raeburn to his heresy means that were more of persecution than persuasion. He was helped in his efforts by MacDougal of Makerston brother of Isabelle MacDougal wife of Walter and who like her husband had adopted the religion of Quakers Sir William Scott's influence and that of Makerston were powerful enough to obtain two subsequent acts of the Privy Council of Scotland against Walter de Raeburn as heretic quakerism the co-inventor to be imprisoned first in the Edinburgh…."
https://books.google.com/books?id=Q8IBc4HvDSgC&pg=PA10&dq=%22Walter+de+Raeburn%22&hl=en&sa=X&ved=0ahUKEwiDguOZh9PYAhVD32MKHR69DOkQ6AEISjAE#v=onepage&q=%22Walter%20de%20Raeburn%22&f=false
Cotton Mather ; Puritan of Massachusetts, of the American Plantation, which Barbados was also of thought that William Penn, and his ship The Welcome should have been sent to Barbados. Since the American Constitution was constructed in the town of Philadelphia founded by this group it may have had an affect on American history if this happened.
Cotton Mather letter in reference to Wm Penn;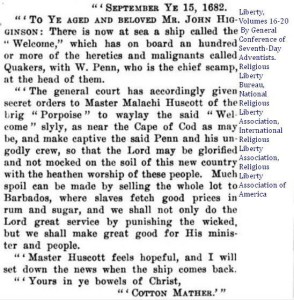 The difference between Wm Penn, and the Scottish indentures, is that the Scottish indentures fought against Cromwell, and Wm Penn's father admiral Penn fought in support of Cromwell. Though on above map one can see a number of Quaker meeting houses in Barbados,  after the English Civil War, Quakers were Barbadoed and this would follow the wishes of Puritan Cotton Mather, along with Puritan Oliver Cromwell.
Map of Barbados, 1650. Source: Richard Ligon, A True and Exact History of the Island of Barbados, (London, 1657). Reprinted by Cass Reprints, 1972.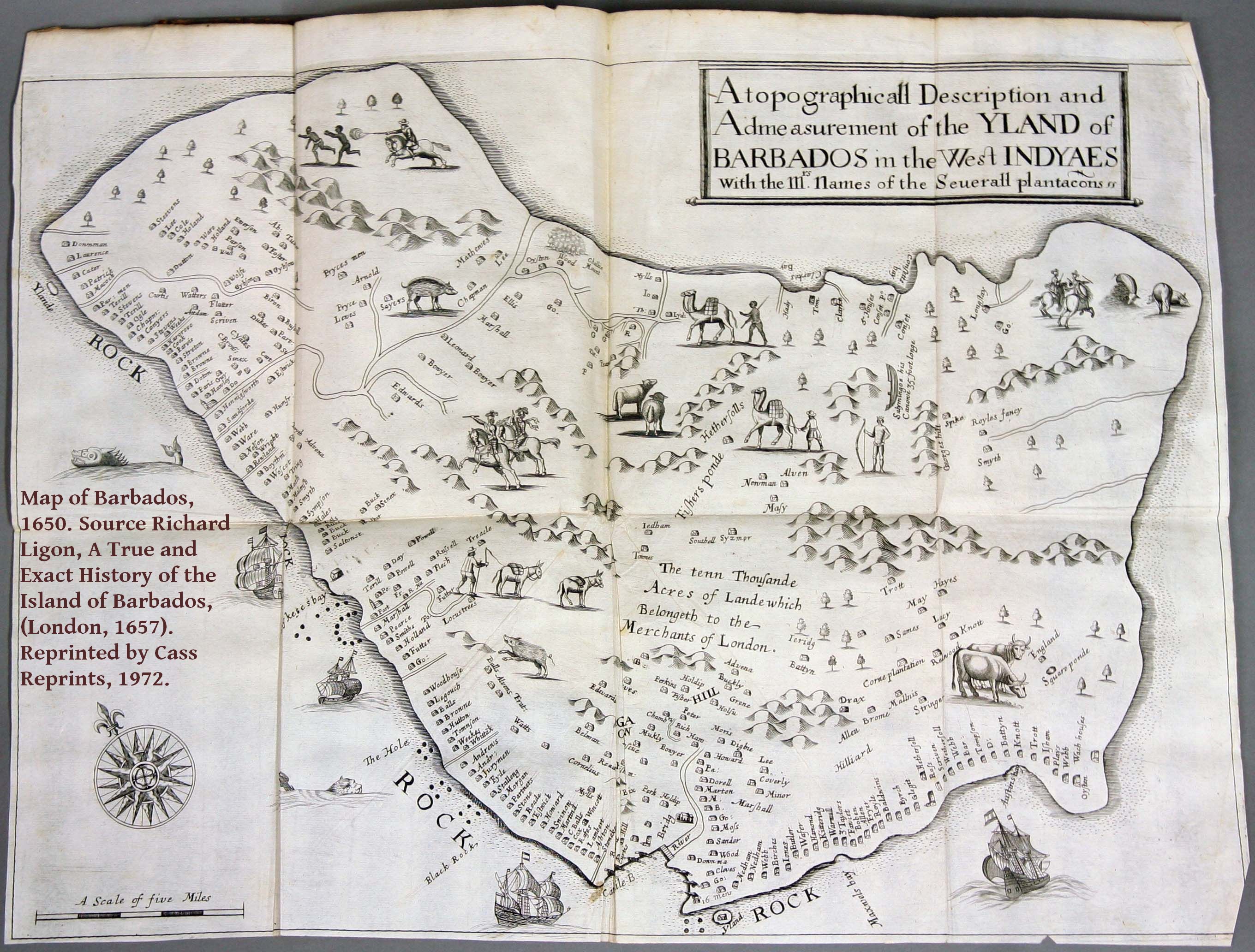 With the parishes named after saints that makes the POW Scots Anglican which have saints as oppose to Presbyterians which Scots are known to be but do not use saints in naming locations.
Some of the POW Scots were sent to the English American Plantation;
Thomas Kemble brought Scottish indentures to the American Plantation.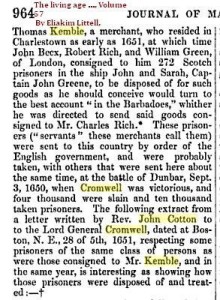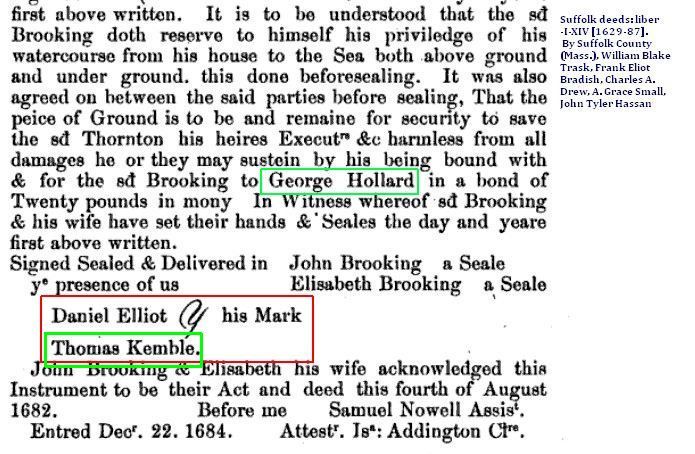 Take this a little bit personnel, with granddad Daniel Elliot, on deed with Thomas Kemble of the ship John and Sara.  It is like elections of the day, if Charles II (wife Catholic, and mother of Denmark, and had acknowledge 12, but said, 16 or 17 illegitimate children), was running against Cromwell a military dictator like Adolph Hitler, who would get your support ?
Cotton Mather-Cromwell letter.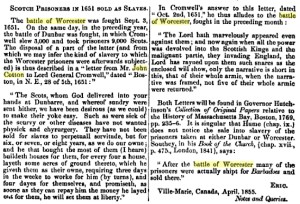 Mark Elliott   1/27/2014
ELLIOTT, Robert Brown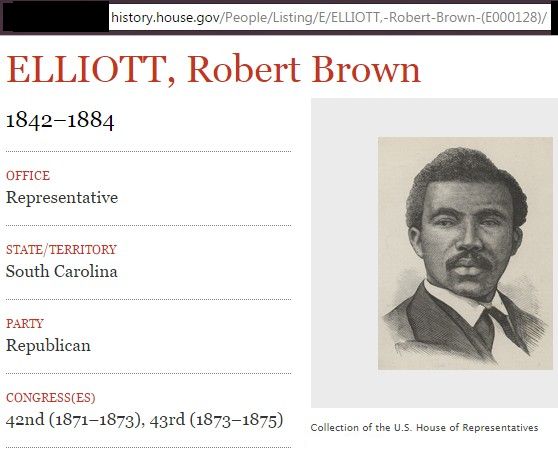 http://history.house.gov/People/Listing/E/ELLIOTT,-Robert-Brown-(E000128)/
3The circumstances of Robert Brown Elliott's early life are enigmatic. He claimed he was born in Boston and attended public schools in England, graduating with honors from Britain's prestigious Eton College in 1859. He further asserted that he had worked for a famous London barrister before returning to the United States in 1861 to join the Union Navy. Elliott later attributed a lifelong limp to a battle wound. Other evidence indicates that his parents were originally from South Carolina and that the Elliott family escaped slavery on the Underground Railroad to a northern state. Still other sources suggest Elliott was born in the West Indies and spent his early years there. Elliott's version of his origins cannot be corroborated, and recent scholarship indicates that the bright and ambitious young man may have invented his American citizenship and embellished his credentials in 1867 to establish his eligibility and credibility as a candidate for political office. Elliott's mysterious background is discussed at length by his chief biographer. See Peggy Lamson The Glorious Failure: Black Representative Robert Brown Elliott and the Reconstruction in South Carolina (New York: Norton, 1973): 22–33. See also Peggy Lamson "Elliott, Robert Brown," Dictionary of American Negro Biography (New York: Norton, 1982): 210–211 (hereinafter referred to as DANB). The most recent scholarship accepts Lamson's evidence of Elliott's background. See Stephen Middleton ed., Black Congressmen During Reconstruction:A Documentary Sourcebook(Westport, CT: Praeger, 2002): 85–86.
Alexander Hamilton likely of the Anglican Hamilton family which fought Cromwell, along with Robert Brown Elliott, are felt to be of the West Indies.
11/7/2016 MSE
Children of; Edward and Margaret Elliot are William, Robert and John, commonly used Liddesdale-Border Scotland Elliot names.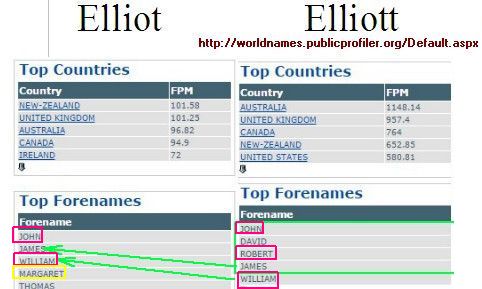 Barbados Church Records 1637-1887 for Elliot
Jamaica, Church of England Parish Register Transcripts, 1664-1880
It has been noted by the United Kingdom's Parliament, in which Cromwell was noted as a Puritanical Parliamentarian, without the beheaded king Charles I, Anglican, (wife Catholic, and mom from Denmark) sent Scottish "slaves" to the American Colonies;
Guess some people get a laugh at it, but its;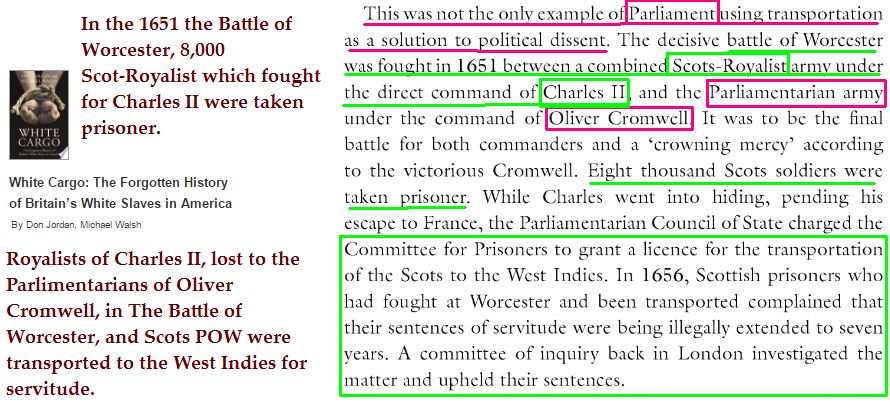 11/9-10/2016 MSE
Scotland District of Barbados;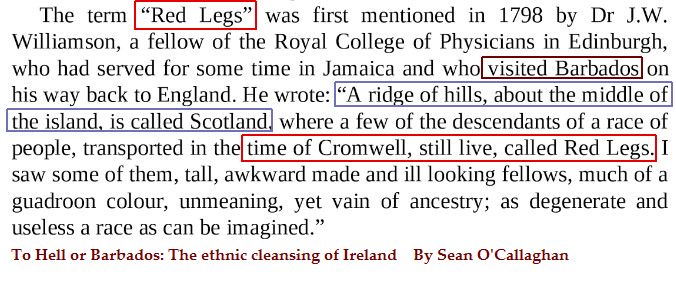 scottish-district-of-barbados-unesco
Has a unique geology, and a biodiversity;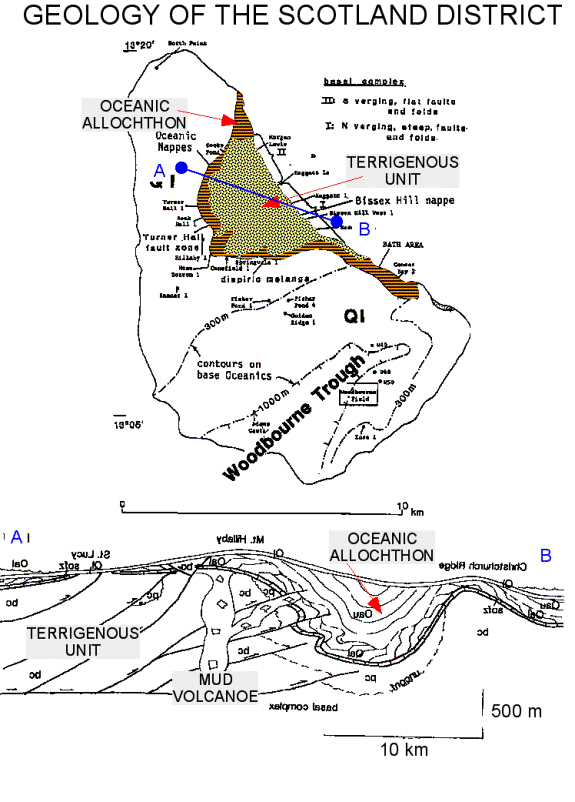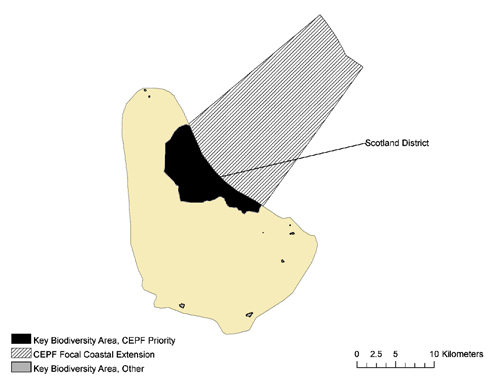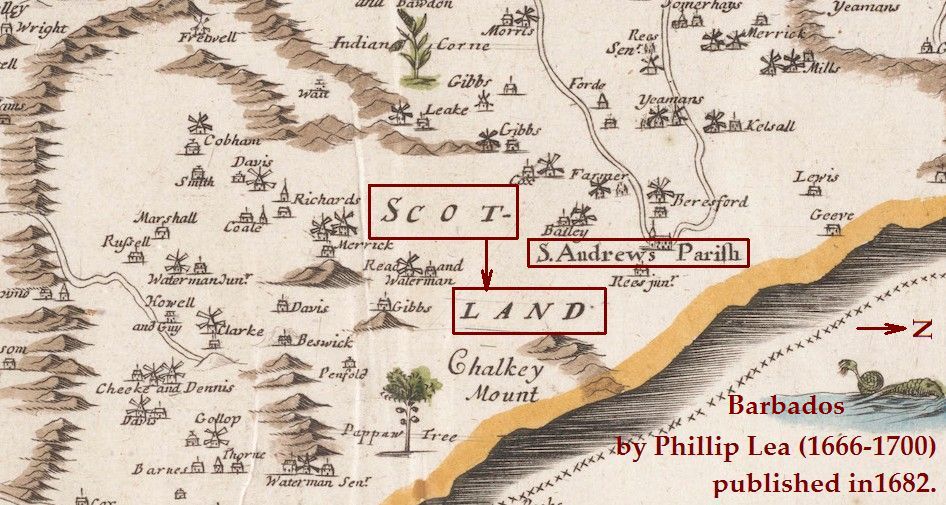 11/11/2016 MSE
If one thinks the Scots had enough of windmills as shown on above St Andrews, Scotland, Barbados region of map above;
Wonder where the West Indies name of the Scotch Bonnet chile-pepper came from?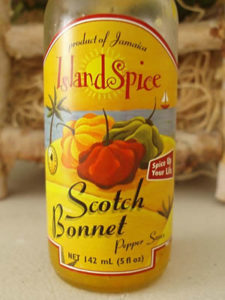 Elliott statistically of highest frequency; Northern Ireland (Fermanagh) and Jamaica where the above Scotch Bonnet sauce is from-
(Norfolk Island has the highest frequency, but sample size at five is felt to be to small for significance for this Australia north of New Zealand island, so am using sample sized over a thousand);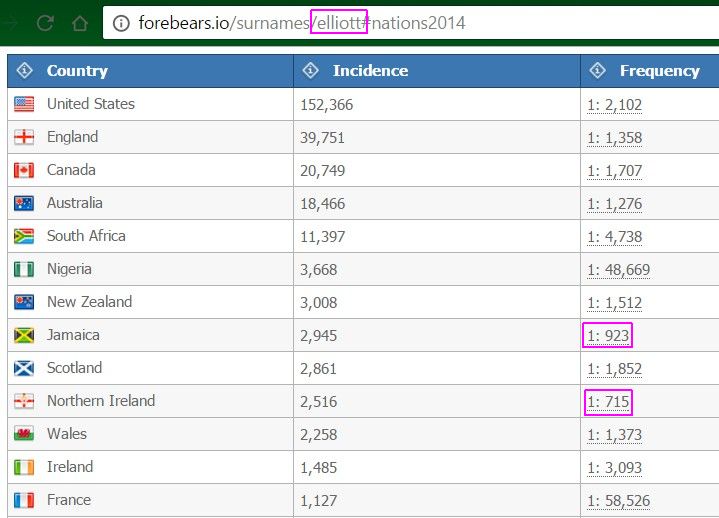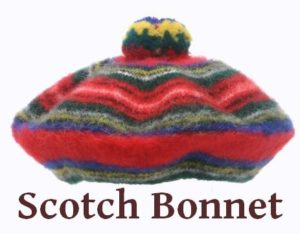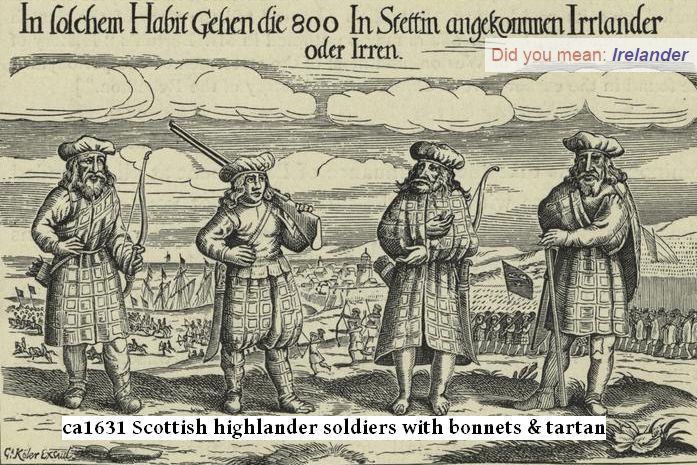 In the mid 17th century, a large number of Scottish Highlanders, also often called "redshanks", fought in the Irish Confederate Wars, notably the clansmen serving under Alasdair Mac Colla, himself a member of a minor Hebridean branch of Clan Donald (a cadet family of Macdonald of Dunnyveg).[11] However, the Highlanders who fought at Dungan's Hill and Knocknanuss were to be the last of the redshanks.[12] The subsequent Cromwellian conquest of Ireland saw the end of the employment of Highland mercenaries, both through the destruction of their employers, the Irish nobility, and the pacification of the Highlands.
These Scot Highlander are felt to be Irelanders, of Ulster,
Scottish soldiers-Irelanders likely of the Ulster Plantation which Scots were apart of,  above fighting as mercenaries in the service of the Swedish King Gustavus Adolphus.
Below a German fighting with the Scots Royalists for King Charles II at the battle of  Worcester, and being Barbados, but getting the opportunity to return home.


A GERMAN INDENTURED SERVANT IN BARBADOS IN 1652:
11/14&21/2016 MSE
Boston destination;
Seems to be an excellent site, and surnames which I have come accross, like Steele, (a stream cut) between Elliot owning Redheugh (Hermitage/Riddel?), and Larriston (upper Liddel). Danforth found in association with family of Massachusetts in American Plantation, and Hamilton, related to Redheugh Elliot, and the Hamilton of Ulster Plantation, were Anglican and strong Royalists.
11/12/2016 MSE
Note that many are from East & N.E. Scotland and England. Most of the Highlanders appear to be Roman Catholics from Invernes.shire. Most of them would be Catholics and Episcopalians.
Scots & Caribbean Slavery – victims and profiteers.
11/29/2016 MSE
A reference to Scots sent to New England;
The Ochterloney Family of Scotland, and Boston;
9/12/2017 MSE