This will lean towards the common male forenames as found for the names Elliot, Elliott, Armstrong, and Fairbairn;

Are; John, David, Robert, Jame(s), Andrew, Thomas, and William.
For the Scandinavian nations of Denmark, Norway, and Sweden, on can see the name ending of sen or sson is quite common;
So Andersen, Andersson, and Anderson, are different nations versions of the name name, where sen, sson, and son, are the son of.
Surname adoption took place previous to the Union of the Crowns, so at the time of surname adoption, England and Scotland will be considered two separate nations.
Sweden;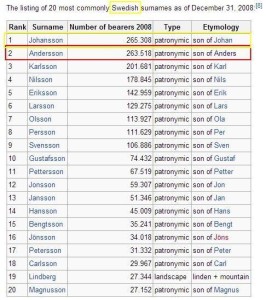 From above; Lindemann, means person of the linde tree;
So; Lindberg means a mountain (hill/mound) of linde tree.
Norway;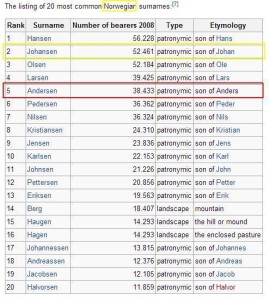 Andersen; Norway & Denmark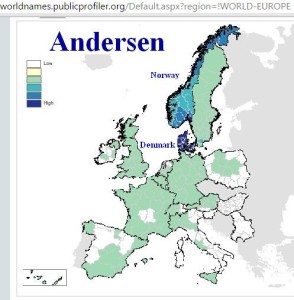 Denmark;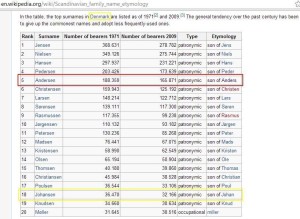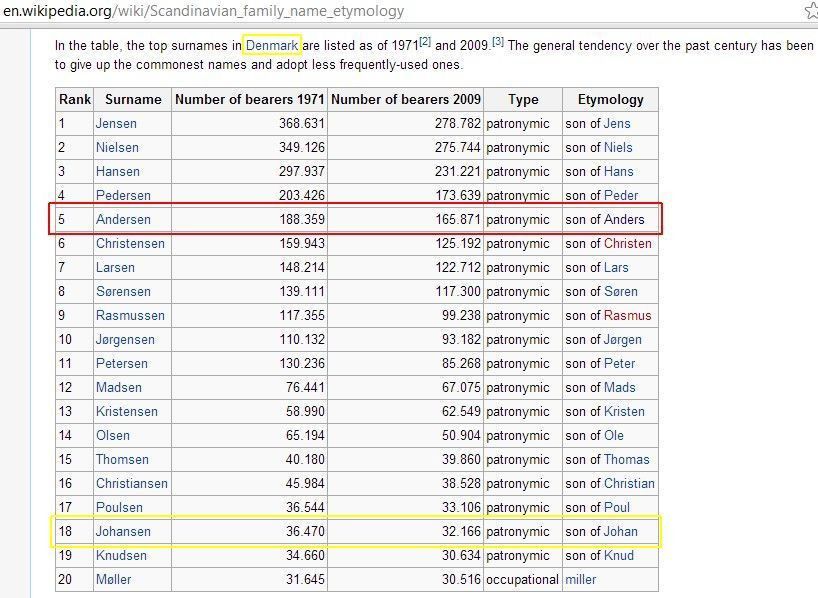 One can see the importance of Anderson as a surname in the Scandinavian nations especially Sweden.
Andersson of Sweden surname distribution;

One can see the top cities are not in Sweden, but Denmark, Norway, and Hamburg Germany.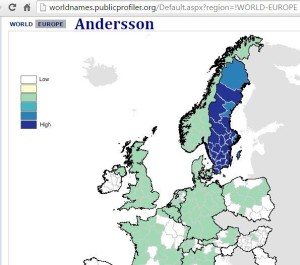 Anderson of UK surname distribution;

One can see the top cities are not in Sweden, but Scotland, northern England, and Ireland, but not southern England.

It is felt the Anderson name is Scandinavian, then border Scots, on to Northern/Ulster Ireland, then onward.
Mark S. Elliott     7/30/2015-2/19/2016
Andrew;
Andrew, a common forename given surname status, seem more French, than;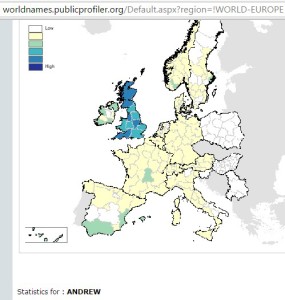 Than Andrews which is English, and;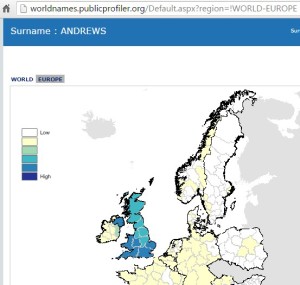 Anderson which is Scottish.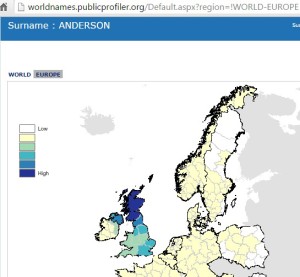 John the most common of forenames as a surname shows;
John (German), Johnson (English) and Johnston & Johnstone (Scottish);
1 John (Germany, Wales);

Remember; John is the number one forename of the Elliot, Elliott, Armstrong and Fairbairn.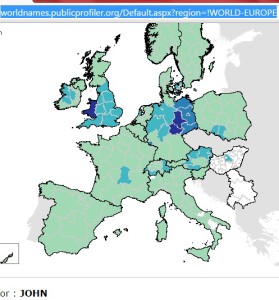 2. Johnson (English);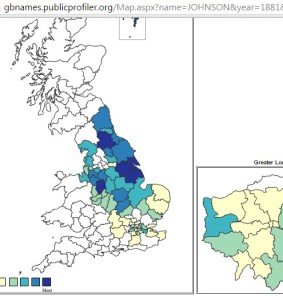 3. Johnston(e) (Scottish);
MSE 2/27/2016
David;
Then name David on can see has a distribution around Breton, as discovered by Keith Elliot Hunter, Clan Elliot historian;
www.elliotclan.com/history/early-history-elliot-clan/
www.elwald.com/on-breton-eliot-by-keith-elliot-hunter/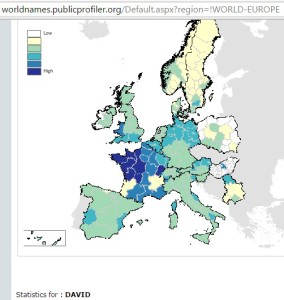 But, for Davids, on gets a more Proto-Germanic distribution, as given by the name Ewald,
As in;
It should be noted; a strong proponent of this Breton-Proto Geramanic, dual naming pattern, and had a strong influence of setting up The Clan Elliot Society, is the father, and also grandmother of the present Clan Elliot chief Margaret Eliott's father Aurthur;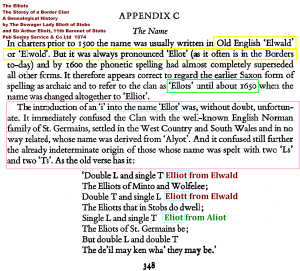 This shows the anguish he went through on the insertion of an "i" to the name Ellot, to become Elliot about 1650, where it was then extremely difficult for the family of Breton Eliot, to tell themselves from the Proto-German naming family of Elwald-Ellot
Davidson is a Scandinavian of Scotland name, in basic Scandinavian, patronymic naming pattern.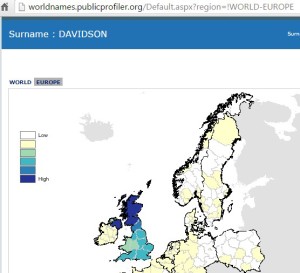 Robert;
One can see the name Robert would lean Breton in naming;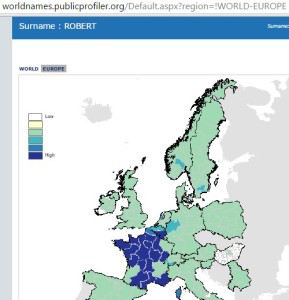 Where Roberts is showing a strong Wales distribution;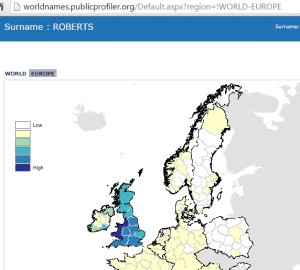 And, Robertson is of Scotland;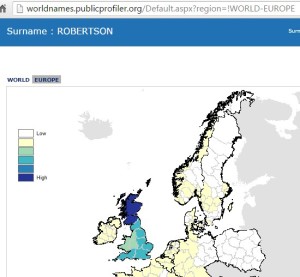 Jame(s);
Jame as a surname shows a French distribution origins.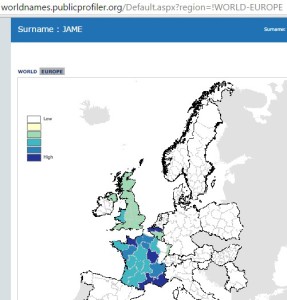 James as a surname shows strength in Wales;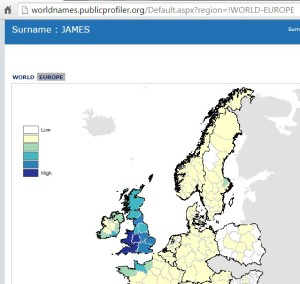 Jameson shows Border England and Ulster Ireland;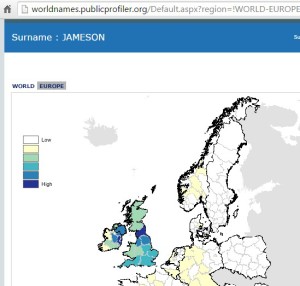 William;
Of France;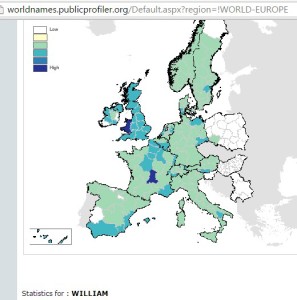 Williams of Wales;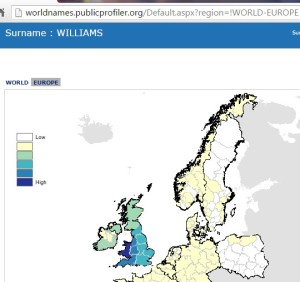 Williamson of Scotland, likely up from Anglia.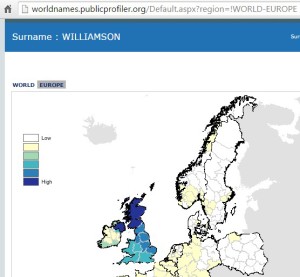 Thom;
Thom is mainly Proto-Germanic,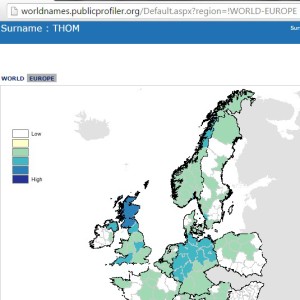 Where Thomas is Breton;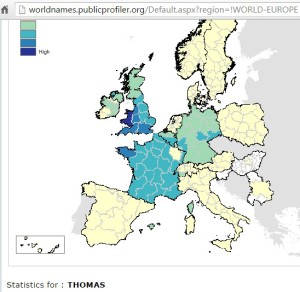 Thomson and Thompson show an Anglia-Scottish pattern of distribution.
Basically shown;
Surname adoption take place near where the concentrations of that surname are at the highest.
Scandinavians have a "son-of" ending in son, sson, and sen, or beginning in Mc, Mac or Fitz, naming pattern.
French-Norman surname may be adopted by the name of there barony-estate or the name of there father without the "son-of", is father without "son-of" is also of Wales.
Scotland uses a Scandinavian naming pattern
There are two basic pattern regions, on of Breton and all France, and the other Proto-Germanic in nature, though at times a high level of confusion can be made in the naming pattern, if the Anglo-Proto Germanic evolved spelling adopts the Norman-Breton spelling with Norman, authrocratic knowledge over powering the Anglo-Danish collective knowledge, a single origin may dominated as opposed to the duality of the name, among some people.
Mark Stephen Elliott   2/29/2016