The father of Daniel Elliot of Salem, was living in Boston 1704.
Daniel Elliot of Boston 1682;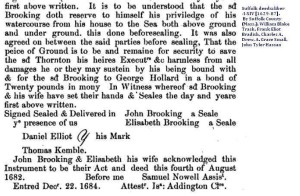 Daniel Elliot innkeeper of Boston 1704;
(noted; in The History of Danvers, there is a Daniel Elliot of the Danver's Militia which died in 1690, this is a mis-transcription of Rev Samuel Paris records on Church of Salem deaths, where Daniel and Hannah (Anna) Elliot lost a child no name soon after birth records in Salem vitals). It should be noted that Daniel and Hannah's first son born in Otter Neck (then Sudbury, now north Framingham), then after leaving Salem the other children born at Salem End, now west Framingham, and today except for the second son which died early in Salem vitals birth and death all the other children are recorded today in Framingham vitals.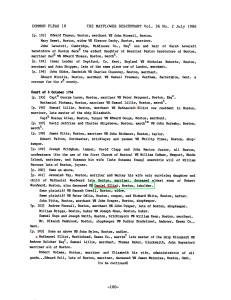 Some conclusions where corrections were made;
Daniel Elliot of SE England of the family of Andrew Elliot Cordwinde of Beverly, son of William and Emma Elliot. Daniel Elliot is not the son of Andrew Elliot, and Andrew Elliot is the son of Andrew, and wife previous to Joan Patch of Somersetshire.
Daniel Elliot the son of Daniel Elliot of Tullykelter, Fermanagh, Ulster is correct.
Daniel Elliot immigrant lived in Maine, and Salem Village, and died in Casco Bay as part of the Salem Village Militia, in 1690.
Though it is likely he may have traveled to Maine to visit brother Robert, Daniel Elliot first settled as an indenture to John Stone building a mill Outter Neck then south Sudbury, now north Framingham, and a house for himself. The Daniel moved onto Boston and is found in a deed in 1682, and as an innholder in 1704.
Daniel's son moved into the Outter Neck, Sudbury (Framingham in 1700) house, and moved to be with his in-laws from Sudbury-Marlborough about 1687. This would be his wife's Hannah (Anna) father son to seaman John Cloyse; Peter, and step mother Sarah Town Bridges Cloyse, who lost two of Town sisters in the witch situation at Salem.
Daniel and Hannah in Salem vitals had son no name born about 1689, and died about a year later, and a spector of Willard (hung) was accuse of the early death of Anna Elliot's child.
So this gets record in 1690 in Rev Samuel Paris records as one of the deaths, along with the militia which had deaths in Casco in 1690, and is felt that a Daniel Elliot died in Casco in 1690, from this mistranscription, where in 1704 he was alive and well as an innholder in Boston.
More information on pdf download; (on elwald.com)
It is felt that Daniel Elliot Sr was familiar with Boston, arriving with Alexander Gordon, as seaman John Cloyse father to Peter father-in-law to Daniel Elliot Jr, and Daniel Stone financed second son of Dea Gregory Stone, of Cambride, where he is buried next to his oldest son John Stone which build a gristmill at Otter Neck, and Daniel Sr indentured an built a house. Daniel Jr refugee, of the Salem Witch trials built a house at Salem End on Danforth Farms on the west side of a town named after Thomas Danforth English town of birth of Framlingham, spelled Framingham, MA, incorporated 1700.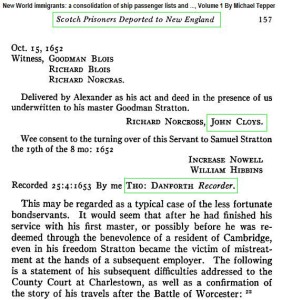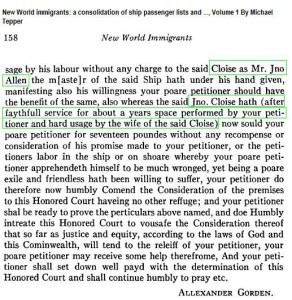 Sons of Robert Ellot, Robert and Daniel of Tullykelter/Tullikelter, and Daniel could be as young as thirteen, given that the deviation of a name back in 1640 is easily plus and minus 5 years utilizing standard math, and age of 13 is very viable.
Seaman John Cloyse, Granddaughter Hannah (Anna) Elliot, married Daniel the son of indentured Daniel, of Otter Neck (Stone's End, Saxonville, North Framingham). Son Daniel and Hannah (granddaughter of John Cloyse, daughter of Peter and Hannah Littlefield, Wells, Maine) with first son Daniel born in Otter Neck-Stone End at the time referred to as Sudbury to be incorporated into Framingham, removed themselves from Sudbury to Salem Village-Danvers.
Do know my father Loren S. Elliott did the genealogy to Daniel Elliot which left testimony in which he reference many people, and a response the many people today would say and the most educated of the day said was not enough to show the Elizabeth Proctor, was not a which, that a girl said the accused "out of sport", that my answer like my father's work and like Daniel's testimony, is that Daniel Elliot was an indenture to John Stone by money supplied by his brother Dr Daniel Stone of Boston, and came over as boatswain to seaman John Cloyse who's granddaughter Hannah (Anna) married the son of indenture Daniel, son named Daniel who testified.
Given in testimony the name of the Daniel Elet is 27 there abouts, it is felt the accuracy of the age of the father is a estimate.
Mark Elliott     3/22/2015
http://www.dictionary.com/browse/innholder
"Historical Examples In 1674 he was allowed by the town to sell beer and give entertainment, and in 1682 he was licensed as an innholder. Old Boston Taverns and Tavern Clubs Samuel Adams Drake" Son and grandson by same name Daniel, in Oxford, MA;
History of the Town of Oxford, Massachusetts: With Genealogies and …, Volume 2 By George Fisher Daniels
"Taverns (page 233). The first licensed public house in Oxford was kept by Daniel Elliott in 1714 for one year only, at the extreme north end of the village. H. 132."
"ELLIOT DANIEL (bottom page 496) father and son of the same name two of the 30 original settlers Daniel senior had lived at Sudbury or Marlboro and came here from Framingham He m 1686 Hannah Cloyes of Framingham and had seven sons He took up the mill lot near H 185 and in 1716 by…" The seven sons are; Daniel, Ebeneezer, John, James, Nathaniel, Jonathan, and Peter. "James" is missing in above graphic. Daniel was born Otter Neck, MA, in attendance of the Sudbury Church, (son no name born and died 1690 in Salem Village/Danvers), Ebeneezer, John, James, Nathaniel, Jonathan, and Peter, born in Salem End, attended Marlborough, MA church. In 1700, Otter Neck (Saxonville), and Salem End (Rd), where incorporated into Farmingham, MA, and the records of the sons with name are now of the Farmingham, MA records.
5/7/2017 MSE
Noted; Peter Cloyse son of seaman John Cloyse, first wife was Hannah "Anna" Littlefield Cloyse, daughter became Daniel's wife was Hannah "Anna"  Cloyse Elliot.
Daniel likely a miller, and Peter obtained land near a mill, once owned by deceased father-in-law by first wife Edmund Littlefield of Wells, Maine;
February 6, 1673;
Know all men by these Presents, that I Fran: Littlefield of Wells Junior in New England, In Consideration of a valewable sume offiveteen pounds to mee in hand payd before the Insealeing & delivery hereof, the reciept, wrof, I doe acknowledg my selfe there with to beefully contented & satisfyd, by my brother in law Peter Cloyce living & resident in the same Town, have & hereby doe sell give grant Assign Enfeoff& Confirme unto ye said Peter Cloyse his heyres executors Administrators & Assignes, a Certain Tract & Prcell of upland liing & being on the westernmost side of that River Called by the name of Webhannet River, at the Falls w'ron the sayd Fran: Littlefield hath built a Saw Mill neare untohis dwelling house, weh formerly was the Interest of his father Edmund Littlefield deceased,…
https://www.ancestry.co.uk/mediaui-viewer/tree/81079217/person/44469730096/media/7a56e385-ae44-479e-988f-df34f11874d2?destTreeId=117781346&destPersonId=180170508926&hid=100563868573&src=em&o_xid=76841&o_lid=76841&o_sch=Email%20Programs
12/29/2017 MSE