Barton, of Polish Origins, but other Y-DNA taking on Barton surname along migrational path of surname seed from Poland.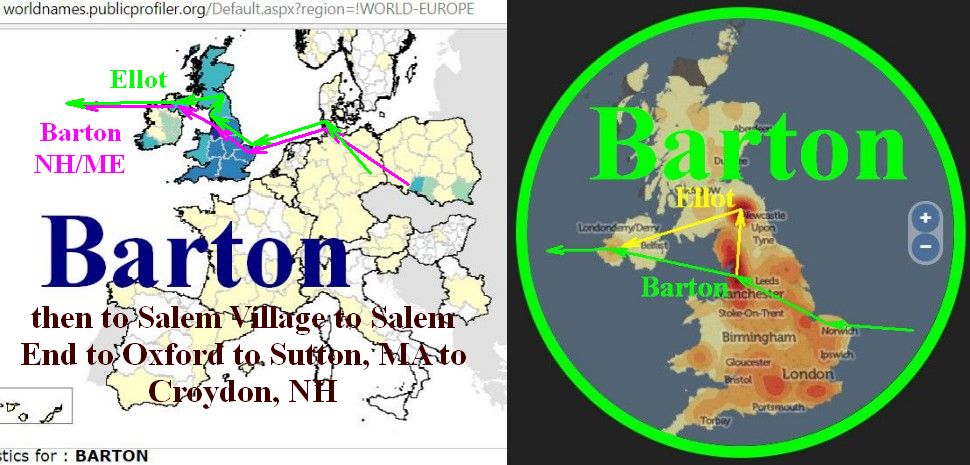 http://worldnames.publicprofiler.org
http://named.publicprofiler.org/
Have a lot of Scandinavain Y-DNA, found with Polland, Scotland, and Ireland.
Harold Turner and Mark Elliott, Scottish FTDNA;
Harold Turner July 25 @ 9:21am
A few Montgomery's in Greenville, South Carolina where they became overly proud Confederate Soldiers. Married into my Barton family.
Unlike You like this
Mark Elliott Yesterday at 11:06am
Harold Turner,
Both a Samuel Barton about 28, and my many great Daniel Elliot about 27, left testimony in defense of an Elizabeth Proctor, of Arthur Miller's play "The Crucible", during the Salem Witch Trials, in 1692. These families migrated from Salem Village to Salem End, to (New) Oxford to Sutton all of Massachusetts, and onto Croydon, New Hampshire.
http://gorrenberry.com/barton-lancashire-america/
Like Harold Turner likes this
R1a1* ··> Iran, Caucasus, Greece, Scandinavia
R1a1a (L168, L449, M17, M198, M512, M514, M515)
Harold Turner Yesterday at 6:23pm
I do believe that to be a different y-dna group of Barton's than mine, but I have a grandmother, great-great-grandmother and a great-great-great-grandmother Barton and it is family folklore that there was a Turner married to a Barton on the ship they came over on in the 1650's With a Captain William Barton. You can find him in the Maryland archives but not much else. Never found a passenger list or ship name, but his son William Barton Junior was a constable and had a Thomas Turner for a clerk. My Y-DNA closely matches a group of Ulster Scots that landed in Snow Hill Maryland in 1680 descendants of a William Turner born in Aberdeen. The DNA folks say my family and this one are 20 generations apart.
Like
Mark Elliott Yesterday at 6:50pm
These Bartons of York, Maine/Portsmouth NH, as far as my research has went.
Like
Harold Turner Yesterday at 9:02am
My Barton's are lineage one on the Barton page. Their origin was Lancashire England. Have a little war at every Barton Historical Society meeting on the prospect of a Barton being in Scotland. To big things to remember in Genealogy people travel and mother is not always true to dad. Took me years to convince my family that we did not always live Greenville, South Carolina.
Like
Mark Elliott 21 hours ago
Note; Barton as Lancashire English are found in Fermanagh, County Ulster where my family is from, of Daniel Elliot. https://en.wikipedia.org/wiki/Tullykelter_Castle
Like Harold Turner likes this
Mark Elliott 21 hours ago
Given; http://worldnames.publicprofiler.org
Barton are found in; Poland, Lancashire, England, Fermanagh, Ulster Ireland, New Hampshire (with Elliot in Croydon), and South Carolina, likely Greenville. Had a Y-DNA line of Elliott which went down from Portsmouth, NH – Kittery, ME, guess what they started out of Boston, in Charles II Town, South Carolina. They out of New England, started a Baptist Church. Do your Greenville, Barton happen to be Baptist?
http://www.therjhuntercollection.com/resources/muster-rolls-c-1630/search-muster-rolls/
First Name Surname Barony/Lands Landlord/Estate County
Thomas Barton Lourgg F. Blennerhasset Fermanagh
Robert Barton Lurgg L. Blennerhasset Fermanagh
George Barton Lurgg L. Blennerhasset Fermanagh
Robert Barton Knocknyny & Coole Sir S. Butler Fermanagh
John Barton Knocknyny & Coole Sir S. Butler Fermanagh
Family a Robert Elwald (ie Elliott), was in Rimington, Lancashire.
"History
The village was listed in the Domesday Book as "Renistone". The name Boulton (Bolton) is listed in land deeds of 1302, and Robert Elwald son of Alan listed 1304."
https://en.wikipedia.org/wiki/Rimington
Previous to Pendle Witch Trials, and the Quakers. Witches and Quakers may be difficult to take. With Samuel Barton, and Daniel Elliot providing defense for Sarah Proctor in Salem. It should be noted that Samuel's grandmother stood up against witch prosecution in Strawberry Bank-Portsmouth, New Hampshire region. They had a good Reverend a Joshua Moody, Puritan which stood out against the witch trail in Salem. Only in the Puritan Harvard, Massachusetts using the science of the day, of Cotton Mather, did the witch trials in the American Colonies produce so many deaths.
It should be noted; Clara Barton of (New) Oxford, Mass, associated as an originator of The American Red Cross, during America's Civil War is of this line, of Samuel Barton which in (New) Oxford, acquired a quarter of The (Daniel) Elliot Mill.
Like
Harold Turner 14 hours ago
Clara Barton not in my line. As far as paper trail one Thomas Barton Married to a Sarah Wilson from coast of Va sent into NC as a British red coat soldier in the French and Indian war then to Spartanburg, SC to guard Moore Family Plantation from Cherokee at that time wild wild west. Some speculation but no real proof as to whom his parents were. or how they came to America, but the Captain William Barton who came to Maryland is in our DNA line, but family refuses to believe that it is possible that he is grandad.
Like
Harold Turner 14 hours ago
History of Maryland says he first landed in VA he had a son-in-law a Thomas that was Quaker He had to have been one of the first this is the 1650's. VA told him the Quaker garbage had to go, so he took his daughter and son-in-law into Maryland. You know it is possible he may have had a son or relative on board that stayed in VA and Maryland not that far from VA. I did find a record of a daughter of his named Sarah that married a Warren in VA. Barton family one of the worst in history to be adventurous. In 1962 I had a great- aunt a lady with only a fifth grade education tell me all about William Barton and how he brought our families to America. She told me how and when the Barton's went to Texas. How our Turner's went there but came back. Told me they left Samuel Turner. Yep! in 1999 when I got my first computer I found everything she told me to be true. Found Samuel Turners family still alive and well in Orange County Texas and yes the Maryland archives say there was a Captain William Barton. Yes I know folklore is not always the best info it is like a rumor that gets stretched with every telling, but there was a William Barton in Aberdeen in this time period it is in the Barton Family record. Gee what is wrong with people Mark Yes, there are Barton's today in Ireland and in Scotland. Dumbartonshire named for them.
Like
Mark Elliott 14 hours ago
The admin https://www.familytreedna.com/groups/argyll-colony-north-carolina/about of the FTDNA is a Moore, and very good at it, but that co-admin needs all the help one can get. Cherokee are of North Carolina, like this Argyll Colony is.
Like
Harold Turner 23 minutes ago
Yes! Related to the Moore's. Walnut Grove Plantation still there great historical place to visit in Spartanburg, SC. Kin To John Turner, John Easley, and Thomas Barton all brought here with families to protect Walnut Grove plantation. Got mad at British for leaving them there and defeated them at Cow Pens battle Field. Really mad at King Mountain a blood bath. Might look up Terry Barton he is administrator of Barton site and I think Boggs family DNA site. One of the founders of DNA for genealogy. Good at selling DNA kits Barton's well covered.

Elwald (ie Elliott) traveled with Barton from Poland, and into America.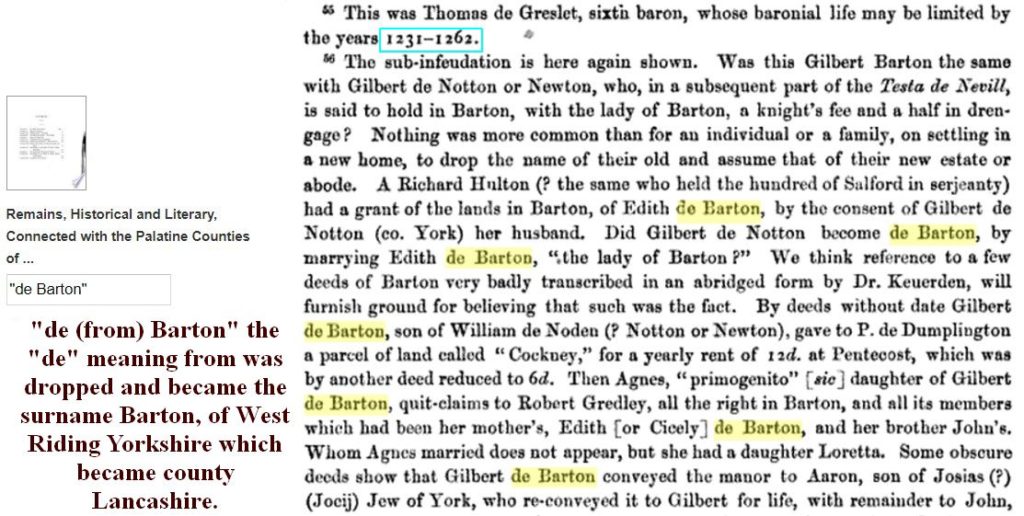 The surname in England of the name Barton(e), came from a village in Cambridgeshire.
"History The Roman road Akeman Street may have passed through the village. Barton, Old English Bartone, is mentioned in the Domesday Book. At that time, 1086, Robert, Count of Mortain, Humphrey from Guy de Raimbeaucourt, and William of Keynes were listed as Barton land-owners."
It was brought by Barton to Preston, and Lancashire, which was named after the surname had been already adopted in England.
7/27/2017  MSE