United Kingdom Armstrong; with Buccleuch and Gorrenberry, what more do you need to stop the proposed Infinis Windy Edge wind farm in the Martin Ellot intern chief Braidlie/Gorrenberry region?
Don Quixote?;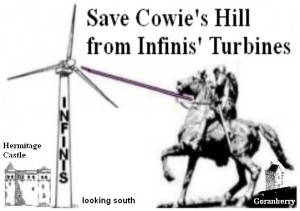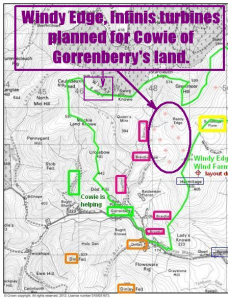 Can someone see the similarities in the mapping of land by Infinis, Windy Edge above, and the mapping of land by Buccleuch below?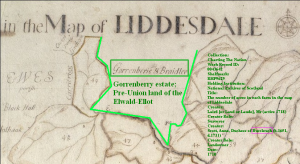 Can someone see the similarities of Buccleuch claiming Mangerton, and Buccleuch claiming Gorrenberry in the below genealogy?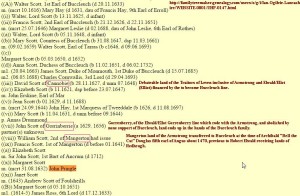 Forename blanked out for  ______ Ellot of Gorrenberry 1607, previous to family banishment out of both kingdoms in 1608.



Lets the United Kingdom Armstrong, Buccleuch and Gorrenberry, lets not fail this time round….

in stopping the Infinis, Windy Edge industrial wind turbines from being placed near and desecrating the Hermitage Castle, a symbol to reivers around the world. Lets protect the Hermitage Castle, and show what needed to be done with Kinmont at Carlisle Castell.
Mark Elliott   6/5/2015
Please Support;
Please Support Buccleuch, and Northumberland, because the United Kingdom does not of and Antiquities Act like the United States, it is the border aristocracy which protects historical border antiquites,  such as the greatest symbol to borderers around the world that of The Hermitage Castle. The border aristocrats in protecting the archaeological history, from corporate, desecration are acting much in the spirit of the United States Antiquites Act of 1906   which protects regions in the US National Park system, such as that of Mesa Verde, National Park, and Chaco Canyon National Historic Park, on the Colorado Plateau, in the Four Corners region of the Southwestern United States. There are protected ruins at Grand Canyon National Park where about half the visitors are from outside the United States.
The native indigenous populations of the pueblo people are descended from these regions which are protected, though the United Kingdom after the revolution of 1776 became a different nation from the United States, it is hoping they will see fit to protect my ancestral lands from industrialization, like the United States Antiquities Act of 1906 protects the land of it's native population from industrialization.
Some protect the land for others, like the Wethrill Brothers and are buried there.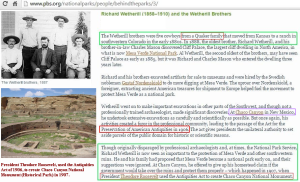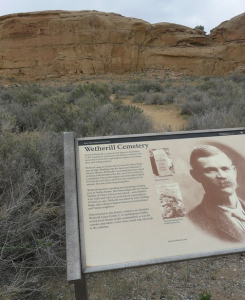 Can assure you, that my ancestry is buried in the vicinity of Hermitage Castle and on the land where Infinis is planning to build a wind farm.
Those such as the clan chiefs of The Kerr, and Elliot, and Cessford a Kerr; Duke of Roxborghe, are all linked to Northern British Wind Power, and likely expressing themselves as being Scottish and that they can determine a wind farm can be built near that of Northumberland, but when it comes to The Hermitage Castles if they are not supporting the Armstrong the they are supporting Infinis, in placing a wind farm near The Hermitage Castle, and are extending a long standing feud between, not the Ker but between Buccleuch and Cessford, and taking advantage of their new found corporate power of Northern Bristish Windpower NBW, to cause environmental, industrial destruction to what Buccleuch famiy has be protecting, preserving and renovating for over four centuries the of THE HERMITAGE CASTLE.
 MSE    8/6/2015
Archaeological map for west side Infinis Turbine Array;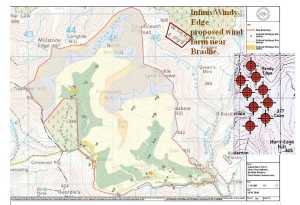 New map showing Infinis Braidlie, Array (not labeled), and east side of array.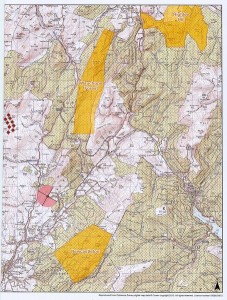 Old website;
Infinis Windy Edge Briadlie Turbine Array map.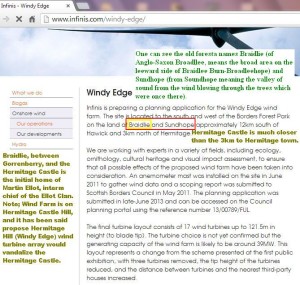 Everyone on in region knows where The Hermitage Castle is, why is it not called Infinis, Hermitage Castle wind farm, instead of Infinis, Windy Edge wind farm. Where is Windy Edge anyway?
Refer to map;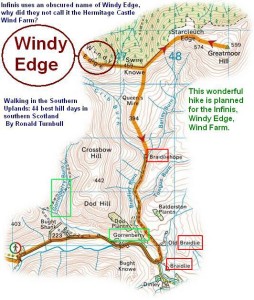 Where does the United Kingdom Clan Elliot Society think Braidlie historical Martin Ellot's Braidley is;
But where do maps say it is;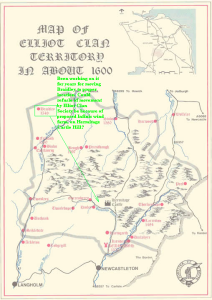 Could above be an example of the wind farm corporations using MI6 covert techniques to get their way?
Redheugh of Northern British Windpower NBW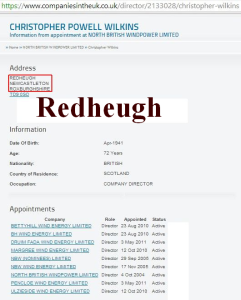 Redheugh linked at one time to MI6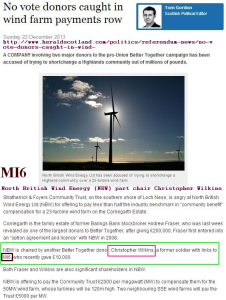 September (Sept/Hept 7th month) 1484;
Walter Scot of Edshaw to be of Branxholm to be of Buccleuch.
Rudolph Ker and brother Walter Ker of Cesford now Duke of Roxburghe.
William Elwald of Gorrenberry, now considered vanquished.
To see Robert Elwald (10) receives lands of Redheugh, Lariston, Hartsgarth and others.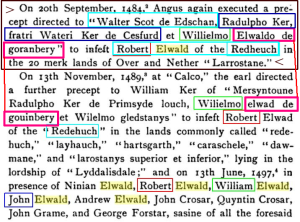 The Annals of a Border Club (the Jedforest): And Biographical Notices of the Families Connected Therewith
George Tancred
Pub T. S. Smail, 1899 – History of Scotland pg 149
It should be noted as in above it is felt in 1484 Buccleuch (Scott), and Cessford (Roxburghe) were not feuding.
Mark Elliott  6/7/2015