Towers of
the Elwald
Scotlands Places
Redheugh Tower


Scotlands Places
Redheugh Tower
Organisation The Royal Commission on the Ancient and Historical Monuments of Scotland
Alternative Name(s)
Canmore ID 67876
Site Type TOWER HOUSE
County ROXBURGHSHIRE
Parish CASTLETON
Council SCOTTISH BORDERS, THE
NGR NY 4944 8981
Latitude, Longitude 55.199947N, 2.795871W
Images 0
Archaeological Notes
NY48NE 7 4944 8981
(NY 4935 8978) Redheugh Tower (NR) (Site of)
OS 6" map (1957)
This spot was pointed out by three local informants in 1858 as the site of Redheugh Tower, property of
the Elliotts (Name Book 1858).
(See also NY 48 NE 10) "Robin Elliot of the Reddhughe, cheife of the Ellotes" (of Liddesdale) is on
record in 1583.
RCAHMS 1956
The site falls on a level area overlooking the flood plain of the Hermitage Water. No trace of any
structure could be found. The landowner (Sir Arthur Elliot, Redheugh, Newcastleton) agrees with the
OS site and although Dr Robson (Hawick Museum) suspects that this is the probable site of Redheugh
Tower, he has no documentary evidence to support this view.
Visited by OS (TRG) 21 June 1979
At NY 4944 8981 are the buried footings of a 2-compartmented rectangular building. Possibly the site
of Redheugh Tower found by dowsing. The site at NY 4935 8978 is too small, and may be a curlingstone
storehouse.
Information from letter from A Elliott, Providence Cottage, Bishop Auckland, Durham 10 November
1986.
Related Material Information - Bibliographical References
Ordnance Survey (Name Book) Object Name Books of the Ordnance Survey
RCAHMS (1956) The Royal Commission on the Ancient and Historical Monuments of Scotland. An
inventory of the ancient and historical monuments of Roxburghshire: with the fourteenth report of the
Commission, Edinburgh. Held at RCAHMS: A.1.1.INV/14

Redheugh Tower at green pin.




Gorrenberry Tower

Organisation The Royal Commission on the Ancient and Historical Monuments of Scotland
Alternative Name(s)
Canmore ID 67917
Site Type TOWER HOUSE
County ROXBURGHSHIRE
Parish CASTLETON
Council SCOTTISH BORDERS, THE
NGR NY 4635 9729
Latitude, Longitude 55.266827N, 2.845836W
Images 0
Archaeological Notes
NY49NE 6 4635 9729.
(NY 4635 9729) Gorrenberry Tower (NR) (site of)
OS 6" map (1962)
Goranberry Tower stood near the source of the Hermitage Water, about two miles above the castle
(NY49NE 5); it belonged to the Elliots. Remains of the tower existed until within the last thirty years,
when they were demolished to build farm offices.
A Jeffrey 1864
No structural remains of a tower can now be seen, but at the published site there is a slight mound,
rectangular on plan, and measuring about 11.0m E-W by 4.5m transversely. Numerous small field
enclosures which lie adjacent may indicate that this was the site of a farmhouse rather than a tower.
Local enquiries failed to confirm the existence of a tower.
Visited by OS (JLD) 27 September 1960
Previous field report confirmed. The name "Gorrenberry Tower" is known locally.
Visited by OS (DWR) 23 March 1972
Related Material Information - Bibliographical References
Jeffrey, A (1855-64) The history and antiquities of Roxburghshire and adjacent districts from the most
remote period to the present time, London; Edinburgh. Held at RCAHMS: D.1.3.JEF.R

Gorrenberry Tower located at the green pin.




Thorlieshope Tower
Organisation The Royal Commission on the Ancient and Historical Monuments of Scotland
Alternative Name(s)
Canmore ID 67972
Site Type TOWER HOUSE
County ROXBURGHSHIRE
Parish CASTLETON
Council SCOTTISH BORDERS, THE
NGR NY 5713 9650
Latitude, Longitude 55.260786N, 2.676086W
Images 0
Archaeological Notes
NY59NE 3 5713 9650.
A tower, said to have belonged to the Elliots, formerly stood where the garden of Thorlieshope now is.
Name Book 1858
No traces remain of this tower.
Visited by OS 6 October 1960 and 23 March 1972.
Related Material Information - Bibliographical References
Ordnance Survey (Name Book) Object Name Books of the Ordnance Survey






Larriston Tower
Organisation The Royal Commission on the Ancient and Historical Monuments of Scotland
Alternative Name(s) LARRISTON
Canmore ID 68008
Site Type TOWER HOUSE
County ROXBURGHSHIRE
Parish CASTLETON
Council SCOTTISH BORDERS, THE
NGR NY 5453 9442
Latitude, Longitude 55.241864N, 2.716655W
Images 0
Archaeological Notes
NY59SW 13 c5467 9438.
(Approx NY 547 944) The strong fort of Robert Elliot stood on the left bank of Liddel Water and
adjacent to the house of Haggishaugh (marked on Stobie's map of Roxburghshire, 1770, at Larriston).
When its foundations were dug up about sixty years ago, the workmen discovered what had been a
large oven also an 18 lb cannon-ball. A map in the British Museum dated 1590 marks a tower symbol
in this area, with the name "Robert Elliot, Ladiestane". All the Border Elliots are descended from this
Robert Elliot. (cf NY59SW 7 and 8).
A Jeffrey 1864
The published site for Larriston Tower is at NY 5555 9370, beside Larriston Burn (see NY59SE 1). Dr
Robson (Hawick Museum) does not dispute this location, although he states a form of tower may have
existed at or near Haggishaugh whose site is believed to be occupied by the present 18th century
Larriston House. There is no external sign that this house incorporates earlier material, and enquiries
there proved negative.
Visited by OS (JRL) 31 July 1979
At NY 54679438 are the buried footings of a small rectangular building. Possibly the site of Ladieston
Tower found by dowsing.
Information from letter from A Elliott, Providence Cottage, Bishop Auckland, Durham.
Footings of Haggishaugh Hall found by dowsing on the lawn of Larriston House (NY 5453 9442),
August 1989.
Information from letter and plan from A Elliott, Providence Cottage, Bishop Auckland, Durham 21
November 1989.
Architectural Notes
Possibly Ladiestone Tower
Related Material Information - Bibliographical References
Jeffrey, A (1855-64) The history and antiquities of Roxburghshire and adjacent districts from the most
remote period to the present time, London; Edinburgh. Held at RCAHMS: D.1.3.JEF.R





Copshaw Tower
Organisation The Royal Commission on the Ancient and Historical Monuments of Scotland
Alternative Name(s) PARK TOWER
Canmore ID 67878
Site Type TOWER
County ROXBURGHSHIRE
Parish CASTLETON
Council SCOTTISH BORDERS, THE
NGR NY 4799 8757
Latitude, Longitude 55.17967N, 2.818236W
Images 0
Archaeological Notes
NY48NE 9 4799 8757.
(NY 4799 8757) Park Tower (NR) (Site of)
OS 6" map (1957)
Copshaw Tower (formerly on the farm of Park) stood on the right bank of the river, exactly opposite
Whithaugh (NY48NE 12), at the corner of the plantation where the Langholm road turns N. Ruinous in
1793, it was a property of the Elliots. It is shown by a tower symbol on a map of 1590. No traces of it
now remain apart from the remains of old peel-dykes and enclosures on what is now Newcastleton
common. Jeffrey notes an arrow-slit from this tower, built into a garden wall in the village while the
RCAHMS describe three other stones inserted into buildings in the village "probably from Copshaw
Tower"; one is dated 1686.
A Jeffrey 1864; RCAHMS 1956, visited 1946
There is no trace of this tower site in the area indicated and Dr Robson (Hawick Museum) has no
documentary evidence to support the OS site; however, he suggests that there probably was a tower in
the general locality. The various stones were not located.
Visited by OS (TRG) 2 July 1979
There is no visible evidence of a tower at this site.
Visited by RCAHMS (SDB) March 1996
Related Material Information - Bibliographical References
Jeffrey, A (1855-64) The history and antiquities of Roxburghshire and adjacent districts from the most
remote period to the present time, London; Edinburgh. Held at RCAHMS: D.1.3.JEF.R
RCAHMS (1956) The Royal Commission on the Ancient and Historical Monuments of Scotland. An
inventory of the ancient and historical monuments of Roxburghshire: with the fourteenth report of the
Commission, Edinburgh. Held at RCAHMS: A.1.1.INV/14
Related Material Information - Bibliographical References
Jeffrey, A (1855-64) The history and antiquities of Roxburghshire and adjacent districts from the most
remote period to the present time, London; Edinburgh. Held at RCAHMS: D.1.3.JEF.R
RCAHMS (1956) The Royal Commission on the Ancient and Historical Monuments of Scotland. An
inventory of the ancient and historical monuments of Roxburghshire: with the fourteenth report of the
Commission, Edinburgh. Held at RCAHMS: A.1.1.INV/14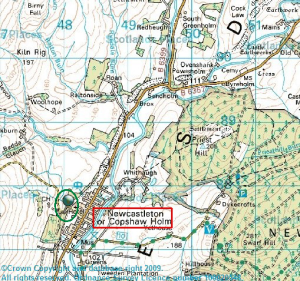 Elwald area maps
Blaeu Atlas of Scotland, 1654
Lidalia vel Lidisdalia regio, Lidisdail / Auct. Timotheo Pont.
Info gathered by Mark Elliott June 18, 2010 
Hartsgarth Tower
Shows linage of Gilbert which followed Gavin of Stobs as being unclear.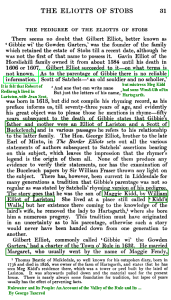 The Maiden Way became the Thief Sike between Gorrenberry and Hartgarth towers.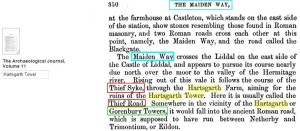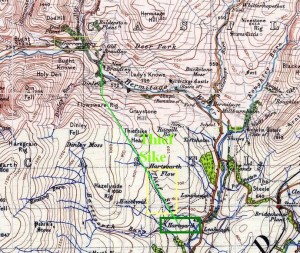 Hartsgarth is a Scandinavian name.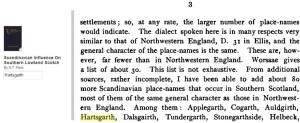 Hartsgarth is of the land of Robert of Redheugh along with Lariston.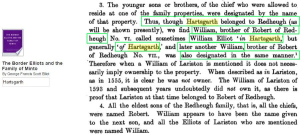 William of/in Hartsgarth is one of the pledges of Buccleuch.

Though it is William represents as laird; landholder of the Gorrenberry-Horsleyhill-Stobs line. It is Gavin the baillie to Bothwell which raises William, Robert, of Gorrenberry, and acquires the land of Horsleyhill, near Hassendean, then acquires Stobs for his grandson the first son of stepson Gilbert, who is the son of Robert of Redheugh (living in Lariston), and Jean Scot, sister to Buccleauch, but Gilbert is the second illegitimate son of Meggie Kidd of/in Hartsgarth, where William is the first illegitimate son of Meggie Kedd. Gavin of Horsleyhill/Stobs, married to Jean Scot the widow of Robert of Redheugh, and sister to Buccleuch, raised Gilbert,  which married Margret (Fendy) Scot cousin to Buccleuch. Since Gilbert was not biologically the son of Jean Scot in Gilbert marring of the Buccleauch family there was no incest.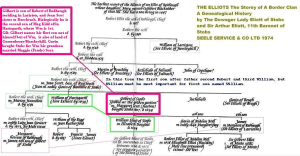 Shows on 1590 no Redheugh, but Robert Ellot is living in Lariston.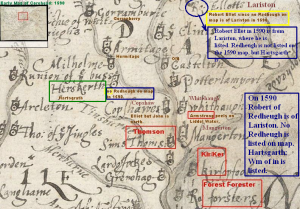 This William is second brother to Robert of Redheugh, living in Lariston, but not of Jean Scott, but of Meggie Kidd.

William of/in Hartsgarth is a pledge of Buccleuch.

Mark Elliott