The Reprisal-1549
by Walter Laidlaw
(Former Custodian or Jedburgh Abbey)
The Castle, razed from tower to floor
Was built and garrisoned once more;
The Scots and French, led on by Kerr,
Courageous and well-trained to war,
On horse, on foot, from far and near,
With Jethart axe and Border spear,
Responded to the bugle-call;
They storm and scale the outer wall;
Though strong the tower, a breach they made,
Through which the English captain said,
"My noble chief, we mercy crave."
"You'll get the mercy that you gave,"
The chief replied, and forward sprang;
A deadly conflict then began.
So fierce and furious was the shock,
Helmets were cleaved with every stroke;
Above the clang of sword and spear
Was "Forward" heard and "Jethart's Here!"
So well the Kerrs their left-hands ply
The dead and dying round them lie,
The castle gained, the battle won,
Revenge and slaughter are begun.
Now trembling for his cruel deeds
In vain for life the foeman pleads,
But why, my muse, such scenes described?
Peace over all doth now preside.
The days of siege and raids are o'er,
The din of war resounds no more;
No sound except the song of bird
Within the forest glade is heard,
While thistles wave and roses bloom
To guard and deck the warrior's tomb.
On Kerr migration patterns;
http://www.elwald.com/ker-kerr-carr-migration/
Dear Bob, re: Hermitage Castle wind farm HAG | Elwald
Aug 28, 2013 – Dear Bob, re: Hermitage Castle wind farm HAG … Call the project to take on the wind mills; The La Mancha Project Hermitage Castle Action 
Should be noted; Though the aristocratic Kerr that of the Kerr Chief, and Cessford; Duke of Roxburghe a -Ker,  with the Clan Elliot Chief are linked through Northern British Windpower, to build a wind farms, in Scotland.
Infinis is out of England;
Infinis intends submitting planning applications this spring to Scottish Borders Council for seven turbines up to 126.5m in height (to blade tip) at Cummings Hill, with another 20 similar in size earmarked for Windy Edge.
But Philip Kerr, chair of Chesters Wind Farm Action Group, and his opposite number at the Hermitage Action Group, Malcolm McGregor, want Scottish Borders councillors to contact local authority representatives in the Longhorsley area of Northumberland and get an update concerning what they described as the "dreadful experience" of the local community during Infinis' construction of the Wingates wind farm.
The two men's concerns were exacerbated after several recent incidents in Northumberland, including a vehicle delivering a turbine part becoming stuck for over an hour and another, in December, when a crane blocked the same road after icy conditions caused it to skid.
https://www.wind-watch.org/news/2013/03/02/fears-of-traffic-chaos-if-turbines-get-green-light/
Know that most Kerr unlike their aristocratic counterparts of Northern British Windpower (NBW), are like me; Mark Elliott, and Philip Kerr, will not follow the aristocrats the Kerr, and Elliot chief into their profit making industrial desecration of the borderlands. Philip is of the borders of Scotland, and I am from New Mexico, USA, and we both do not want to see this industrial desecration of the borders, along with Clan Armstrong Trust, Buccleuch (married to a Kerr), and Northumberland. Both sides want to protect their borderlands. In the case of Buccleuch and Northumberland there is something more than profit at stake.
http://www.telegraph.co.uk/news/earth/energy/windpower/8713199/Duke-of-Northumberland-an-unlikely-hero-in-the-fight-against-wind-farms.html
http://www.telegraph.co.uk/news/earth/energy/windpower/8713128/The-aristocrats-cashing-in-on-Britains-wind-farm-subsidies.html
Added; Mark S. Elliott  5/30/2015
May Clan Crozier become as there ally, Clan Armstrong, UNVANQUISHED, and REMAIN so;
Crozier Censored
Clan Crozier  has been censored and deleted from Wikipedia though it had a lot of activity.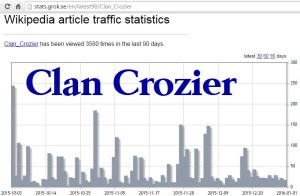 Information contained in;
As compared to the Wikipedia site which had activity;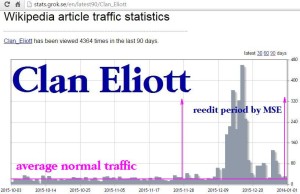 The peaks and most of the activity was caused by censored information to the Clan Eliott site of;
Composed by Mark S. Elliott, but like Wikipedia article Clan Crozier, the Clan Elliot information was also censored from the Clan Eliott site.
Why Censored?
If historians, can not use deeds (sasine) in the history, then what are they using?

Valid reference on graphic;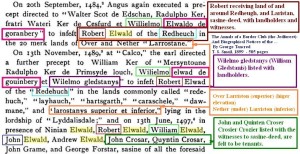 Map verifies the Lariston lands of Redheugh;
Because the deed of Redheugh, Lariston, Hartsgarth and other; to the Clan Elliot chief's land is old does not make it invalid.
Mark Elliott   1/12/2016
Search engine bias by adding a 2 to elliot;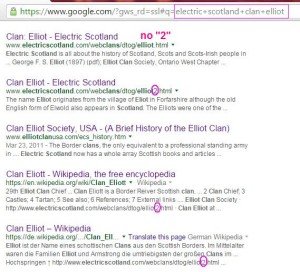 Try;
www.electricscotland.com/webclans/dtog/elliot.html
www.electricscotland.com/webclans/dtog/elliot2.html
and see for yourself.
QuintusPentillus of Clan Eliott Wikipedia linking to;
Can anyone figure out who QuintusPentillus is?
MSE  1/14/2016
Can't be the work of MI6NBW, can it?
MSE  1/15/2016