Anderson, Andersson R-U106-S12025
Daniel Elliot Cluster is being found  for those in the cluster as S12025  (received from RP Elliott).

Note name; Lindemann.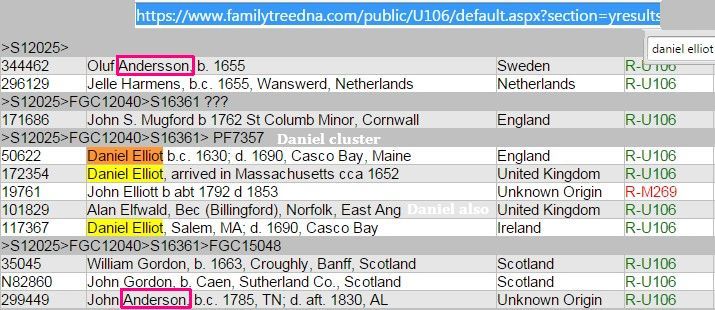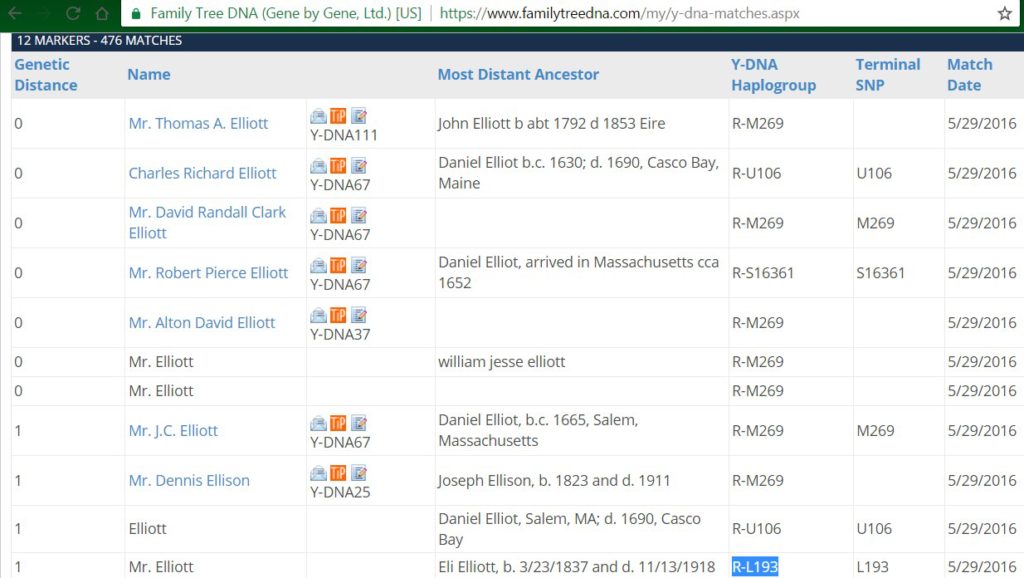 Have an R-L193 match which would indicate adoption.  Two Andrew of Scotland are listed. In 1608, when Andrew of Scotland was banish from the kingdoms of Scotland and English, he was going by his alias/nickname for Andrew that of Dan, which in Ulster-Northern Ireland it became a popular Irish name that of Daniel.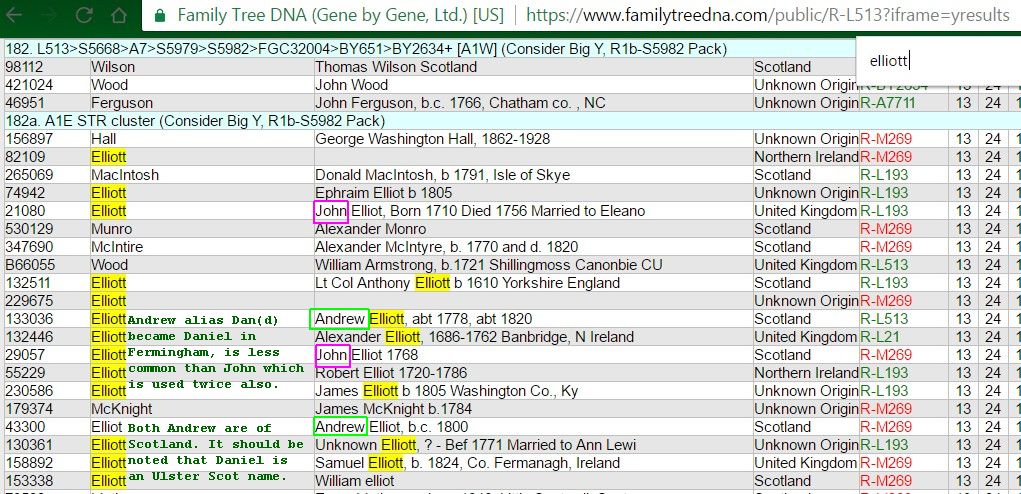 There are two Anderson/Andersson, listed among the S12025 Daniel Elliot cluster.
Daniel name is felt to have been derived from Andrew where Dan is an alias for Andrew on the Scottish Borders, and borderers, were felt to be Catholic when arriving in the county of Fermanagh.
http://www.historyireland.com/early-modern-history-1500-1700/sheep-stealers-from-the-north-of-england-the-riding-clans-in-ulster-by-robert-bell/
Then the county of Fermanagh became Anglican/Episcopalian. With Daniel of Tullykelter, of Anglican Archbishop Malcolm Hamilton land, it is felt that the border Scot,  Dan Ellot became the Ulster Irish which a Dublin spelling Daniel Elliot.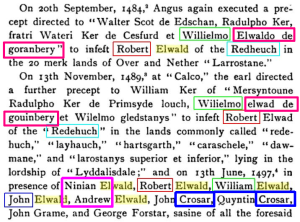 note; no Armstrong, but Grame (Graham), and Forstar (Forster/Forester), with towers on English side of Liddel Water, and Armstrong have towers on Scottish side, in 1576 Saxton map.
When Robert Elwald (Ellot) received  lands of Redheugh, Lariston, Hartsgarth and others;
Ninian, Robert, William, John, and Andrew, are listed with the witnesses to the sasine/deed.
Note; George Forstar is also listed as a witness; above the name has a German base and became Forester in England
Monumental Lind Trees in Germany;

Forster Linde; a lind tree of the forest.
Lind;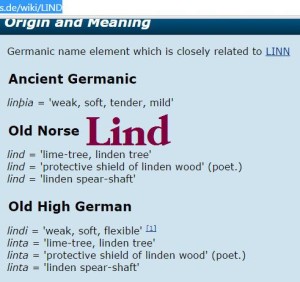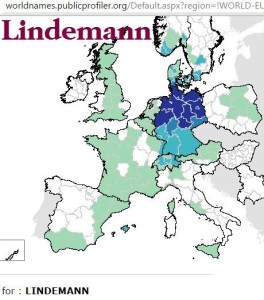 Lindenwald, meaning; linde tree forest, is found in Germany, in the region in which most Lindemann meaning; linde person live;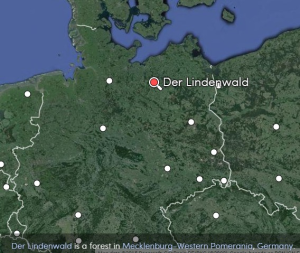 Andrew-Andreas;
The name Andrew appears as a witness of Andrew Elwald, when Robert receives lands of Redheugh, Lariston, Hartsgarth and others.
It is felt the the name came from a John Elwald, rector Saint Andrews University (Universitatis Sancti Andreæ (Latin), Sankt/San Andreas  German/Spanish) in 1418, and became rector of Kirkandrews (church of St Andrews) of the Diocese of Whitethorne in 1423.  So Andrew was an important name to the family line since these times.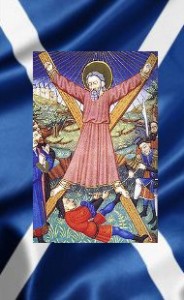 Andreas of Germany, for Andrew and Anderson variants as found in Scandinavian, and Scotland, is one of the seeds.
Andreas distribution;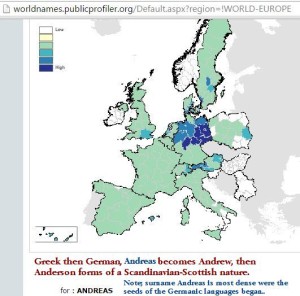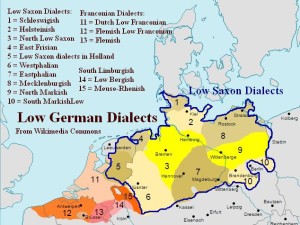 of the Proto-Germanic language which spreads north.
Ewald Elwald distribution;

Arms are similar. Elwald has a stag's head at crest.
Andrew is an Elwald name, and if one compares surname distribution of Andreas and Ewald, one should be able to see the similarities.
St. Andrew, was a disciple of the great St. John the Baptist, and the patron saint of Russia, and Scotland where the cross made by diagonals on the Scottish flag is referred to as Saint Andrew's Cross.
The names of other forms in the Scandinavian nations of  Anderson; son of Andrew and Johnson; the son of John, follow the Scandinavian patronymic; surnames after the fathers as opposed to Norman surnames after the estate/barony, form of naming.
Andrew an important family name;
The name Andrew through it's Scottish border alias Dande, not Andy became the Ulster Irish and American Plantation name of Daniel.  This is the name presently used for the Y-DNA R-U106-S12025; Daniel Cluster.

John Elwald, was of a church in the diocese of St Andrew, rector of St Andrew 1418, Canon of Glasgow, Selkirk regent, then rector of the church of St Andrew, referred to as Kirkandrews (meaning church of St Andrews) diocese of St. Ninian that of Whitethorn 1423, in the Debatable Lands near Canonbie.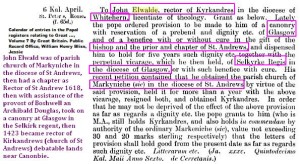 Andrew became the alias/nickname Dan, and then in Ulster, Northern Ireland became Daniel, Daniel Elliot of Tullykelter, Fermanagh, Ulster, Ireland. It should be noted that family before Union being of the border married English women, and being of the border in Ireland, likely married Irish women.
Kind of accuse the Pope Benedict XVI who came to Scotland, with the Scots flying the flag with St Andrews Cross, on St Ninian Fiesta Day, as being Armstrong with the given tartan, or maybe used green in the tartan not forgetting the Irish;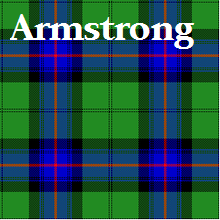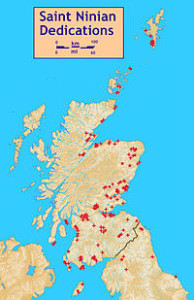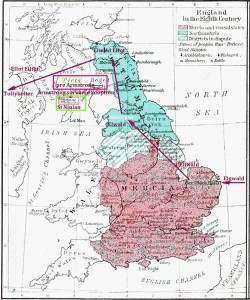 It should be noted, that at the time when St. Ninian of Whitethorn (ca 400 AD), converted the Picts to Christianity, surnames where not used. Armstrong  surname which appeared in 1376 (RB Armstrong's History of Liddesdale..), was Alexander Armystrand (not likely the first if at the time of de Solis). AAII is likely the second Alexandir Armystrand, of the IHS (christian burial) Milnholm Cross.
It is felt evolution of the name from Armystrand (army strand along Liddel (Little) Water), to 1541 Armistrang (strongest army on border), to a known name of Armstrong. Armstrong's have a number of stories, which all or some have, in  after the Union when they were no longer the "strong army", influenced the name Armistrang to become Armstrong. The people which became Armstrong and Liddel (Little) lived, in a border region along the Liddel Water where St Ninian converted the Picts to Christainity. In this region many Pict Y-DNA males, adopted the surname which evolved into today's Armstrong.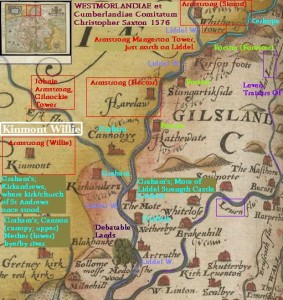 Gilnockie was destroyed by English and rebuilt, and may not have been considered an active tower in 1576 when map was made.
In 1547, on can see the Armstrong, are more than four times the Ellwood (Ellot), and more than nine times the Nixon, in number. They in 1547 were truly the army which is the strongest, with peel towers stranded along the Scottish banks of the Liddel Water.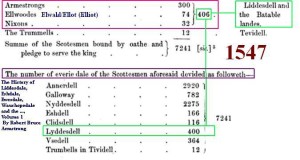 1576; Armstrong, an army strand on the Scottish side of the Liddel Water. The Grahams of Graham, now Grantham, and Forstar (Forester) are on the English side of the Liddel Water.
John is the number one forename of the Elliot, Elliott, Armstrong and Fairbairn families;

Sweden;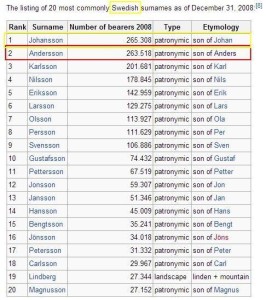 From above; Lindemann, means person of the linde tree;
So; Lindberg means a mountain (hill/mound) of linde tree.
Norway;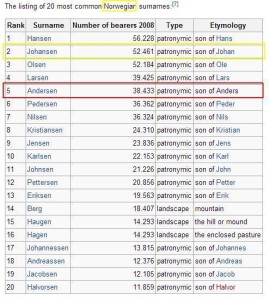 Andersen; Norway & Denmark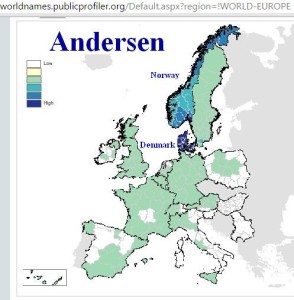 Denmark;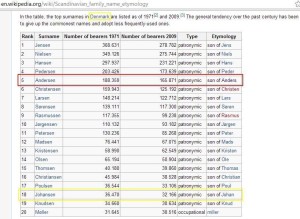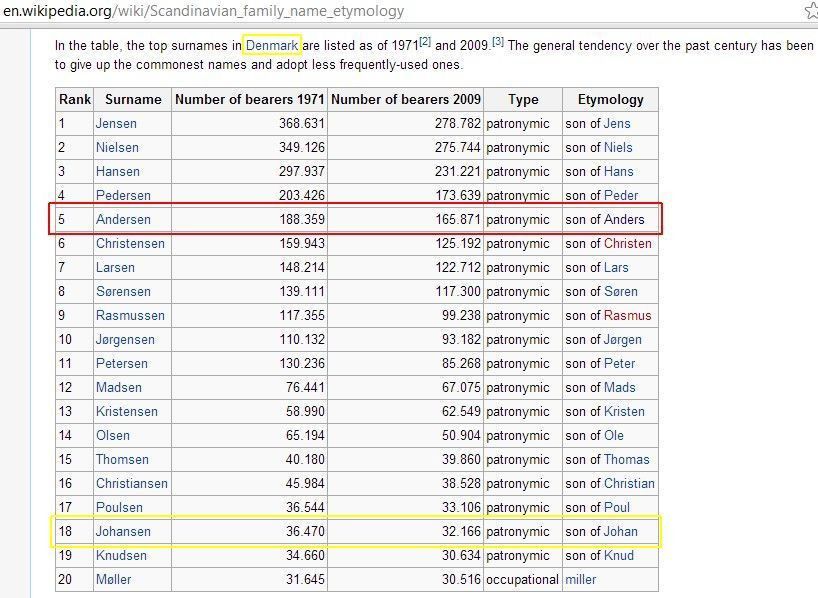 One can see the importance of Anderson as a surname in the Scandinavian nations especially Sweden.
Andersson of Sweden surname distribution;

One can see the top cities are not in Sweden, but Denmark, Norway, and Hamburg Germany.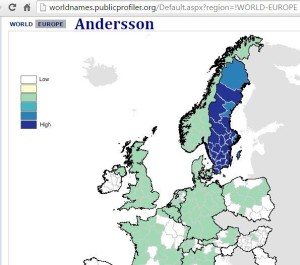 Andre is French and Sweden;
(along Proto-Germanic lines of Andreas distribution in Germany)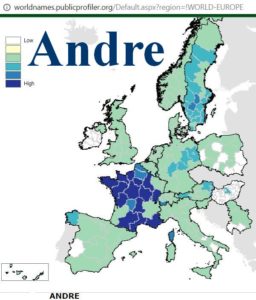 Anderson of UK surname distribution;

One can see the top cities are not in Sweden, but Scotland, northern England, and Ireland, but not southern England.

It is felt the Anderson name is Scandinavian, then border Scots, on to Northern/Ulster Ireland, then onward.
Mark S. Elliott     7/30/2015-2/19/2016
Johansen Norway & Denmark;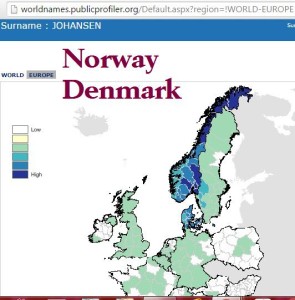 Johansson Sweden;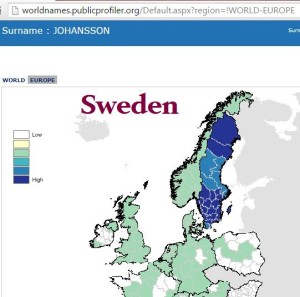 Proto-Germanic Linguistic Migration Paths;
Andreas (Germany),  to Andersen (Denmark to Norway), to Anderson (Scotland).
John (Germany), to Johnson (England), to Johnston(e) (Scotland).
John (Germany), to Johnasen (Denmark to Norway).
John (German), Johnson (English) and Johnston & Johnstone (Scottish);
1 John (Germany, Wales);

Remember; John is the number one forename of the Elliot, Elliott, Armstrong and Fairbairn.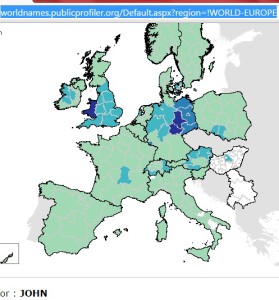 2. Johnson (English);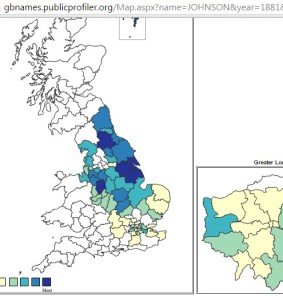 3. Johnston(e) (Scottish);
MSE 2/27/2016
Where the Germanic language had it's beginning, along with the language incubated many surnames, which migrated an evolved with the Germanic language, with influences from other languages. 2/8/2017 MSE
United Kingdom Armstrong please pass link to an Elliot;