The paper;
THE ELLIOTS: BRETONS,ENGLISH,WELSH AND SCOTS
Warriors and people of the Halegouët
by Keith Elliot Hunter
has been updated with new material.
For Elwald to placed any importance, in accordance to Arthur Eliott, and concurs with my family line the insertion of the "i" into Ellot which would make it Breton did not happen until 1650, so it is the Breton Eliot of Wm De Aliot which would have all the influence on how the name is developed.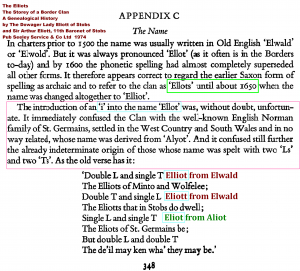 Other forms of Ellot, Elwald, Elwand, and so on without an "i/y" it is felt  Elwald may have had an influence.
It is felt since my forte is not writing that Keith Elliot Hunter did an excellent write up on the subject. THE ELLIOTS: BRETONS,ENGLISH,WELSH AND SCOTS
Précis in English of paper sent to the Historical and Archeological Society of Brittany
THE ELLIOTS: BRETONS,ENGLISH,WELSH AND SCOTS

Warriors and people of the Halegouët
THE ELLIOTS-BRETONS,ENGLISH,WELSH AND SCOTS KEH
By Keith Elliot Hunter
9/25/2013
old maps showing the name spelt as Eliot, right at the location where Scott of Satchells wrote that the Eliots came from near to Glen Shee.  Keith Elliot Hunter 1/25/2016
So from the eleventh century to the seventeenth century the name Aliot, becoming the Breton-St Germain Eliot existed and sprouted many variants, until the Scots inserted an "i" about 1650. Today over ninety percent are spelled Elliott, where some mainly in the United Kingdom are of the Breton-St Germain origins, but in the English plantations mainly of Scottish Elliot to Elliott origins.
MSE  2/4/2016