Posted Yorkshire FTDNA activity site 1/26/2017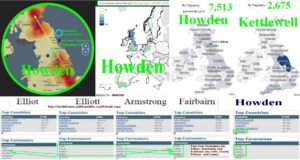 Larry Kettlewell, This is from http://forebears.io/surnames/howden
Stephen Hayden take note;
Howden; From the old barony of Hadden or Halden. Bernard, son of Brien, of an Anglo-Norman family, had a grant of the manor, of Hauden in Roxburghshire from William the Lion (Morton, p. 114). Ulkillus de Hauden witnessed a grant by Bernard filius Brien of a carucate of his land of Haudene to the Abbey of Kelso c.
In response to FTDNA Yorkshire group; Larry Kettlewell 5 hours ago YFull results have just recently arrived (STR data later around 9/2017). The findings for my YFull ID (YF08006) are: I-S2268 Terminal SNPs: A6550 • A6554 • A6561 • A6573 • A6581 • A6588 • A6603 • A8409 • PH2658 • PH4482 • PH5300 • S2268 • S2272 • S2273 • S2274 • S2275 • S2276 • S2292. (Novel SNPs 21). The origin of this ID (Most Distant Ancestor) is England (Howden E Yorks). In hovering over the info tab, there are several MRCAs which I'll have to figure out today and what that means. Like
Mark Elliott 3 hours ago The SNP are not much use, but what is important, is surnames, location, and Y-DNA, group date, take note; basic overall genealogical data, which is in following; "Kettlewell Marmaduke Kettlewell, Howden,1544- England I-Z139" and found in; https://www.familytreedna.com/public/Yorkshire?iframe=yresults The SNP are more inter-family, micro-relations, hopefully, this will help show where it is most likely the names Kettlewell, and Howden relate.
1/26/2017