Appeal to reverse decision of Scottish Border Council;

Appeal being made to Scottish Border Council to reverse previous decision;
WINDY EDGE WIND FARM application is now active – Reference: 13/00789/FUL
please email your objections to: ped@scotborders.gov.uk
or write to: John Hiscox, Planning Officer, Council HQ, Newtown St Boswells, Melrose, Scottish Borders, TD6 0SA. Anyone can object to this, wherever you live!
http://hermitage-action-group.com/please-object-.html
Hermitage Action Group
Scottish Borders Council contacts:
Ian Aikman
Chief Planning officer
Please ask for:
John Hiscox
Planning Ref:
13/00789/FUL
Appeal Ref:
15/00024/REF
E-Mail:
jhiscox@scotborders.gov.uk
Date:
1st October 2015
Dear Sir/Madam
PLANNING APPLICATION NO: 13/00789/FUL
PROPOSAL: 13/00789/FULWind farm development comprising of 9 No wind turbines and associated infrastructure/buildings/access (further revised scheme – tip heights of Turbines 1, 2 and 4 reduced to 110m – all others to remain at 125m)
LOCATION: Land North East And North West Of Farmhouse Braidlie (Windy Edge) Hawick Scottish Borders
APPEAL UNDER SECTION 47 OF THE TOWN AND COUNTRY PLANNING (SCOTLAND) ACT 1997
I am writing to advise you that an appeal has been lodged with Scottish Ministers against the decision of the Council that the above application be refused. A reporter appointed by Scottish Ministers will decide the procedure by which the appeal will be determined. A copy of your original representations will be included in the papers which I will be preparing in relation to the appeal. If you wish to make any further representations in respect of the appeal, you should write direct to the Directorate for Planning and Environmental Appeals, 4 The Courtyard, Callendar Business Park, Callendar Road, Falkirk, FK1 1XR, within 14 days from the receipt of this letter.
Yours faithfully
Ian Aikman
Chief Planning Officer
Windy Edge wind farm scheme rejected
29 June 2015 BBC
From the section South Scotland
Wind turbines
Councillors have refused plans for a wind farm south of Hawick due to concerns over its landscape impact.
Infinis UK wanted to put up nine turbines in the Windy Edge project north of Hermitage Castle.
The project had attracted more than 300 letters of opposition, along with more than 100 in support of the scheme.
Planning officials recommended refusal, saying it would be "incongruous and anachronistic". Councillors voted by six to two to reject the proposals.
Supporters of the scheme claimed the turbines would have less of an impact on the landscape than forestry, and that it would help combat climate change.
Opponents believed there would be adverse visual impacts on areas like Hermitage Castle and the wider landscape.
http://www.bbc.com/news/uk-scotland-south-scotland-33310305
If someone could represent me, since I live in Gallup, New Mexico, USA, and it is a long ways to get to the meeting it would be greatly appreciated;
Since I am from Gallup, New Mexico, USA if someone could represent me it would be greatly appreciated. My family utilized the Scottish Border spelling in the American Plantation from about 1650, but after the Revolution of 1776, we spelled it Elliott with two "t"s.
Brian Frater
Service Director Regulatory Services
Mark Elliot
Please ask for : Committee Services
01835 826502
Application Ref : 13/00789/FUL
Your Ref :
Date : 22nd June 2015
22nd June 2015
Dear Sir/Madam
PLANNING APPLICATION NO: 13/00789/FUL
PROPOSAL: Wind farm development comprising of 9 No wind turbines and associated infrastructure/buildings/access (further revised scheme – tip heights of Turbines 1, 2 and 4 reduced to 110m – all others to remain at 125m)
LOCATION:
Land North East And North West Of Farmhouse Braidlie (Windy Edge) Hawick Scottish Borders
Would Appreciate if someone could represent me.
Mark Elliott  6/23/2015
Dear HAG S
Supporter,  4/28/2015
You may be aware from information recently received from SBC that the final Further Environmental Information has been submitted by Infinis to SBC concerning Windy Edge Wind Farm, in which they have made a minor change of reducing the size of 3 of the 9 turbines to 110m, the rest remaining at 125m. This does not reduce the landscape or cultural heritage impacts upon this rare Border Landscape, heritage and locality, of this industrial power station. In fact this final Infinis arrangement of the turbines on Braidlie, is worse than the original design in the July 2013 application, which involved 8 turbines, with 3 at 111.5m and the other 5 at 121.5m.
I would be very grateful if you could email SBC planning, (prs@scotborders.gov.uk using the reference 13/00789/FUL , (Infinis Windy Edge Wind Farm), and briefly state that you continue to oppose this development, that the various amendments do not reduce the impact upon the landscape setting and cultural heritage landscape of Hermitage Castle. Please also emphasise that this is a part of the Scottish Borders, which is one of the few remaining areas which has not become a wind farm associated landscape and SBC should endeavour to keep it so. We have until 8th May to submit these final representations, with the determination date being 1st June.
Importantly, a key reason why I ask you to make a final brief objection: PLEASE LOOK AT THE ATTACHED MAP, it is from the Infinis Oct/14 addendum FEI to the application and indicates the location of other pre-application windfarms in or near the Liddesdale area. This has to be detailed by Infinis because it is referred to as 'cumulative impact'.
I have recently been informed by a reliable source that BOTH the Newcastleton Forest Wind Farm, (already with x3 wind masts there), and the Wauchope Forest Wind Farm, (which comes down to Riccarton Junction and Saughtree), are going into the Scoping Stage in June. These are BOTH on Forestry Commission land and the developer for the Commission is Parternership for Renewables, (PoR). Current wireframes show well over 100 turbines, minimum height 135m. Comment was that this will make Windy Edge look like a pinprick, (it is shown on the map by the 9 red circles on the LHS). Due to the sensitivity of this vast scheme, at this point in time, information has been restricted but the rationale behind COMBINING both these schemes is that there will be no cumulative assessment of one half against the other!
If Windy Edge goes ahead, it will OPEN THE DOOR to these other proposed developments. Apart from the landscape impacts, there would inevitably be a severe deterioration in the quality of life of many residents living close to these monstrosities. It would also be a total disaster for Liddesdale and absolutely kill the tourism industry here.
PLEASE submit one final objection, (keep it brief and refer to the points in para 2 above), and help us to keep Hermitage and Liddesdale free of wind farm development.
Please pass this on to your friends and relatives who have supported us initially. I sincerely hope for one final push from all of you.
Best,
Malcolm
Chair, Hermitage Action Group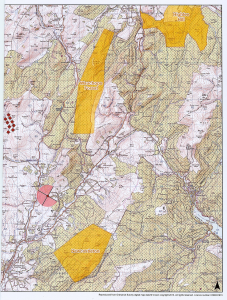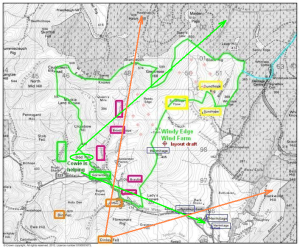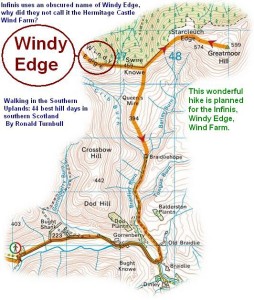 Camera angles from Dinley, and Dodd Fell.


From-
MALCOLM MCGREGOR;
Dear All,
If you some time to spare this weekend then HAG would be very grateful if you could pitch in and re-affirm/reinforce your previous objection to Windy Edge please.
From the attached photomontages which we have had our own professional landscape photographer take, the landscape and setting of the castle is still seriously under threat. The height of the 9 turbines has been increased to 125m, they are closer to non-financially involved properties and the developer is using a more powerful and noisier turbine nacelle unit. The first photomontage set is in 2 parts with a view from Dodd Hill on Gorrenberry near the Braidlie boundary. The 2nd part shows a panoramic view from the Right of Way and recently adopted SBC Core Path which passes over Dinley Fell and onwards through Braidlie and the wind farm site, across the Queen's Mire and onwards. The second attachment is taken from Arnton Fell in the east and shows the impact of the proposed wind farm on the castle and Hermitage Water valley.
This continues to be a nasty application which would have many detrimental impacts. As mentioned previously, there are serious deficiencies in the Infinis Addendum FEI in terms of a) inaccurate statements with respect to the separation distance from turbines to properties in the Hermitage Water Valley and between the data and tables supplied in the FEI, b) a lack of view-points taken from the western, (minor road from the A7), approach to Hermitage Castle, c) the assumption that visitors to the area and castle only come by car, whilst in fact many visitors enjoy the peaceful walking in the Hermitage Hills as well as cycling/mountain biking and their enjoyment of this unspoilt countryside and the castle will be seriously impaired, d) the access route is extremely problematical with many 3rd party access rights required between Denholm and Whitrope for the abnormal heavy loads, with the heaviest load being the turbine nacelle unit itself which will be at least 140 tonnes, and will not the the section of road any good, which has a 10 ton weight limit, from Whitrope Tunnel Cottages to the Whitrope Heritage Railway access point towards Sundhope and Bradlie!
For information, the HAG objection by lawyer Alastair McKie is now on the SBC portal to view and a number of other objections are now appearing. The application reference is;
13/00789/FUL and emails should be addressed to prs@scotborders.gov.uk or jhiscox@scotborders.gov.uk
Please help us to confine this application permanently to the dustbin.
Best,
Malcolm 12/4/2014
Hermitage Action Group (HAG)
Please support;
Hermitage Action Group
www.hermitage-action-group.com
Hermitage Action Group – Clan Armstrong Trust
www.clanarmstrongtrust.org.uk/articles/hermitage-action-group
Mark Elliott   12/4/2014
A LOT FOR A LOCAL TO HANDLE;
MALCOLM MCGREGOR    12/19/2014
Dear Mark,
It is not going too well for us here, with this latest amendment from Infinis for Windy Edge near Hermitage Castle. 9 turbines 125m high. Latest consultee replies from SBC Landscape Officer and Historic Scotland indicate that they will not object if Turbine 1 is removed from the array. Also, determination date has been put back by SBC from
1st February 2015 to 1st June 2015
. I suspect Infinis may sacrifice another turbine to get their wind farm here. If so, they will have to submit another FEI – Further Environmental Statement for this.
I am now  weary after over three and a half years of leading this fight, and it is difficult not to start and lose heart……..but will continue to ask as many people as possible from where-ever to object.
Best,
Malcolm
ps  Merry Christmas and all the very best from 2015
Could reivers like reivers do pitch-in? It should not be the job of a highlander to protect the border heritage. If the borderers want to protect their homeland from industrial encroachment now is the time to pitch-in.
12/19/2014
 MALCOLM MCGREGOR;    2/6/2015
Dear HAG supporter,
May I first of all thank you for your eloquent additional objections to the Further Environmental Information Windy Edge Addendum.  Some of the following you may already be aware of, if you keep a regular eye on the SBC Windy Edge idox website portal by going to SBC planning and doing a simple search' using the reference 13/00789/FUL.  :
During the week before Christmas the SBC planner, John Hiscox,  responsible for Windy Edge, informed Infinis that the determination date was to be moved, (once again), because of the pressure of wind farm applications on his department. The date has been moved from 1st Feb/15 to
1st June 2015
. At about the same time he informed Infinis that he continued to have concerns with the application, now represented by the Braidlie array of 9 turbines, 125m high. Specifically, he suggested to them that turbine 1 should be either removed altogether, or re-located. He also suggested they consider the positions and heights of some of the other turbines. A few days later, as Christmas neared, there were disappointing developments for us as further statutory consultee responses arrived and were placed on the idox:
a)  astonishingly, RSPB withdrew their objection,
b)  Historic Scotland continued to object, but less strongly, stating they would find the removal of turbine 1 useful,
c)  SBC Landscape Officer stated he would withdraw his objection if turbine 1 was removed.
With reference to the Infinis Windy Edge Addendum, HAG supporters and members of the Border Network had identified a range of blunders and incredible errors. In particular, the section on Noise contained a range of inconsistencies, discrepancies and a significant miss-leading statement. This week, SBC has suggested that Infinis submit a further amendment and formal FEI, in the lead up to the
1st June
determination date.
Hence, we now have a further short window of time to consolidate our objection to this industrialisation of the landscape setting of Hermitage Castle  and degradation of our unique Border countryside.  Consequently, professional archaeological opinion is being sought, as well as the continued legal advice from Alastair McKie of Anderson Strathern LLB, We are aware that if Infinis are successful in having a smaller version of Windy Edge granted, there is a high probability they will soon try to extend its size, as they have recently tried to do at Glenkerie, also in the Scottish Borders.
If you are able to support our endeavours by making a donation this would be very much appreciated. Please make cheques payable to 'Hermitage Action Group', and send to: HAG, C/O  Whitropefoot Farm, By Hermitage, Hawick, Roxburghshire, TD9 0LZ.
For information I attach my response to Upper Liddesdale & Hermitage Community Council, who had contacted all residents for their views so they could submit their CC consultation response to SBC. (This they have done and it is now on the idox).  In it I explain another aspect of the importance of stopping Windy Edge, because once a developer gets a foot in the door, it makes it easier for others to follow, i.e. Wauchope Forest Wind Farm – at pre-application stage and indicated to range from Wauchope Common, right down the B6359 to Saughtree and Riccarton Junction, Dyke Raw/High Lee Wind Farm- at post scoping and preparation of EIA  stage and  coming right down to the Singdean area and finally Newcastleton Forest Wind Farm – at pre-scoping and pre-application stage having 3 wind masts already with planning permission granted last year. All of these, if they reach final application, would be Section 36 developments, (bigger than 50MW) and so, decided by the Scottish Government.
Thank you for your efforts to date. Please support us and also continue to object. If you require further info, do not hesitate to contact me.
Best,
Malcolm McGregor
HAG Chair
Tel 013873 76247
2/6/2015