The J-M267  Ancient Roman Graham, came from the Roman town of Graham, now Grantham of Lincolnshire County as part of The Barony of Bourne (Danish Bjorn), to soldier the Liddel Strength Castle, where in the sixteenth century, the Graham built a tower, on the vacated land of Liddel Strength Castle called The Mote.

http://named.publicprofiler.org/
Theories on the Origins of the Grahams
Clan Graham Society
BY NELLIE GRAHAM LOWRY
SOCIETY GENEALOGIST
Montrose, the Viscounts of Dundee and the Graham family.
"The Encyclopedia Britannica, 13th edition, says under Grantham: "Although there is no authentic evidence of Roman occupation, Grantham (Graham, Granham in the Domesday Book) from its situation on the Ervine Street, is supposed to have been a Roman station. Grantham, in Lincolnshire, England was situated…on the River Witham -105 miles north by west from London."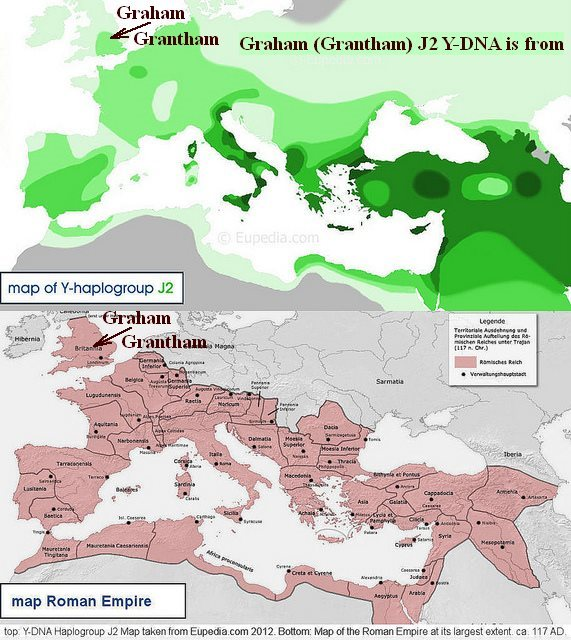 FTDNA Grantham
351729 Grantham Unknown Origin   J-M267
268595 Grantham United Kingdom  R-M269
N73042 Grantham England                  I-M253
131897 Grantham Unknown Origin   R-M269
25% of Grantham 1 out of 4 have J-M267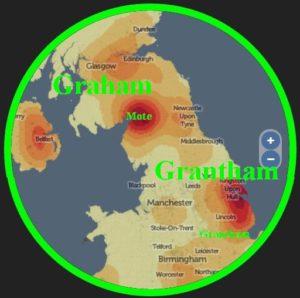 A about 18% percent of Graham have J-M267, and the Graham are located around where Liddel Strength Castle was.
The J-M267 Graham came up from a Roman are of Grantham (Graham), to soldier Liddel Strength Castle as a part of the Wake Barony of Bourne. DNA evidence is to strong.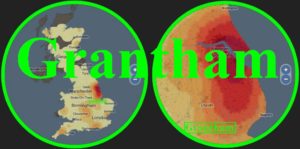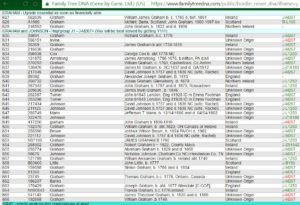 Death of Lord Hugh Wake of Bourne
· 5 September 2016 ·
Hugh Wake; feudal Lord of Bourne; Sheriff of Yorks, Constable of Scarborough Castle 1239; married by 29 May 1229 Joan (married 2nd by 5 Feb 1243/4 Hugh Bigod, Chief Justiciar of England and died 1276, being by him mother of Roger Bigod, 5th and last Earl of Norfolk of the 1140-41 creation), eldest daughter and coheir of Nicholas de Stuteville by Devorguille, daughter of Roland, feudal Lord of Galloway and Constable of Scotland, and died by 18 Dec 1241 on Crusade in the Holy Land. [Burke's Peerage]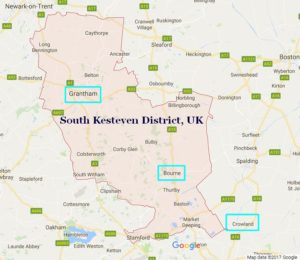 Grantham (Graham), Bourne (Bjorn; bear), Crowland (Croyland; Croyser)
Genealogy Geographic Surname DNA Elliot
Matches with surnames Gresham (Grisham-Gissom) NORTHFOLK, Cave of North and South Cave, Cave married Stuteville which married Wake, of COTTINGHAM, near North and South CAVE of East Riding Yorkshire, And SCARBOROROUGH Locality names which I match are apart of the Barony of Bourne. So it is my surname was adopted in the area of the Barony of BOURNE.Held the barony of Lincolnshire.
Liddel Strength – Wikipedia
Liddel Strength is an ancient monument near Carwinley, Cumbria, in northwest England. …. Although Nicholas's branch of the Stutevilles were Barons of Liddell, Liddel was never their principal seat; that lay at Cottingham in the East …. When Thomas Wake died in June 1349, the manor of Liddel was valued at £70 16s.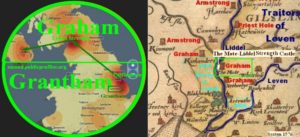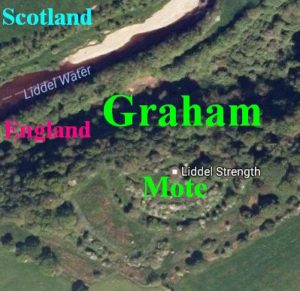 Search J-M267, will see that the Graham for a border clan has an abundance of them compared to other border clans, and it is felt this Y-DNA came up from Grantham (Graham), Lincolnshire, as part of the Barony of Bourne (Bjorn), to soldier the Liddel Strength Castle, at the center of Graham today and into centuries past.
named.publicprofiler.org
The Grahams of the 16-17th century Anglo-Scottish Border and their descendants in Rossadown, Co. Laois, Ireland Lloyd D. Graham
3/12/2017 MSE
Harry L.Graham and researcher Thomas Dickson Graham of Clearwater, Florida, wrote in From Whence the Montrose Grahams (1979):
"William de Graham was the youngest son of William de Tancarville of Danish descent, and Matilda d'Arques, direct descendent of the Anglo-Saxon and Danish kings. The father was a baron of Normandy, and went to England with William the Conqueror in 1066, and for his services received a great barony in Lincolnshire called Grantham. He also had great properties in Normandy. Eventually he turned his Norman properties over to his eldest son, Rabel, and moved to England where he later became Treasurer for King Henry I and Justice of England."
William de Graham was born about the time of the Norman invasion, whether in Normandy or in England is unknown, probably Normandy. As soon as he was old enough, he became Seneshal (business manager) for his father at the Barony of Grantham in Lincolnshire, England. He took the name William de Grantham which was soon shortened to William de Graham (sometimes written Graeme). The book, The Norman People says: "In all the early records of England, Graham means Grantham in Lincoln; and William de Graham settled in Scotland in the time of King David I, (1124-1153) and obtained Abercom and Dalkeith.
"The English branches of the de Tancarvilles were generally named Chamberlain. The banner of the Chamberlains of Lincoln bore three escallops, which also appear in the arms of de Graham or de Grantham, originally from Lincoln. (Sir John Graham of Dundaff carried a banner with three golden escallops on a field of black. The same three golden escallops are a part of the Montrose Coat of Arms.) From this family descended the famous Marquis of Montrose and the brave Viscount of Dundee; also Sir James Graham of Netherby, the eminent statesman."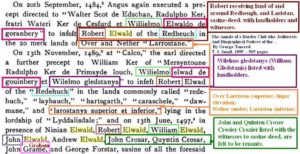 John Grame (ie Graham), is listed with witnesses on sasine/deed of Robert Elwald (ie Elliot) of Redheugh.
Dictionary of National Biographies, Vol. 6, page 51, another book on peerages says: "The name has always been written interchangeably with Græme, the Scottish orthography. The earliest traceable ancestor (for we reject, of course, the fifth-century hero, Greme) is William de Graham, who settled in Scotland early in the 12th Century. The surname, therefore, is clearly local and from its termination undoubtedly English. The only place in S. Britain of the name, which we find, is Graham, near Kesteven (South Kesteven District, UK map above), in Lincolnshire." The place meant is the well-known town of Grantham, which is found as "Graham" in mediæval records.
The Book of Ulster Surnames by Robert Bell, Page 81: "The name is territorial in origin from Grantham in Lincolnshire, a place noted in the Domesday Book as both Grantham and Graham. The de Grahams were an Anglo-Norman family who settled in Scotland in the early 12th Century. The first of the name on record is William de Graham who witnessed the foundation charter of Holyrood Abbey in 1128. He was later granted the lands of Abercorn and Dalkieth in Midlothian by David I. From that time the Grahams played a very important part in the affairs of Scotland."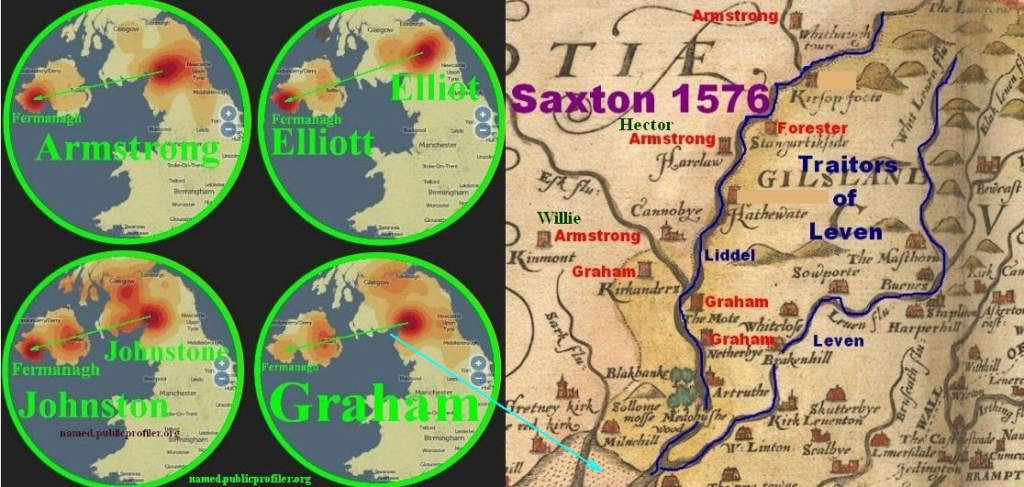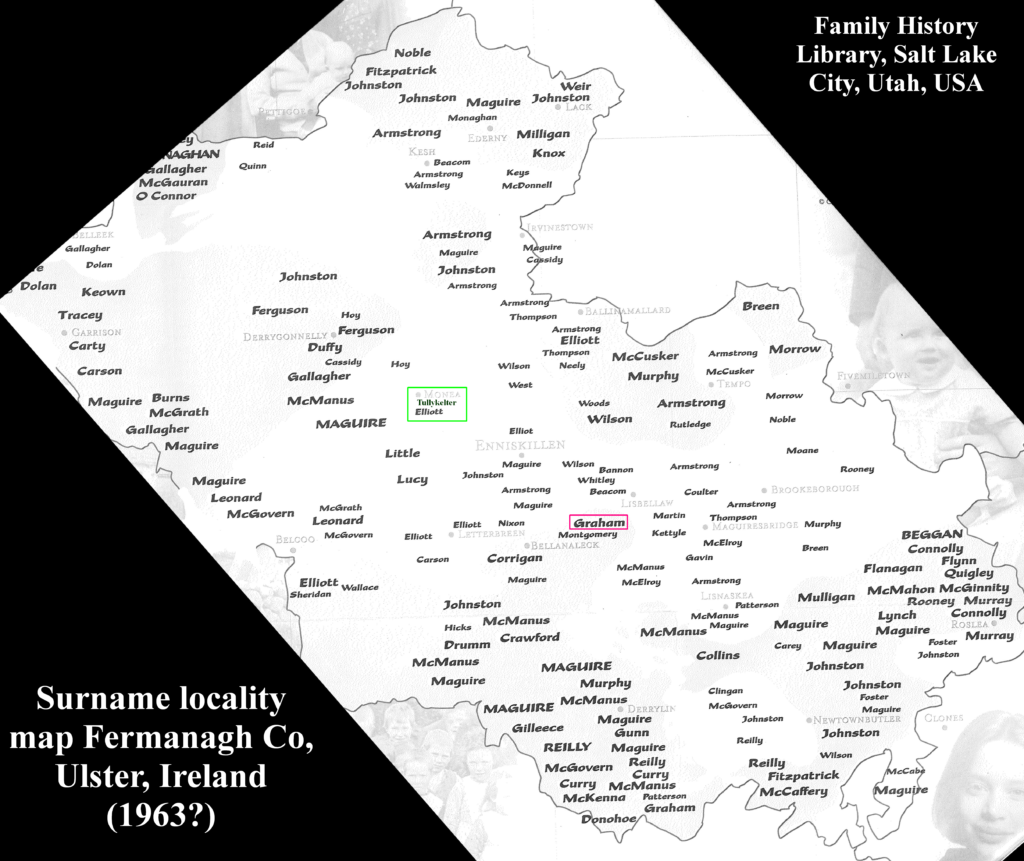 Elliott, Daniel, Tullykelter-Monea Castle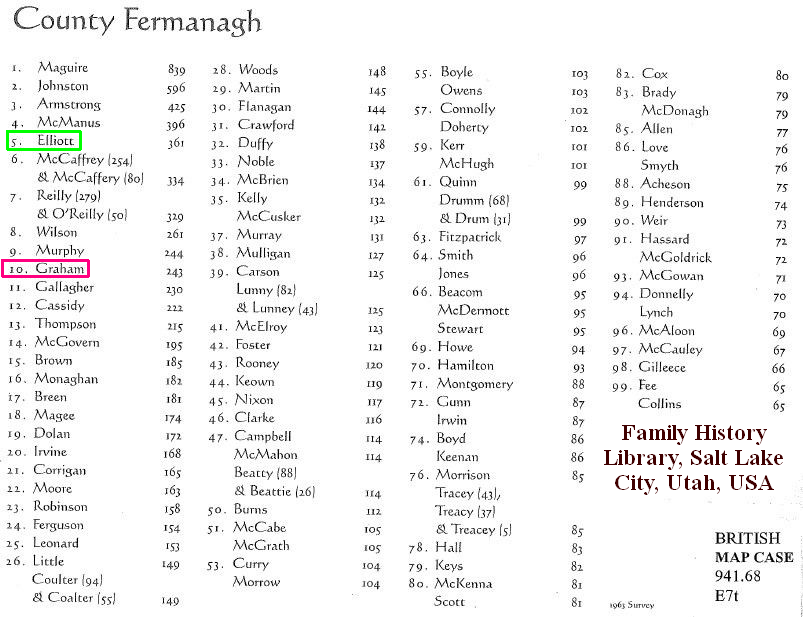 'Sheep stealers from the north of England': the Riding Clans in Ulster by Robert Bell
3/14/2017  MSE
IN FERMANAGH;
The Middle March Scottish Clans.
Armstrong, Elliott, Crozier and Nixon;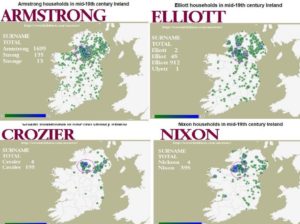 Muster Numbers Fermanagh;
Fermanagh (muster), c. 1631, copied from MSS. 4770 in the British Museum. The list is set forth by baronies and the names of the … Armstrong (41) ; Biaty (Beatty, Bayty, Baetye, Baiteye) (36) ; Ellot (33) ; Graham (29) ; Little (25) ; Irwin (17) ; Nixon (10) …
Repositories and records – Page 649 Margaret Dickson Falley – 1962 –
3/24/2017 MSE
http://forebears.io/surnames/Montgomery
http://named.publicprofiler.org/
https://www.familytreedna.com/public/Montgomery?iframe=yresults
The J-M172 indicates Ancient Roman, Y-DNA brought north with logicality name of Montgomery to Elginton Castle region. Other Y-DNA besides the J-M172 and downstreams, likely of the region of Elginton Castle where they adopted their surname from the name Montgomery which the Ancient Roman J-M172 brought north from the Montgomeryshire region.
9/18/2017 MSE