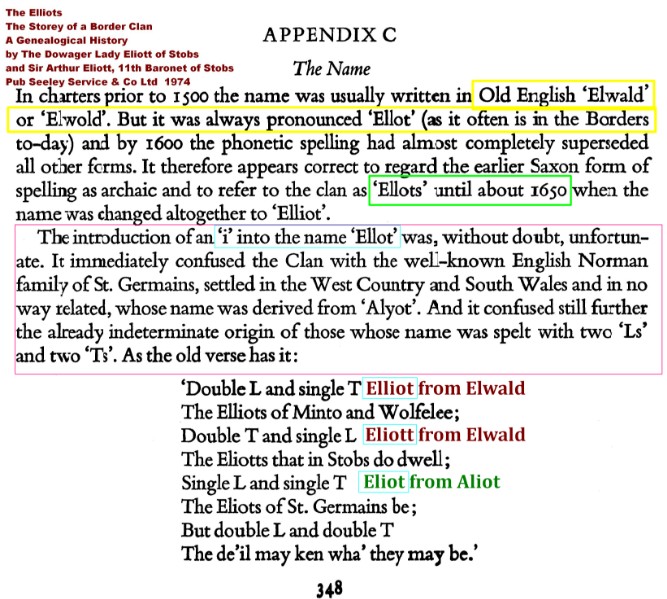 Horsleyhill and Stobs are of Gorrenberry.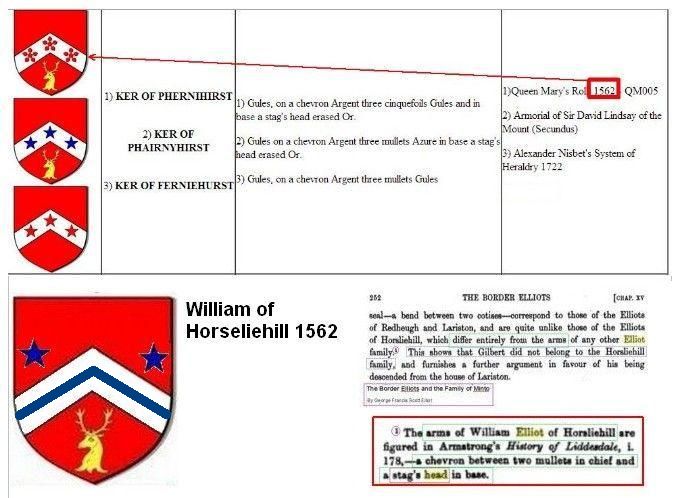 Also can be as;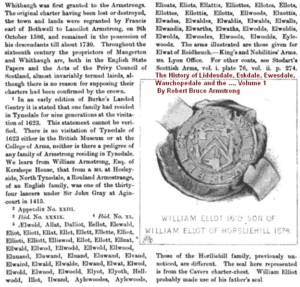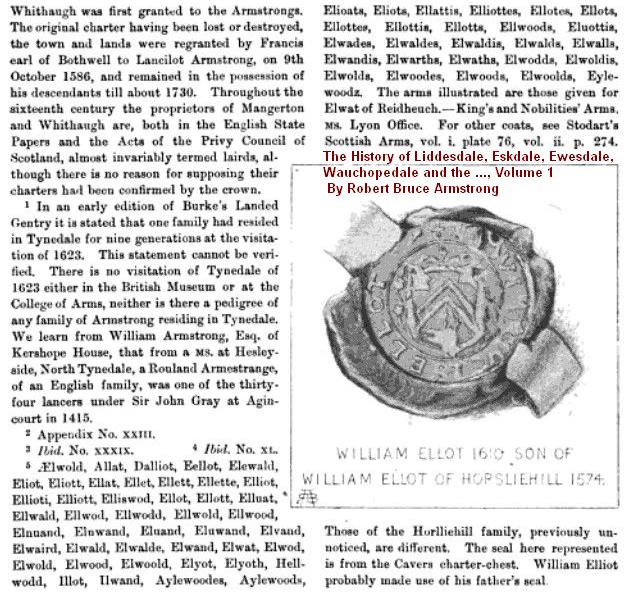 Gorrenberry Elliot, Elwood, Ellwood, Irish/Wales Edwards arms;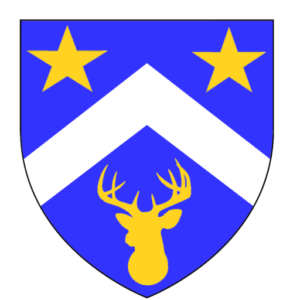 The composition of the Elwold-Elwood-Ellwood arms is of York,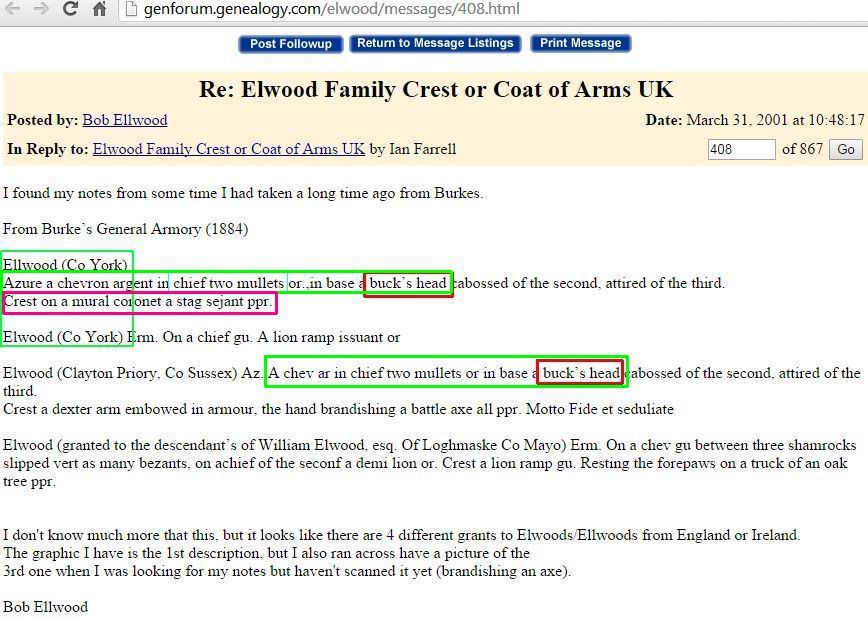 A region of a strong population of Elliot deriving their name from what were originally their Elwald/Elwold.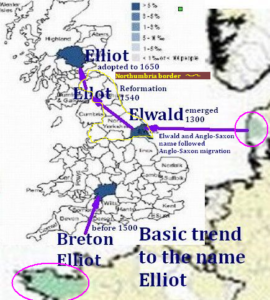 Redheugh-Lariston-Hartsgarth and Stobs became of Redheugh lands;
Deed/Sasine;
As one can see Crosar, John and Quentin witnessed sasine/deed. William Elwald of Gorrenberry, listed with the son of Bucceluch, Cessford and brother likely Ferniehirst, and Gladstanes, landowners of Crozier land in Teviotdale is my many great grandfather.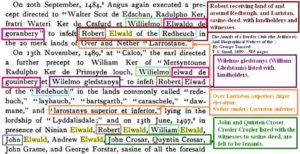 Redheugh, Larriston, and Hartsgrath (Stobs), because they are of the same land deed/sasine, they use variation of the arms with an elwand on the bend (16th century standardized in Scotland for length the elwand, a wand an ell in length, much like the metre-rod, is standardized in France today).
Elwald, where also referred to as Elwand, which became Ellot.
Genealogical Tree of Redheugh at Lariston which survived the Stobs fire;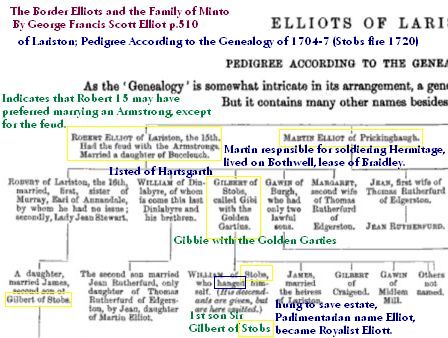 Union and mistress caused stepson of a Margaret Kidd (had daughter named Margaret, like today's chief), and Robert of Larriston (Redheugh), Gilbert (Gib) to marry back into the Buccluech family, and create a line receptive to receiving the concentration of lands due to The Union of the Crowns;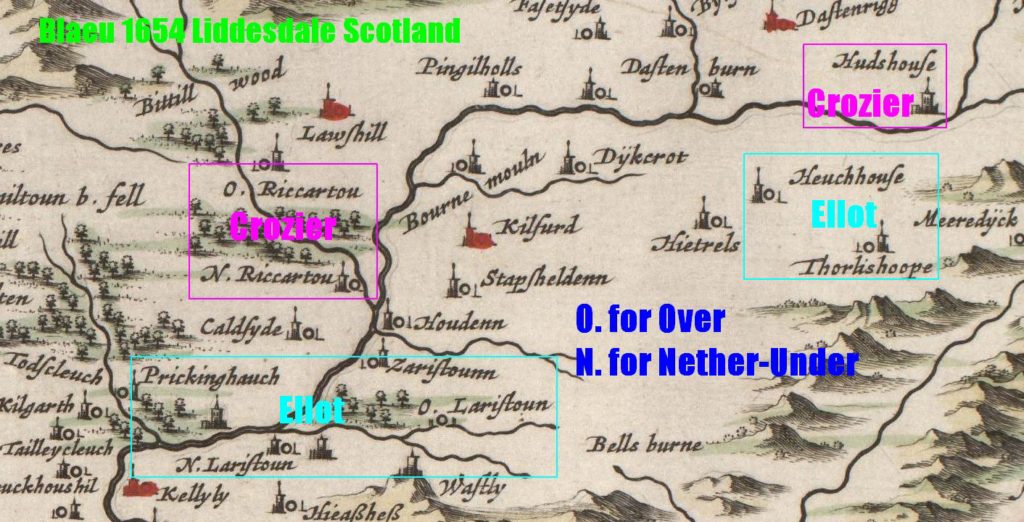 Robert had a mistress from Slaughtree (near Crozier's Hudhouse and the Ellot of Heughouse, and Thorsleehope) who he built a Hartsgarth Tower (south of Hermitage Castle) for. Elliot of Scotland claim descendant from Redheugh, but Gorrenberry and the Martin Elwood may not. Martin built a tower near his brother at Prickenhaugh, and this was near the Scottish Riccarton Croyser.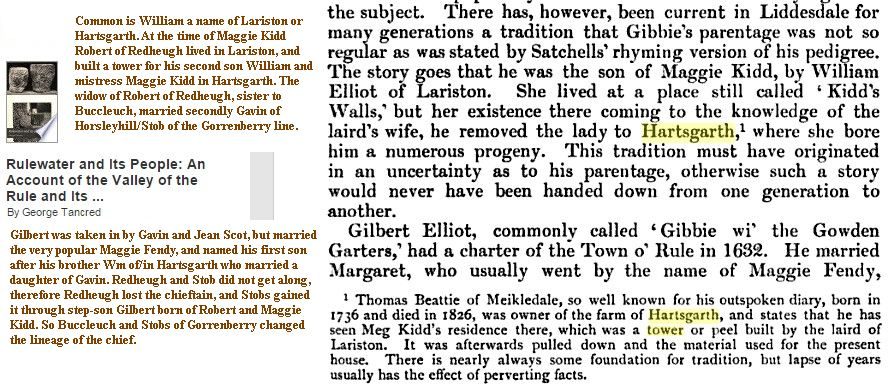 Gorrenberry lands are next to the land of Braidley, near The Hermitage Castle where there is a planned Infinis Windy Edge wind farm to be placed. Living on the Bothwell, and owning land by the same name in Teviotdale, was a Martin Ellot which lead the clan. Loyalty to the chief of the Martin Ellot/Elwood-Gorrenberry alliance family was pre-Union.
If land is not protected by a steward, then a reiver has the right to protect ones own ancestral land.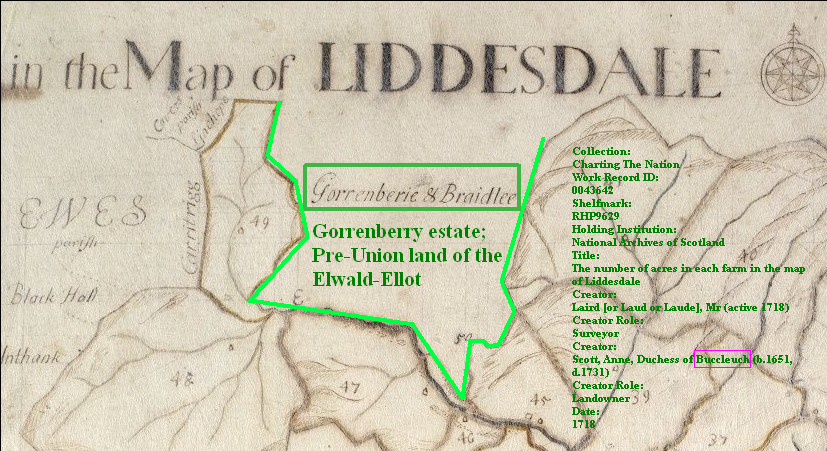 Martin Ellot, 1599, became of Prickinghaugh.   In 1540 Braidlie and Gorrenberry, the name was Elwald, in 1590 it became Ellot, and in c1630 Ulster muster rolls, it is Ellot also. http://www.therjhuntercollection.com/resources/muster-rolls-c-1630/search-muster-rolls/
Location concentration of today's Elliot of Hawick is just north of  today's Eliott of Redheugh.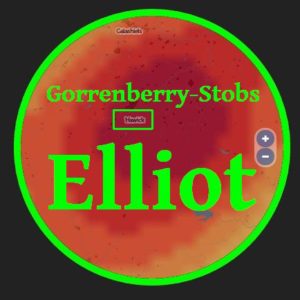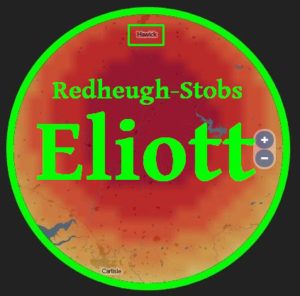 Both of Horseleyhill and sharing the same name;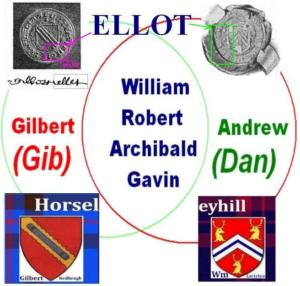 Has anyone ever heard of after four centuries families coming back together, and not getting along with each other. To the Armstrong, Gorrenberry exists, but to the Redheugh family of Eliott, we only exist as a Cowie once of Gorrenberry, but today had to move into and haunt The Hermitage Castle. Guess people wondered why today the Hermitage Castle is considered haunt, because the Cowie which haunt and helped the Gorrenberry Ellot, lost the Gorrenberry Tower, and had to take up residence where the Cowie was not suppose to be, which makes the Cowie sat The Hermitage Castle. Therefore the Cowie is gone from Gorrenberry.
The Gorrenberry line never took and did not care for the name Gilbert (Gib), and likewise the Redheugh line never seemed to care for the Scandinavian name of St Andrew, that of Andrew (Dan), but they shared the names William, Robert, Archibald (a Douglas name), and Gavin.
Archibald Bell the Cat Douglas 5th earl of Angus, 16th century Hermitage Castle owner brother William of Cavers, transferred his lands of Redheugh, Larriston, and Hartgrath as deed/sasine shows to a Robert Elwald. The Douglas name is concentrated in the Hawick region today;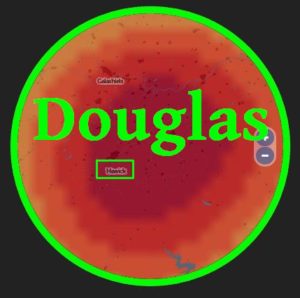 Gilbert Ellot used the Redheugh shield/seal with an elwand on the bend;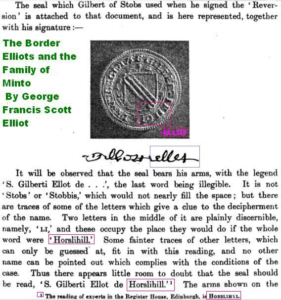 Though, Horslihill, could also read Hartsgarth or some form thereof. Lands of Redheugh, Larriston and Hartsgarth would utilized the elwand (not Elwald) shield.
The Elwood/Ellwood, Gorrenberry, Irish/Wales Edward shield originated in York, and this likely proceeded The Declaration of Abroath, establishing Scotland as a separate nation. Likely when York was a part of Danish-Northumbria.
Today the Eliott/Elliot arms of Scotland has the elwand on its bend;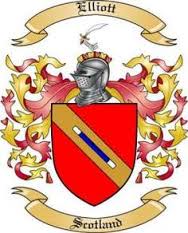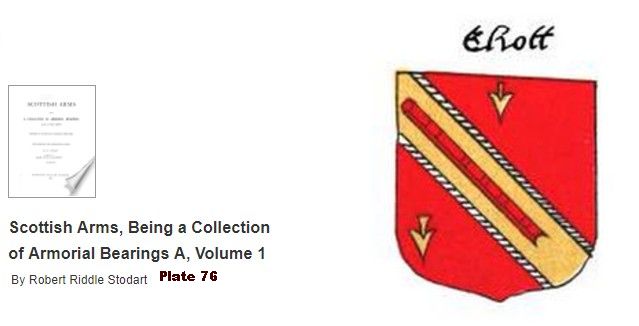 Scottish Arms, Being a Collection of Armorial Bearings A – Volume 1
Robert Riddle Stodart – 1881
Then name Edward is felt to be from Elwald;
From a form of disnaming to separate themselves from the Elwald of Liddedale;
Disnaming;
It is felt because the border Elwald were so notorious that a process of disnaming took place which is known for MacGreggor highlanders, and Graham English border reviers.
At time of King James VI of Scotland become I of a united kingdom, MacGregor in highlands had disnaming process along with a year later in the borders with the Graham on English side of the Debateable lands (Reivers, Alistair Moffat pg 19).
Some English Elwald became Edwards, .as shown by a coat of arms in the Edwards family, but not for all Edwards.
The Redheugh of Eliott line uses a shield with an ellwand/elwand on the bend. An ellwand/elwand, is what the Elwand/Elwald were referred to because like me they measured. The Elwand was the sixteenth century Edinburgh, Scotland standardized measurement for length, like an English yardstick or a French metre rod. The Redheugh-Larriston-Hartsgarth (Stobs), shield was created in the sixteenth century.
It should be noted that Gorrenberry, and Thorleeshope (valley of Thor), proceeded Redheugh, and these are localities of Gorrenberry, and Martin Elwood (Elwald/Ellot/Elliot/Elliott) lived. The name Patrick of the first Bothwell of the Hermitage was utilized by the Thorleeshope Elwald, and Mosspatrickswine-MacPatrickhope-O(ver) Gorrenberry, became the land lease from Bothwell home, of William O Gorrenberry which supported Kinmont Willie Armstrong, and head of the Gorrenberry family.
My family was of the grain of Martin Ellot (Elwood descendants on Lewis Island north Scotland and Ulster). Becuase we defended The Hermitage Castle, my family was banished from like the Armstrong defending Scotland from both kingdoms at the time of the Union, and moved with Elwood, Crozier, and Armstrong to Fermanagh County, Ulster Ireland.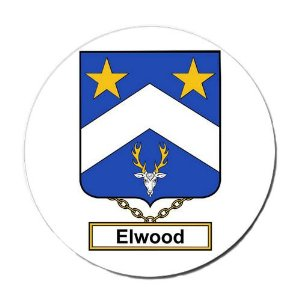 In the above it shows Lariston using a baton (elwand) on the bend. Since Redheugh, Lariston, and Hartsgarth (Stobs), is of the same family they would ultilizes similar arms. Since Clan Nixon utilizes, a similar ares, and the Redheugh Eliott, unlike the Armstrong have a chief, it is saying that Clan Nixon is a sept of Clan Redheugh-Stobs Eliott. It is likely sinced Redheugh-Stobs Eliott paired with Bucccleuch the Nixon preferred following the Armstrong.
An Edwards from Wales to Ireland;
Families utilized many coats of arms, and this one is felt to be from Elwald becoming Edwards and rejection of the Liddesdale name, in showing loyalty to England, not Scotland, by taking the name of king Edwards.
Shows northern wales;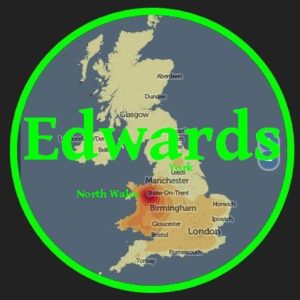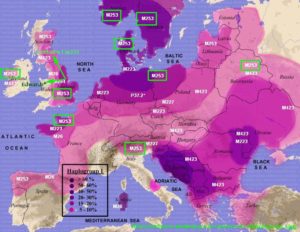 Edwards Y-DNA shows a number of I-m253 Scandinavain mainly;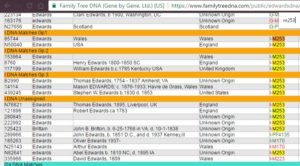 Elliot also carries I-m253 with Armstrong, and Little;

Families of Armstrong, Elliott and Fairbairn seem to favor the first four surnames;
Which dominates the Fairbairn surname eastern border of Scotland.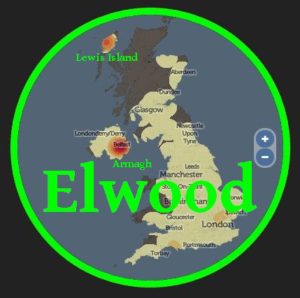 Elwood (Elwold) distribution is of Lewis Island, Scotland, and Armagh, Ulster, Ireland. It is felt this distribution is of the Martin Ellot family, which lead the clan and Gorrenberry rode with before the Union to protect and soldier The Hermitage Castle.
Ellwood, are of Cumbria, England. It is found that the Scots like utilizing the names Elliot, and Elwood, like to show they have a Scots spelling for the name.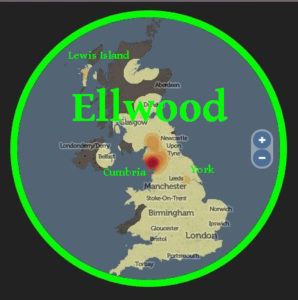 10/11/2016 MSE
Chevron Arms for Edward-Elwood-Ellwood, showing name linked by a chevron arms;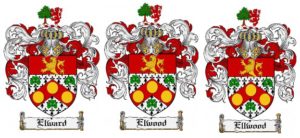 Irish Edward, Elwood, and Ellwood arms also with chevron.
11/13/2016 MSE
Also;
Elioth of York;

11/22/2016 MSE