Have online;
Armstrong-Fairbairn-Y-DNA Link
Proto-Germanic R-U106 haplogroup DNA Elwald Elliot
Geographic Surname DNA Correlation
Which have a DNA influence. If DNA is not correlated with other information such as male sharing the same surname, then it is pretty useless for genealogical purposes.
Though my surname line had been in America since ca. 1650, decided to take a look at my mothers line.
mom, Alma Barna (Elliott) father Stephen Barna from Slovakia-Czech Republic, first language; German.
For Barna surname distribution map is;
by world.publicprofiler.org
Though census data is not given for Slovakia-Czech Republic, one can see by Hungarian and Polish census speaking German where he me be from with the surname Barna.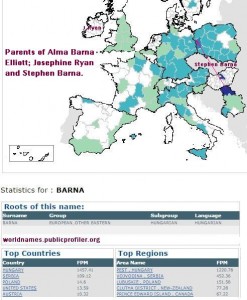 With Josephine Ryan being from Iraland, and she is from the dark blue region.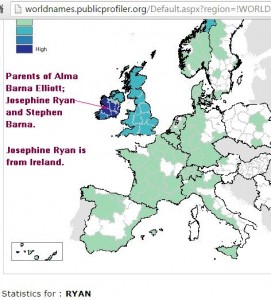 It should be noted that the name Stephen in Stephen Barna as a surname is Scottish.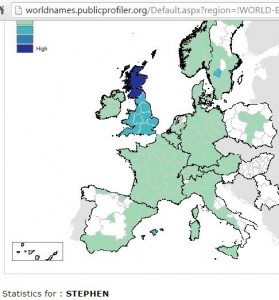 Could likely be the reason it was chosen by dad Loren Elliott of a Scottish name,  and mother, as my middle name, as Stephen, spelled in Scotland like my Slavic-German granddad spelled his name Stephen and not Steven.
Mark Stephen Elliott     11/2/2015
From Slavic in Wikipedia;
Polabian Slavs (Wends) settled in parts of England (Danelaw), apparently as Danish allies.[91] (similarity with father's ancestry?)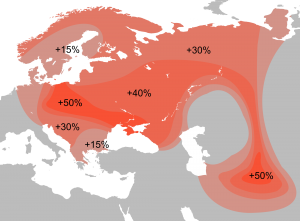 Distribution_Haplogroup_R1a_Y-DNA.svg
MSE 11/3/2015
One would see a similar distribution with Anglo-Saxon place-name distribution.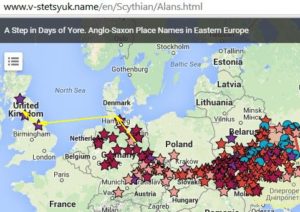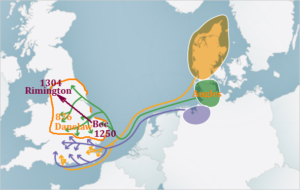 MSE 6/4/2016