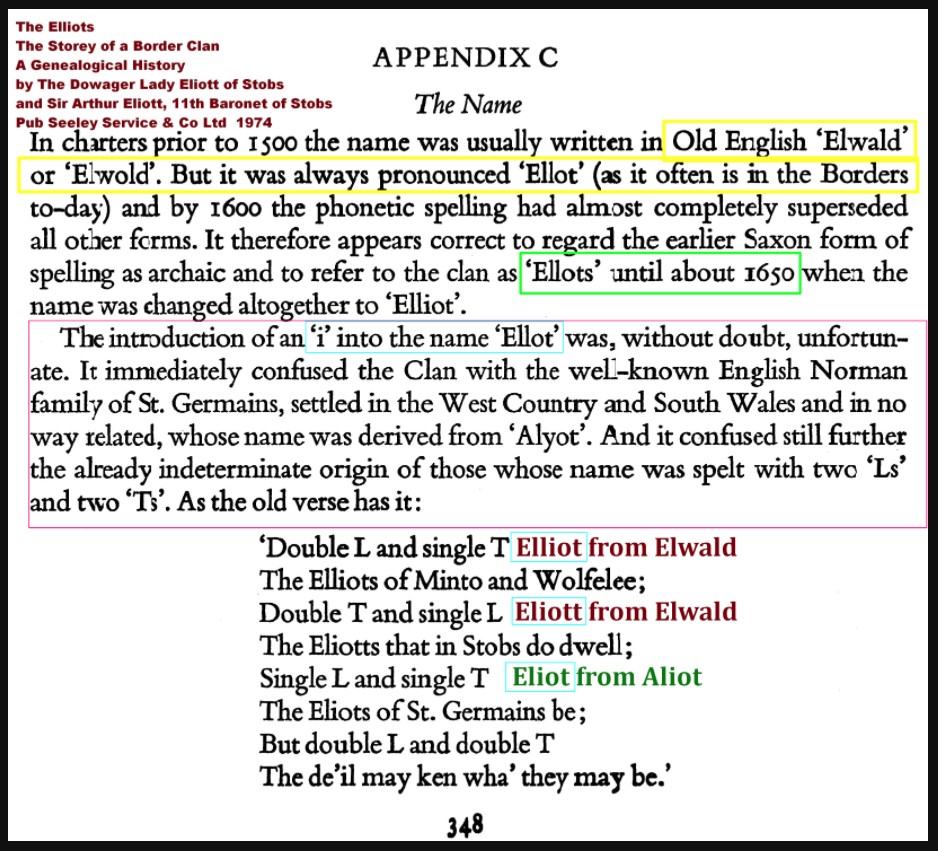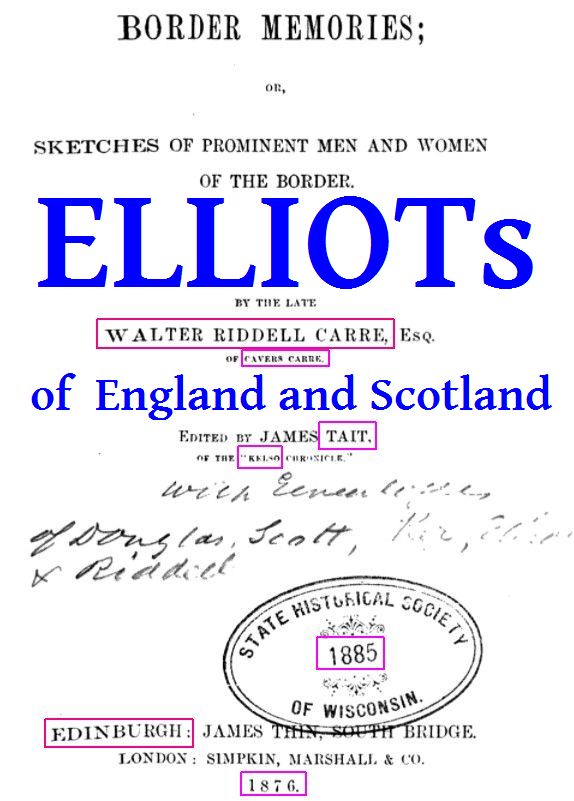 BORDER MEMORIES; OR, SKETCHES OF PROMINENT MEN AND WOMEN OF THE BORDER, by the late Walter Riddell Carre, Esq. of Cavers Clark
Edited by James Tait of the "KELSO CHRONICLE"
Edinburgh: James Thin, South Bridge.
London: Simpkin, Marshall & Co. 1876
Covering Elliots of England and Scotland.
The house which Walter Riddell Carre, Esq. of Cavers Clark lived in is Cavers Castle.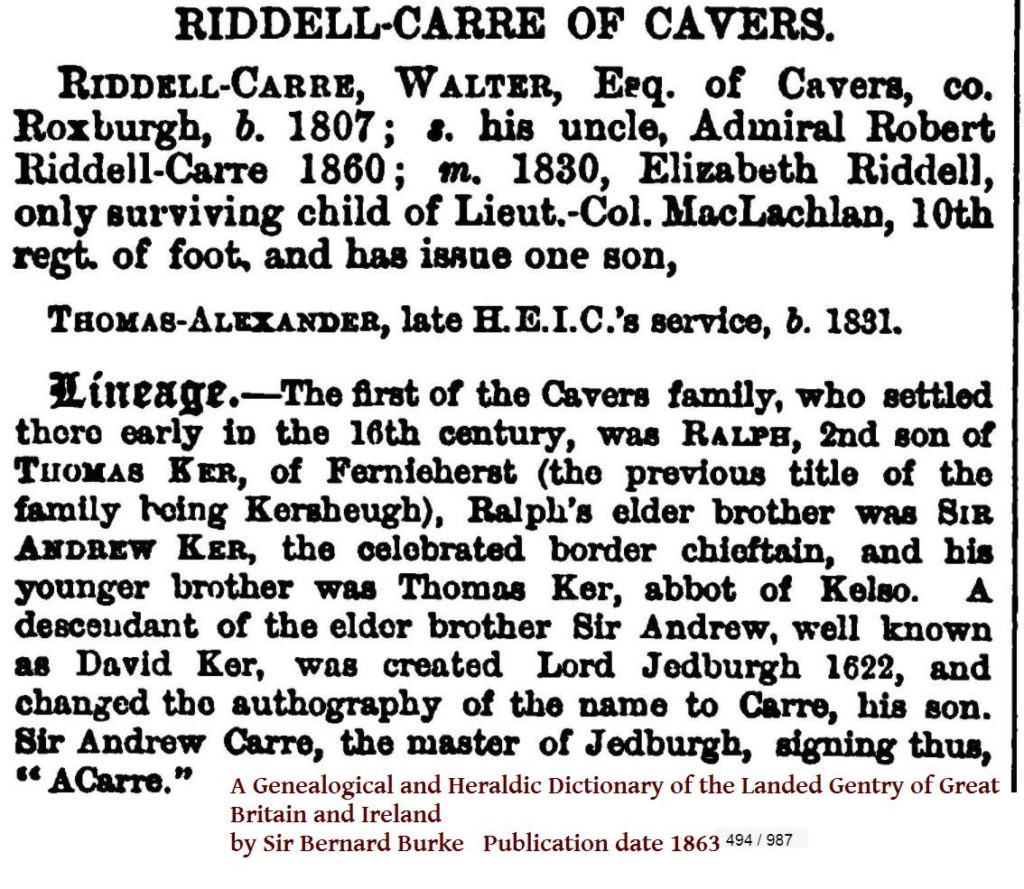 A Genealogical and Heraldic Dictionary of the Landed Gentry of Great Britain and Ireland, Volume 2
Sir Bernard Burke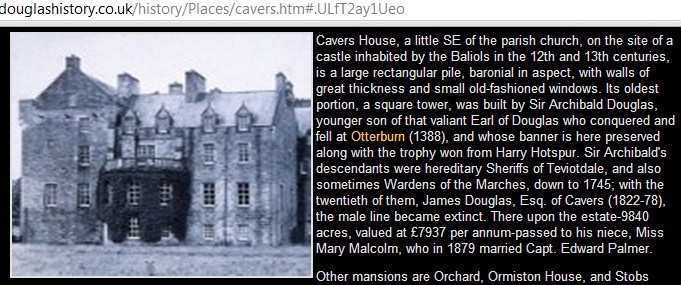 map shows locality of Scott, Ker(r)/Carre of Cavers, Douglas earlier of Cavers, and Ellot of Minto, and along with where the name Buccleuch (Buck-Cleuch) was derived;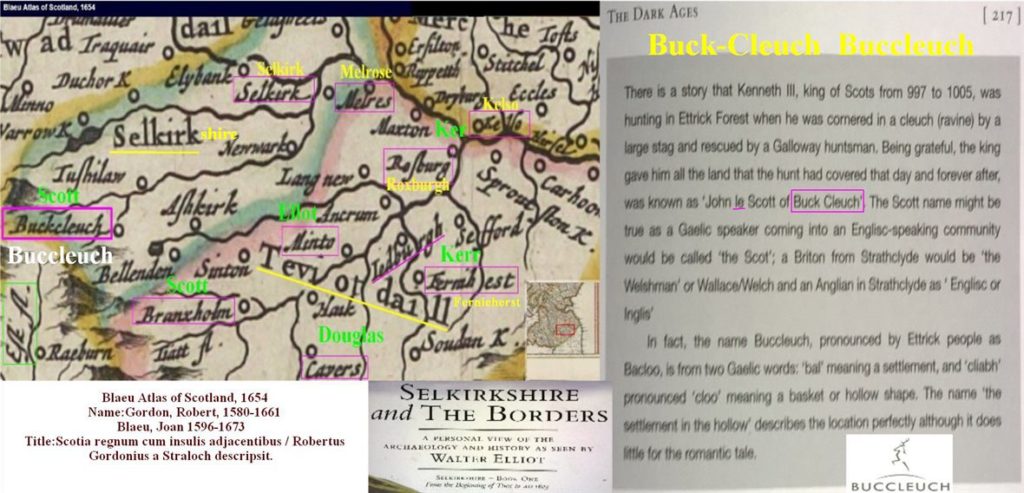 ENGLAND;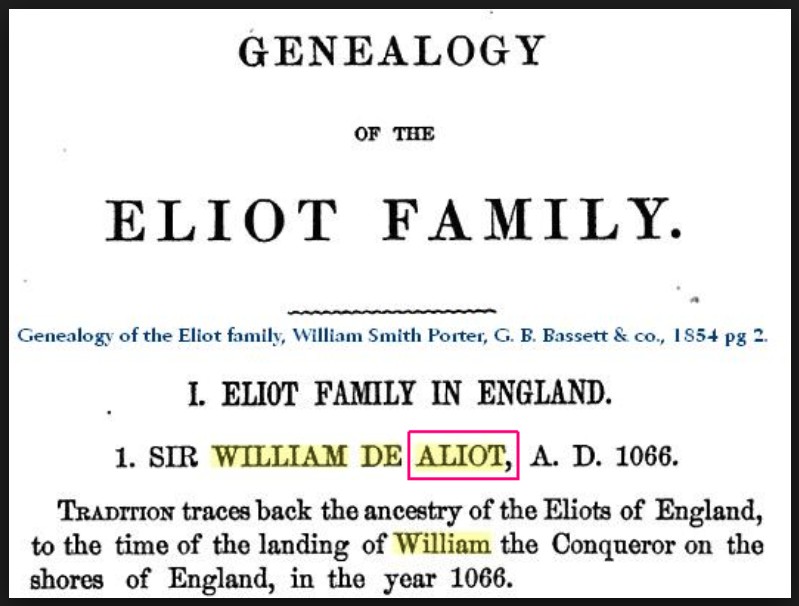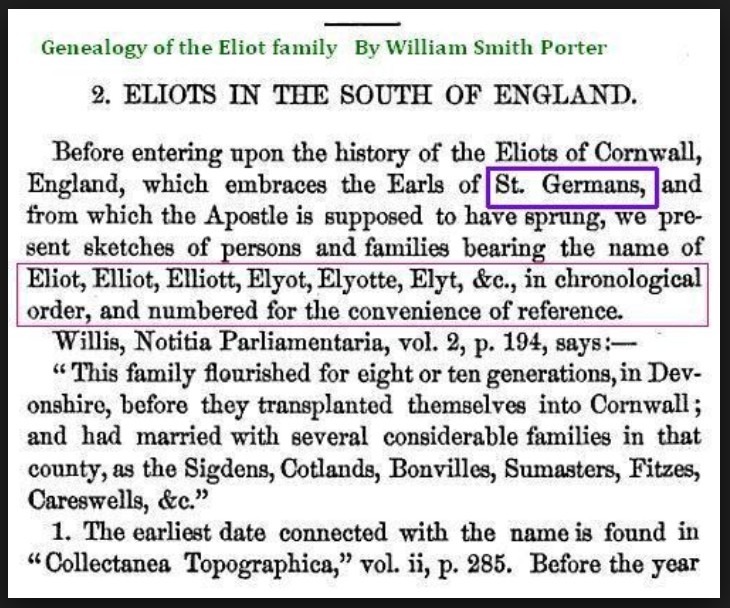 Ellwood, a name of the English and Irish, is also of Scottish Liddesdale.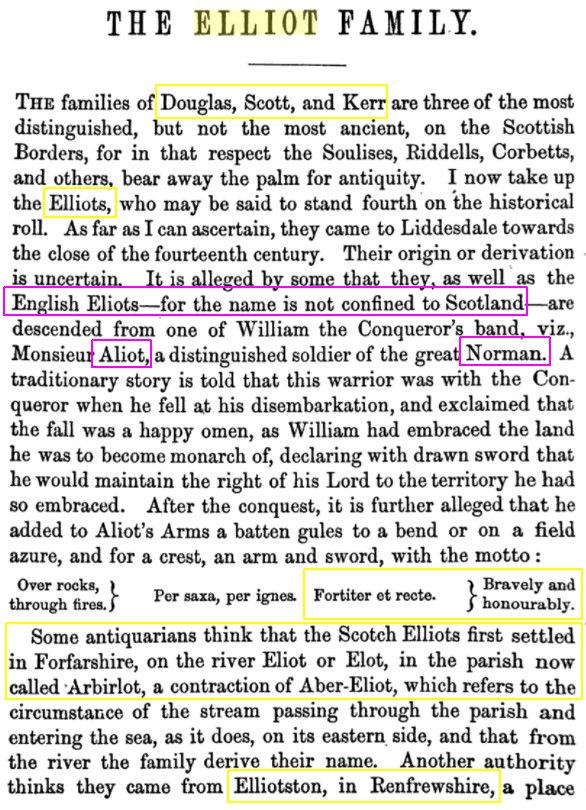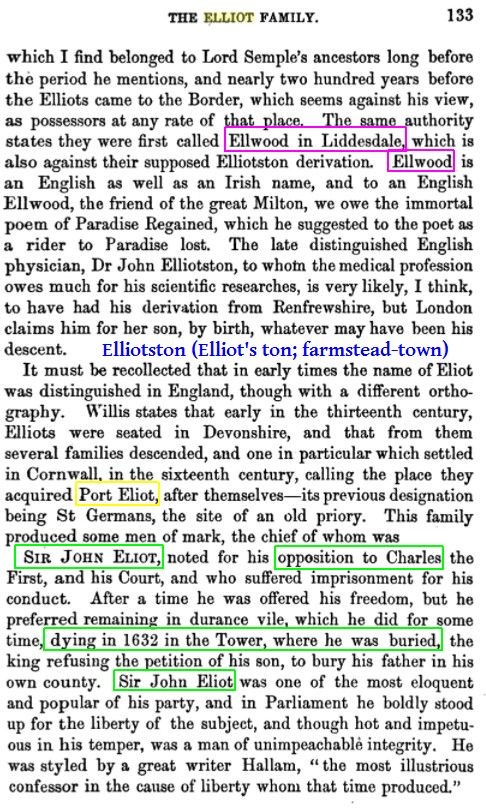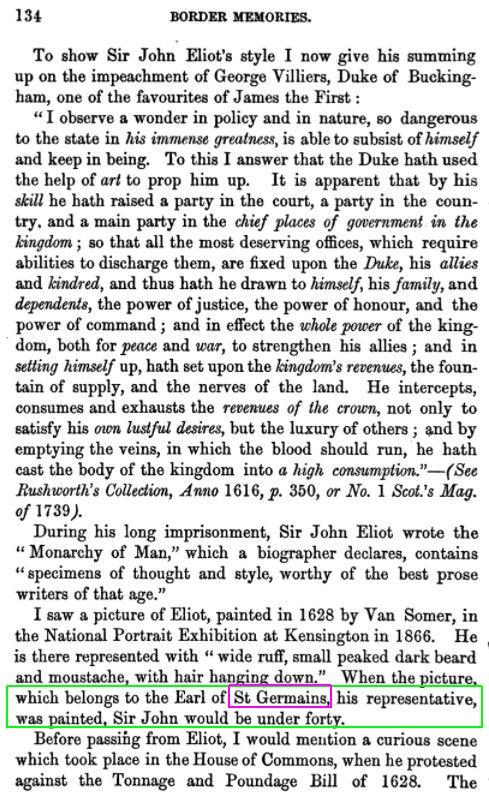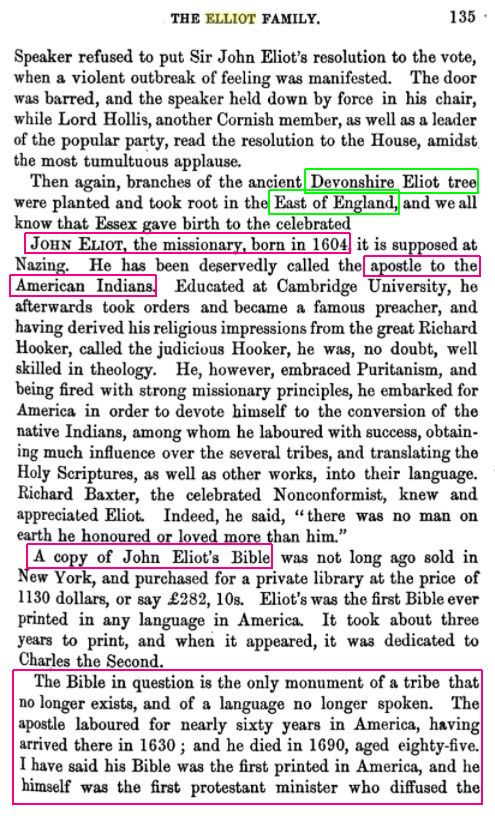 SCOTLAND;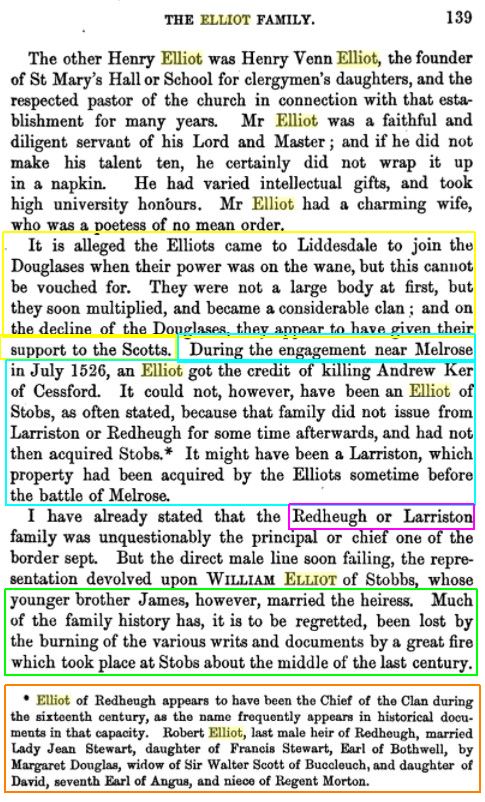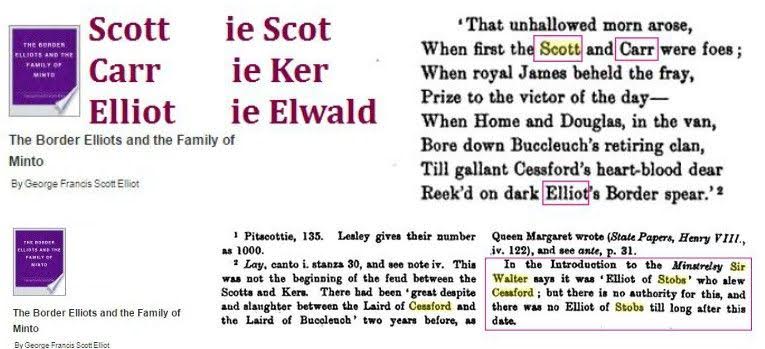 The family of Redheugh, moved onto there there land in Larriston, and became known as the Larriston Ellots (ie Elliots).
James Elwald (ie Ellot-Elliot), hung for being a "traitor" to James V, and afterwards because he could not speak for himself was likely blamed for the killing of Andrew Ker.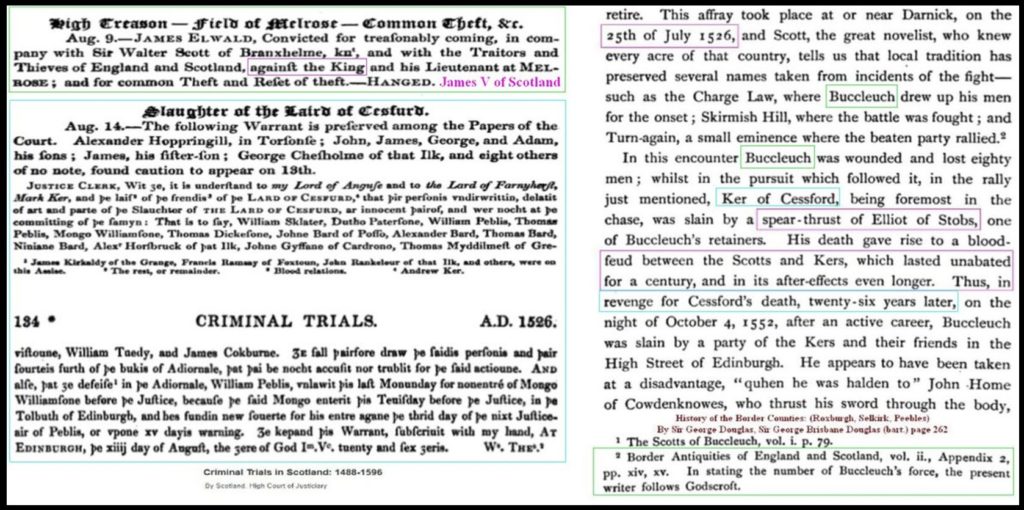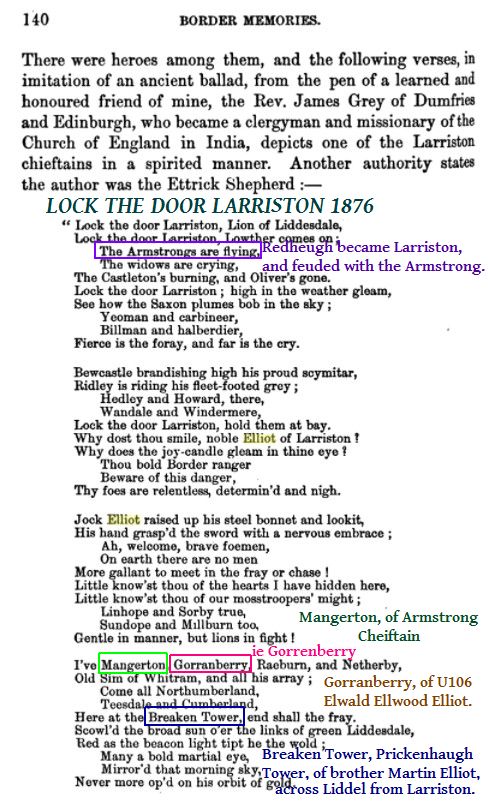 The Larriston Ellots feuded with the Armstrongs; "The Armstrongs are flying"
There were towers at Mangerton of the Armstrong chiefton, at Gorranberry of the Gorrenberry Ellots, and at Netherby of the Graham. Breaken Tower is Prickenhaugh Tower, of the Martin Ellot of Braidley family, across from and closely related to the Redheugh-Larriston family.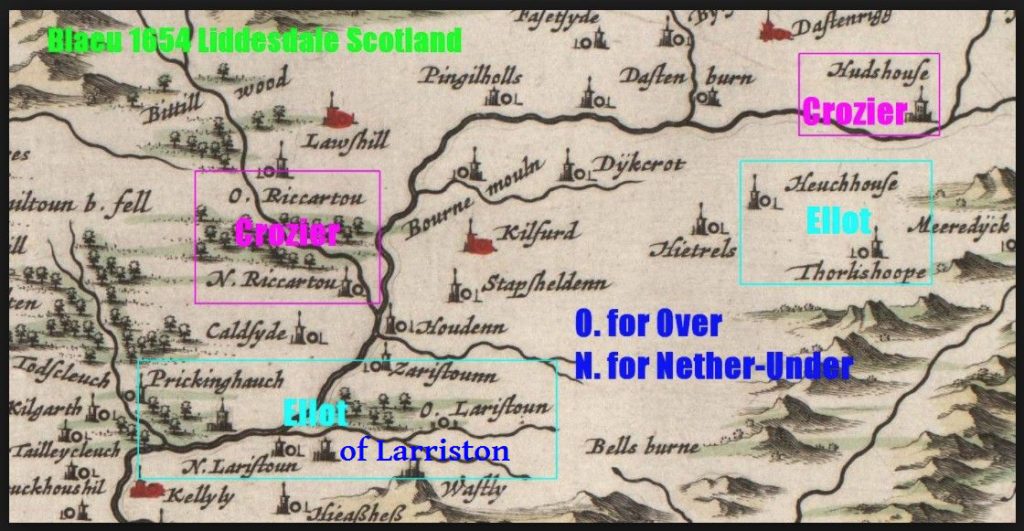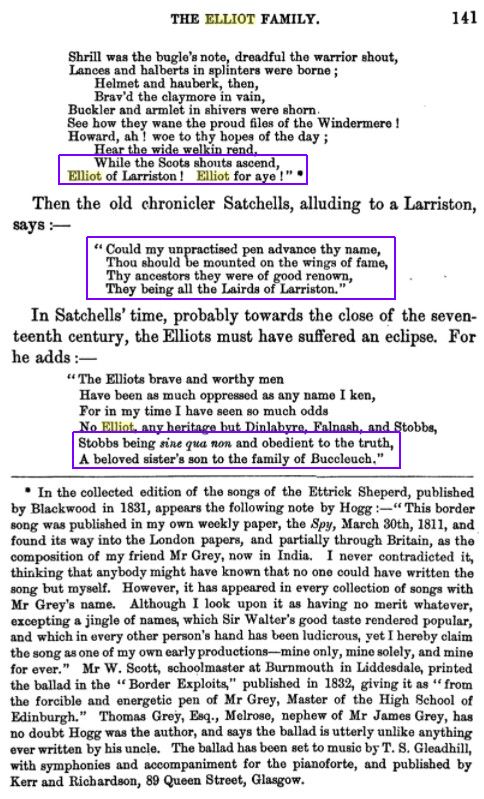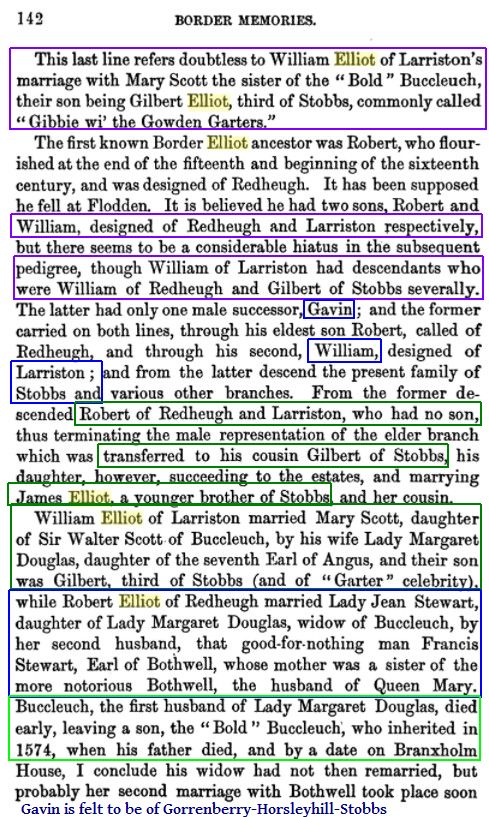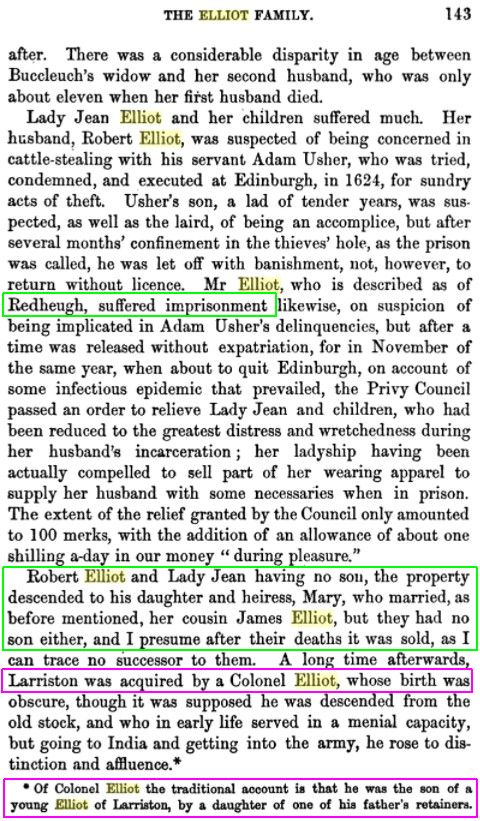 Though with support of Gorrenberry (William) which was at the first infeftment (receiving of land), and Prickinghaugh (Martin), who acted as Clan chief, Buccleuch questioned land ownership of Redheugh-Larriston, and it is likely Redheugh lost their land rights. Today's Redheugh, was reacquired by the Redheugh-Stobbs Eliott family.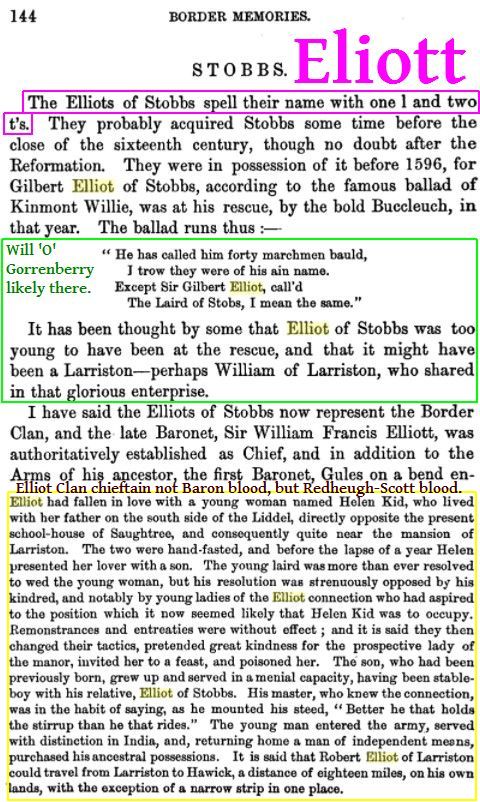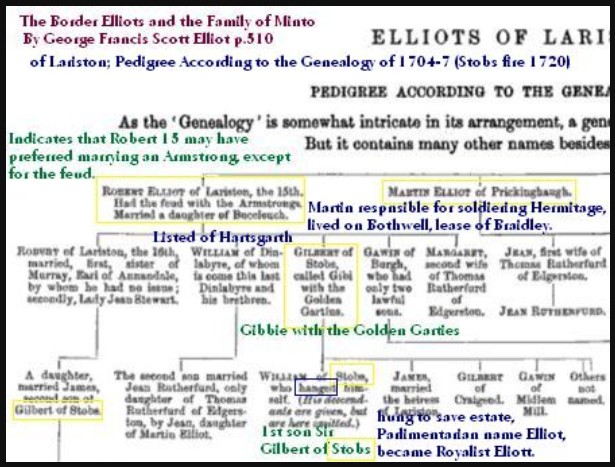 First sons are most likely named after their father, though an uncle may take on his brother's sons as their own.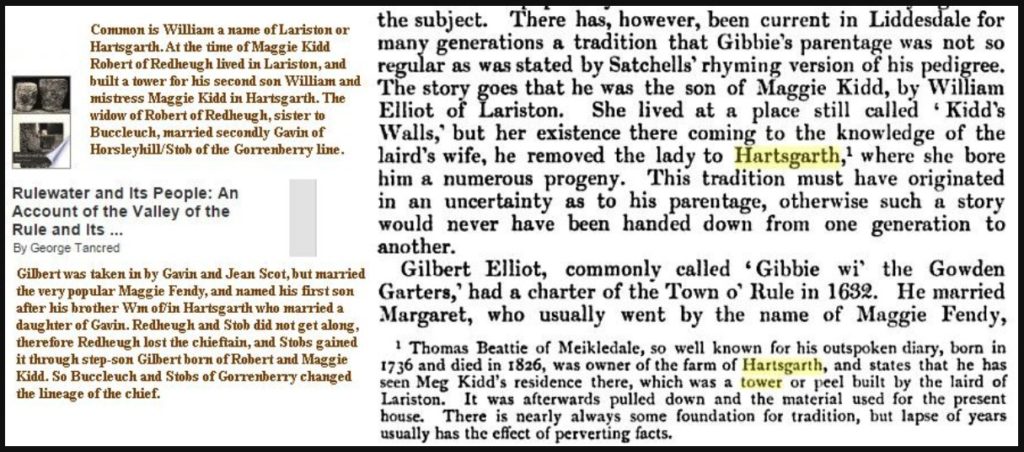 It is felt that William, was the son of Robert Ellot, and Jean Scot, and his sons William and maybe James were taken in by his brother Gilbert of "Golden Garters", who was the son of Robert Ellot and Margaret Kidd. Buccleuch wanted the descendants, to have Buccleuch  in them so Gilbert received a sizable dowry for marrying a Margaret "Fendy" Scot of Hardin, and took in the children William and James of his older brother William. Since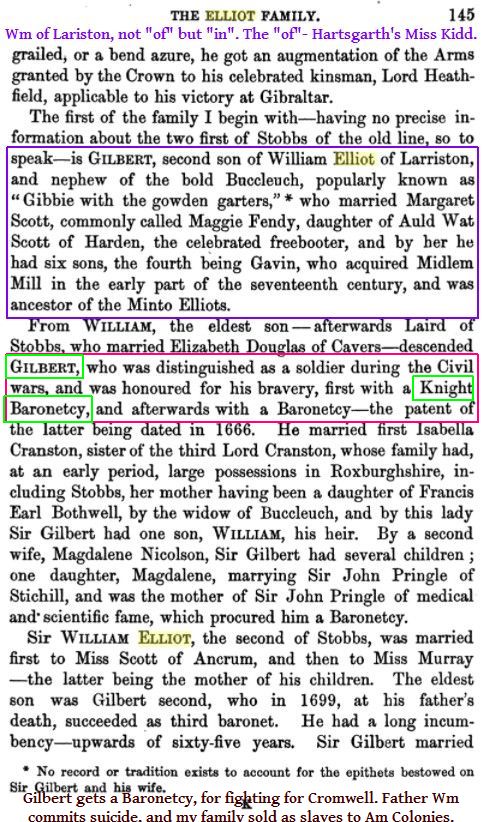 Added 2-14-2018; Gilbert Eliott, of Stobs, descended from Gilbert "of the golden garters", was knighted by instated king Charles II, which the Scots fought for in the Cromwellian Civil War.
Though father William at first was for the Parliamentarian Sir John Eliot, and changed name from William Ellot to Elliot, inserting the "i", he became on the side of reinstatement of Charles II, to show a difference the name went to Eliott for Stobs. His son Gilbert was fighting for Cromwell, and later received a Baronetcy.  William likely knew if he lived and as a supporter of Charles II, his estate would be taken away as a war tax, but his son Gilbert was fighting for Cromwell, and he would obtain the estate, where it would stay in the Stobbs family. So William Eliott of Redheugh-Stobbs, committed suicide to save the family estate.  A lot of Elliott today aboard were "sold as slaves, to the American Colonies";
The descendants of the present day chieftain; Margaret Eliott the 29th chief,
will not have this parliamentary baronetcy which will be most positive for the clan, since many fought for Charles II, and ended up being sold as "slaves to the American Colonies".
2/1/2018 MSE