Farmingham becomes a town in 1700.

 Otter Neck;
Daniel Sr moves to Boston, Daniel Jr and Hannah (Anna) Elliot remain in house indentured Daniel Sr built at Otter Neck and attended the Sudbury Church;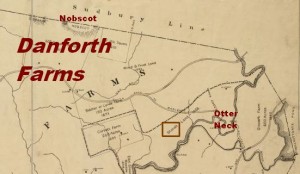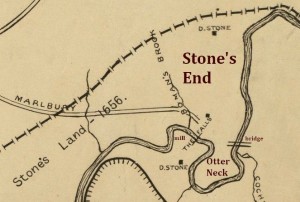 Plan of Framingham Plantation 1699
Author: Temple, J. H., (Josiah Howard)
Publisher: Town of Framingham, Mass.
Date: 1699
Location: Framingham (Mass.)
Dimensions: 62 x 65 cm.
Scale: Scale not given
Call Number: G3764.F7 1699 .T4x
The unnamed houses in the Salem End Region are felt to be of the Elliot and Town families, which moved onto Oxford, MA.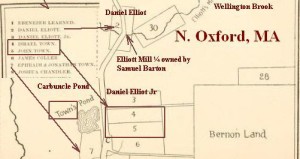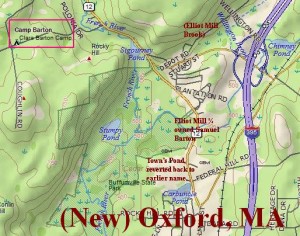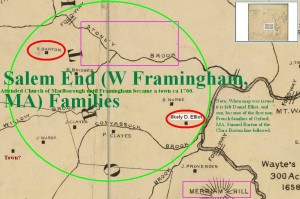 Framington, Salem End region;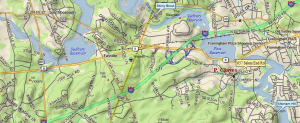 free pages ancestory.com
Otter Neck is a neck of land on John Stone's land near were he built a mill.
People of Otter Neck attended Sudbury Church.

Otter Neck which becomes Framingham in the vitals it shows Daniel and Hannah has son Daniel.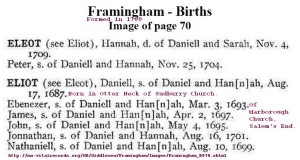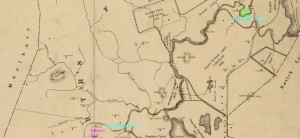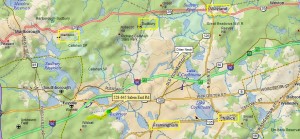 Salem Village  Danvers
Daniel and Hannah move on to Salem Village to be with Hannah's father Peter Cloyse and stepmother Sarah Town Bridges Cloyse.
They have one child born;

And, dies in 1690, recorded among those who died at Casco Bay, by Rev Samuel Parris;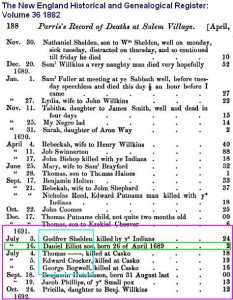 But Danvers/Salem Village history;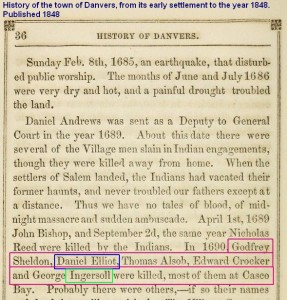 Daniel Elliot inserted in error likely from incorrect transcription of Rev Samuel Parris' records on deaths.
Hobbs spector is blame for the death of Hannah-Anna Elliot's child in Salem Village;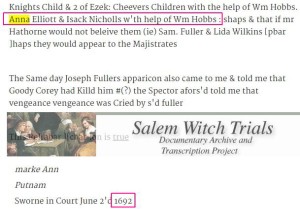 Salem End
Hannah and Daniel move on with families refugees of the Salem Trials, on to land supplied by Thomas Danforth, Salem End.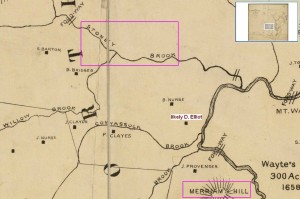 In Salem End they attended the Church of Marborough;

Other children born before the forming of Farmingham, were born in Salem End where family attended the Church of Marborough;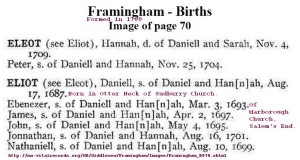 Recorded today in Framington Births.
Mark Elliott    4/1/2015
Noted; Peter Cloyse son of seaman John Cloyse, first wife was Hannah "Anna" Littlefield Cloyse, daughter became Daniel's wife was Hannah "Anna"  Cloyse Elliot.
Daniel likely a miller, and Peter obtained land near a mill, once owned by deceased father-in-law by first wife Edmund Littlefield of Wells, Maine;
February 6, 1673;
Know all men by these Presents, that I Fran: Littlefield of Wells Junior in New England, In Consideration of a valewable sume offiveteen pounds to mee in hand payd before the Insealeing & delivery hereof, the reciept, wrof, I doe acknowledg my selfe there with to beefully contented & satisfyd, by my brother in law Peter Cloyce living & resident in the same Town, have & hereby doe sell give grant Assign Enfeoff& Confirme unto ye said Peter Cloyse his heyres executors Administrators & Assignes, a Certain Tract & Prcell of upland liing & being on the westernmost side of that River Called by the name of Webhannet River, at the Falls w'ron the sayd Fran: Littlefield hath built a Saw Mill neare untohis dwelling house, weh formerly was the Interest of his father Edmund Littlefield deceased,…
https://www.ancestry.co.uk/mediaui-viewer/tree/81079217/person/44469730096/media/7a56e385-ae44-479e-988f-df34f11874d2?destTreeId=117781346&destPersonId=180170508926&hid=100563868573&src=em&o_xid=76841&o_lid=76841&o_sch=Email%20Programs
12/30/2017 MSE