John Stone building mill at Otter Neck;

Brother Daniel supplied money to build mill for Scottish indentures;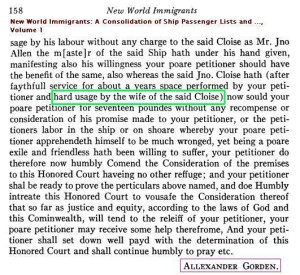 Shows Alexander Gordon a well educated Scotsman was brought to Massachusetts, by money of Daniel Stone, John of Otter Neck oldest, Daniel the next oldest, but Alexander had hard usage by Peter Cloyse's (father-in-law to Daniel Elliot Jr) mother, and petition away from this indenture ship but honored another and became like Daniel Elliot Jr a mill owner in Maine.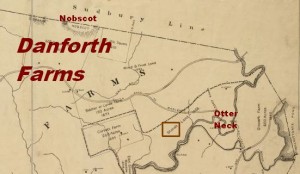 Land was referred to as Marlborough-Sudbury at the time the land which Daniel and Hannah came from to Salem Village.

They had son;
FRAMINGHAM BIRTHS
ELIOT (see Eleot)
Daniell, s. Daniel and Hannah, Aug. 17, 1687.
Then moved to Salem Village.


Had son born and died as baby.
Felt to work at Dodge mill;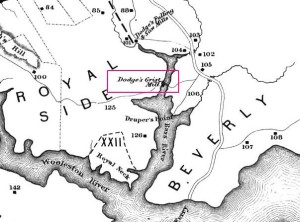 Inter-tidal mill which boat could go up to;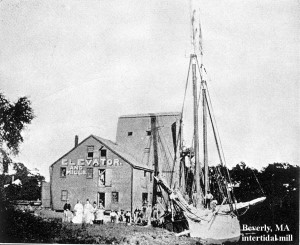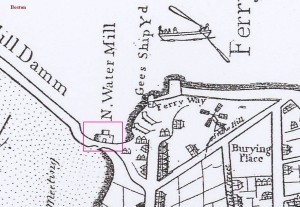 Since Daniel Sr, likely lived on the North End of Boston and signed a deed in 1682;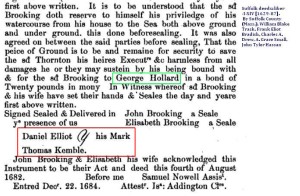 On deed; Daniel Elliot Sr, father of Daniel Elliot Jr of the Salem Testimony, Thomas Kemble own mills, and brought Scottish indentures to the American Plantation, George Hollard, a Kings Chapel, Episcopalian, hid Philip English, French  Huguenot merchant, like and good friend of; Gabriel Bernon, French  Huguenot merchant, away during the Salem Witch Trials. By hiding Philip English is likely the way Daniel Elliot Jr along with refugees of the Salem Witch Trials the Town, and Barton families is likely how these families established themselves among the first thirty and listed among the first of the thirty to receive land of  Gabriel Bernon's, French Huguenot community of (New) Oxford, Massachusetts.
John Brooking was a maltster and later owner of the Salutation Tavern in North Boston. Daniel Elliot is felt to be a miller at the north side tidal mill, and an innholder in Boston by 1704. It should be noted that Daniel Elliott as a miller would likely mill malt for John Brooking when he made malt.
Malt is a grain like mainly barley, which a malter like John Brooking would sprout, heat dry send to mill, then sold/traded to taverns, where it would be steeped to change the sugar to starch, then fermented and so as an ale to consumers. So a miller, and a tavern would go hand and hand with a malter. Later John Brooking own the Salutation Tavern, and Daniel Elliott Sr as expected in 1704 was an Innholder in Boston.
Daniel Elliott Jr in 1714 Oxford, Massachusetts followed suit with father and friend, and became a tavern owner for a year, then as then as needed by this Grabrial Gernon, French Huguenot, accepting "English" settlers like his father before he and his sons built a mill on the north end of Oxford so the people of Oxford could thrive.
Daniel Jr or Sr could easily travel from mill to mill by boat.
Then as refugee of witch trials moved on to Salem End;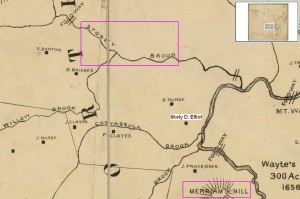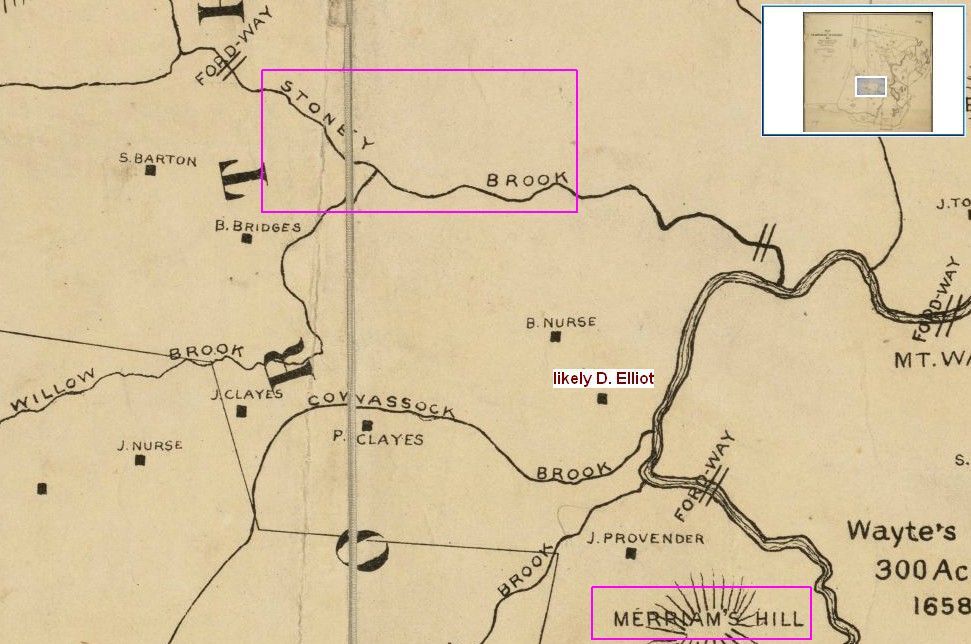 In 1700 when Framingham, was incorporated. It incorporated Otter Neck on the north, and Salem End on the west, but before 1700 these regions were of Marlborough-Sudbury.

Should be noted that previous to Framingham, Peter Cloyse of Salem End was of the Marborough Church. (added 3/24/2015)
Mark Elliott      1/18/2015
Noted; Peter Cloyse son of seaman John Cloyse, first wife was Hannah "Anna" Littlefield Cloyse, daughter became Daniel's wife was Hannah "Anna"  Cloyse Elliot.
Daniel likely a miller, and Peter obtained land near a mill, once owned by deceased father-in-law by first wife Edmund Littlefield of Wells, Maine;
February 6, 1673;
Know all men by these Presents, that I Fran: Littlefield of Wells Junior in New England, In Consideration of a valewable sume offiveteen pounds to mee in hand payd before the Insealeing & delivery hereof, the reciept, wrof, I doe acknowledg my selfe there with to beefully contented & satisfyd, by my brother in law Peter Cloyce living & resident in the same Town, have & hereby doe sell give grant Assign Enfeoff& Confirme unto ye said Peter Cloyse his heyres executors Administrators & Assignes, a Certain Tract & Prcell of upland liing & being on the westernmost side of that River Called by the name of Webhannet River, at the Falls w'ron the sayd Fran: Littlefield hath built a Saw Mill neare untohis dwelling house, weh formerly was the Interest of his father Edmund Littlefield deceased,…
https://www.ancestry.co.uk/mediaui-viewer/tree/81079217/person/44469730096/media/7a56e385-ae44-479e-988f-df34f11874d2?destTreeId=117781346&destPersonId=180170508926&hid=100563868573&src=em&o_xid=76841&o_lid=76841&o_sch=Email%20Programs
12/30/2017 MSE