Northumbria map
It is felt that reiver surnames were evolve from the localities the reiver surnames were in 1891, with some migration for instance north in Scotland from the border at the time of the Union of Scotland and England, but border reivers basically cover the area of Northumbria with the exception maybe with some location in Cumbria south of the east end of the border.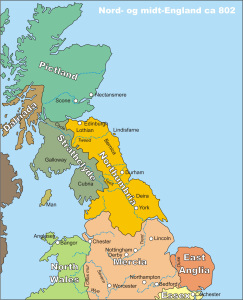 Info from; ancestry.com
http://www.ancestry.com/name-origin?surname=
Armstrong
Carr/Kerr
Crozier clancrozier.com
PDF information on Clan Crozier;
Clan Crozier 1-6  Clan Crozier 7-13
Elliot 
PDF information on Clan Elliot, some of which excluded from Clan Eliott Wikipedia; Clan Elliot
Fairbairn
Hunter
Nixon
Scott
It is felt that the surname were at their localities previously to the placement of the Scottish-English border ca 1320, and the border line divided these families and the families wanting to continue their family relations on both sides of the border is what created the reiver.
M Elliott   11/9/2014

The only serious contention remaining, which is favoured by some modern historians, ascribes the surname to the fairly common old Northumbrian christain name of Elwold or Elwald.
The Elliots; The Story of a Border Clan, Arthur Eliott 1986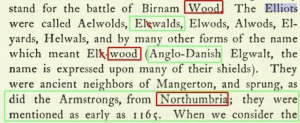 They Elliots (Elwald/Ellot) were ancient neighbors of Mangerton, and sprund, as did the Armstrongs, from Northumbria…….
Chronicles of the Armstrongs (1902), James Lewis Armstrong MD
12/7/2014
It should be noted the name Eliot does not give a Northumbria distribution.
12/18/2014

12/18/2014