Early development of the name Elwald seems it may have had it's development in the Norfolk region of the United Kingdom.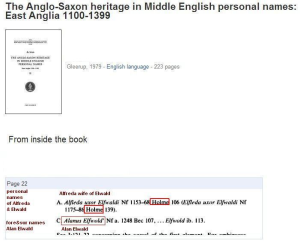 Error correct Bec in not in Wakefield but in Norfolk;

Including some other information on Norfolk localities;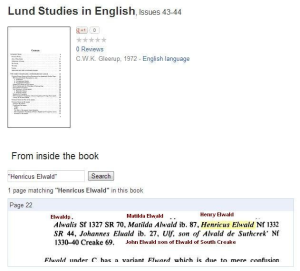 Attempting listing overall localities, and mapping;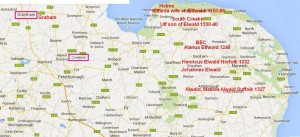 Grantham is said to be were the Graham are from, and in the Chronicles of the Armstrong;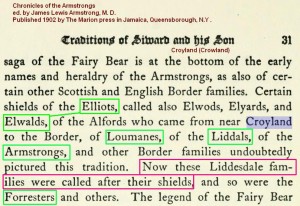 Croyland-Crowland seems to be and area which Elliot, Loumanes, Liddel, Armstrong, and Forester came from.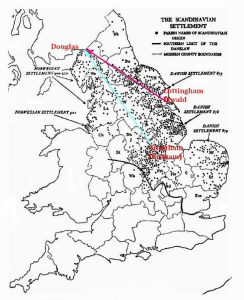 It is felt these people are felt given localities as being Scandinavian.
Above map shows the number of with geographic locations, of my Y-DNA matching surnames Scarborough, Cave, and Gresham variants. This is a locality in which the Anglo-Danish arrived.
Localities of the 12-marker matches;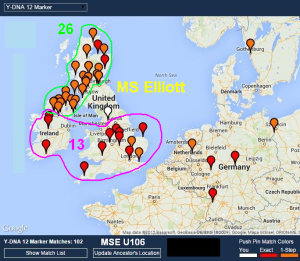 One can see that in the British Isles two thirds of the matches, are felt to be at localities in Scotland and Ulster were border Ellot where located to. On a per capita basis, it would be about 14.5  (Scotland and Ulster) to (Ireland and England). So the distribution is definitely Scots-Ulster.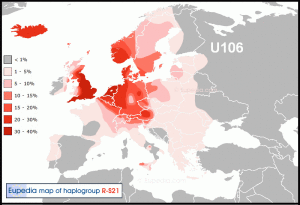 Y-DNA for my U106 group seems to indicated entrance in to the east side of England.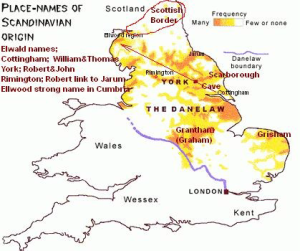 One can see that Scandinavian place names seem to show the region of these people and a line of migration.
The above map shows two migrations. The one from the south is of William de Aliot of France, and Elwald (Elfwald), from Denmark.
Mark Elliott   2/1/2015